Do you know what Joomborio.com is?
Joomborio.com is yet another browser hijacker that is distributed using malicious software installers. It is designed to modify and replace your web browser's homepage with its address. As a result, it redirects web traffic, but the reason it does that is unclear. Our malware analysts think that its search results can feature malicious promotional links. Indeed, Joomborio.com doubles as a search engine, but not one that you would like to have, so we recommend that you remove it from your PC after reading this short article.
Joomborio.com's developers describe it as "a new-age searching tool, which revolutionizes the way we bookmark things on the internet and organize our homepage that fits every user's personalized requirements." So what they are trying to say is that this fake search engine does nothing that could genuinely improve your browsing experience, and just who are the developers? Well, that is a good question because this hijacker has not been signed by any company and that is not a trait of a reliable, legitimate search engine. We would also like to mention that this particular hijacker is nearly identical to Cassiopesa.com and Binkiland.com. Interestingly, these two hijackers are hosted on the same domain as Joomborio.com. However, this same domain hosts unrelated browser hijackers called Exlee.com and Aqualious.com.
Also, the way it is disseminated falls in line with the definition of a browser hijacker which is that a website that is set as the homepage, new tab page or search provider without the user's knowledge or authorization is considered a browser hijacker. Our malware analysts have revealed that Joomborio.com is currently being disseminated via malicious software installers featured on unreliable freeware hosting websites. These installers have been configured to insert it into your web browser without your authorization, and the installer gives no prior warning that this can take place. Also, researchers say that this hijacker may come with a Chromium-based web browser classified as a potentially unwanted program, but they have yet to discover an actual sample.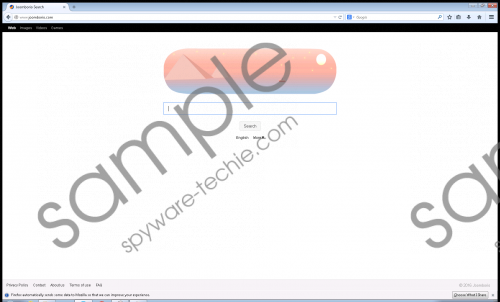 Joomborio.com screenshot
Scroll down for full removal instructions
Research has revealed that the malicious software installers were configured to inject this hijacker to web browsers such as Google Chrome, Microsoft Internet Explorer, and Mozilla Firefox. It hijacks the homepage address only, but it still impacts the search experience significantly. Take note that the exact name of the address that replaces the default homepage address is http://search.joomborio.com. It does not redirect the search queries to other legitimate search engines but has its search algorithms. Nevertheless, that does not make it legitimate. Research has revealed that the search results are prone to feature promotional links in above and below the search results. The promoted links are marked with an orange "Ad" label which indicates that they are advertisements. Even though the ads are marked, we do not advise that you click them because given that its developers are unknown, we think that they might engage in promoting shady content that can jeopardize your computer's security.
In addition to subjecting you to questionable promotional content, this browser hijacker will collect information about you. Our security analysts say that it will automatically collect non-personally identifiable information such as IP addresses, operating system details, search queries entered (search generated information may include personal information such as name.) The developers use this information to improve the advertising campaign and generate more money.
Our findings make it obvious that this browser hijacker's objective to generate advertising revenue for its developers, and it will not improve your search results, no matter what Joomborio.com's promotional campaign claims. You have to remove it from your browser and sent a new homepage address to avoid unwelcome and possibly unreliable advertisements.
Reset your web browser's settings to default
Mozilla Firefox
Open the browser.
Simultaneously press Alt+H.
Select Troubleshooting Information.
Click Refresh Firefox.
In the dialog box, click Refresh Firefox again.
Click Finish.
Microsoft Internet Explorer
Open the browser.
Simultaneously press Alt+T and click Internet Options.
Open the Advanced tab and click Reset.
Mark Delete personal settings.
Click Reset and then click Close.
Google Chrome
Open the browser and click Alt+F.
Select Settings.
Click Show advanced settings and locate Reset browser settings.
Click Reset browser settings.
In the dialog box, click Reset.
In non-techie terms:
Joomborio.com is a typical browser hijacker that is set to replace your web browser's homepage address is an attempt to redirect web traffic and subject you to promotional links of questionable legitimacy. It will also collect non-personally and even personally identifiable information to customize the advertising campaign to make more money, so we highly recommend that you delete it from your browser ASAP.