Do you know what Jomrthaflape.ru is?
Jomrthaflape.ru is a Russian advertising server which acts as a redirect. It has been working since the beginning of 2017, and it seems that it is not going to stop. The major task of this advertising domain is to distribute commercial advertisements, so if you are being redirected to this domain against your will, you surely see annoying commercial advertisements on your screen. Do you see Jomrthaflape.ru ads every day? Do you feel that they have a negative impact on the web browsing experience? If "yes" is the answer to both these questions, you should take some action to stop redirections to Jomrthaflape.ru today. Unfortunately, its removal might be complicated because users are usually redirected to Jomrthaflape.ru and see ads because of certain modifications made on their computers without their permission. In most cases, users' browsers settings are changed or their shortcuts modified to open Jomrthaflape.ru automatically. Additionally, research has shown that Jomrthaflape.ru might be added as a Startup object to be able to launch together with the Windows OS. Last but not least, it might be set as a Scheduled Task so that it could launch periodically. Undo all those changes applied if you no longer want to see the advertising server Jomrthaflape.ru.
No matter you see Jomrthaflape.ru periodically, or it shows up on your screen without your permission from time to time, you surely see advertisements. Jomrthaflape.ru is visible in the address bar only for a tiny second because it immediately redirects to other pages, e.g. linkmyc.com, go.leadgid.ru, and wonderlandads.com which disseminate advertisements, so not all the users realize that Jomrthaflape.ru is the one that should be blamed for setting off a chain reaction. Do not expect that it will stop opening domains with commercial advertisements because it will not do that – you are the only one who can put an end to this. We suggest that you go to stop those redirections to advertising domains ASAP because we are sure that these ads might be harmful. They are coming from dubious networks, so there is a huge possibility that malicious ads will be presented to you one day too. If you click on them, you might be redirected to dubious pages. Some of these pages might even promote malicious software which might easily slither onto your computer the second you land on such a website. Generally speaking, the advertising domain Jomrthaflape.ru might cause you a bunch of problems by redirecting you to other domains displaying advertisements. Because of this, we recommend that you go to take care of Jomrthaflape.ru today. If it is no longer opened, you will not be redirected to unreliable domains as well.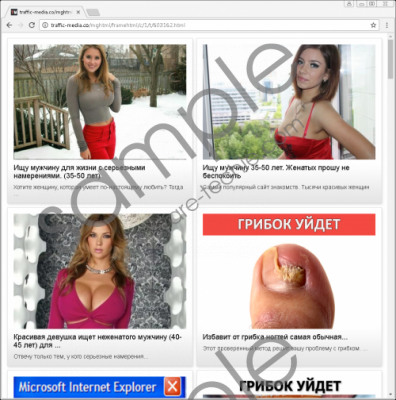 Jomrthaflape.ru screenshot
Scroll down for full removal instructions
The advertising server Jomrthaflape.ru has changed browsers' settings so that they would open it periodically after the successful entrance. There is not much known about its distribution; however, according to our experienced specialists, there is basically no doubt that it is distributed in malicious Installmonstr/Installmonster bundles. Of course, like other threats, it usually does not travel alone. Have you downloaded a new application from the web recently and installed it on your computer? If so, do not be so surprised that changes have been made behind your back and now your web browser opens Jomrthaflape.ru automatically because of this. Sad to say, a bunch of annoying advertising networks are available out there, e.g. Traff-1.ru, so it would be a sin not to install an automatic tool for ensuring the maximum protection of the system.
As mentioned in previous paragraphs, Jomrthaflape.ru might opened for you because a) your web browser's settings have been altered, b) your web browser's shortcuts have been hijacked, c) Jomrthaflape.ru has been added as a Startup item OR d) a Scheduled Task has been created in %WINDIR%\System32\Tasks or %WINDIR%\Tasks. You need to undo the changes made on your computer to eliminate Jomrthaflape.ru from your screen. Follow our step-by-step instructions – they will help you to remove the Jomrthaflape.ru advertising domain manually. If you are a busy person, you should let an automatic malware remover to undo the changes applied and thus erase the advertising domain from the screen once and for all.
Delete Jomrthaflape.ru
Reset your browsers
Internet Explorer
Double-click on the Internet Explorer shortcut.
Click Tools at the top or tap Alt+T.
Click Internet Options.
Open the Advanced tab and click Reset.
Mark the Delete personal settings tab.
Click Reset again.
Mozilla Firefox
Open your Mozilla Firefox browser.
Tap Alt+H.
Open Troubleshooting information.
At the top, click Refresh Firefox.
Click on the Refresh Firefox button again.
Google Chrome
Start Google Chrome.
Open the menu (tap Alt+F).
Click Settings and go to the bottom.
Select Show advanced settings.
Click on the Reset settings button.
Click Reset.
Fix your web browsers' shortcuts
Right-click on the shortcut of your web browser.
Select Properties and open the Shortcut tab.
Check the Target line.
Delete Jomrthaflape.ru from it, i.e. make sure the line ends in quotation marks, e.g. C:\Program Files (x86)\Mozilla Firefox\firefox.exe".
Click Apply.
Click OK.
Delete the Scheduled Task
Open the Windows Explorer (tap Win+E).
Go to %WINDIR%\System32\Tasks.
Right-click on the task representing the adware server.
Repeat the 3rd step in %WINDIR%\Tasks.
Delete it.
Remove the Startup object
Open the Windows Explorer.
Check the following directories one by one and then delete the Jomrthaflape.ru Startup item:
%ALLUSERSPROFILE%\Start Menu\Programs\startup
%APPDATA%\Microsoft\Windows\Start Menu\Programs\startup
%USERPROFILE%\Microsoft\Windows\Start Menu\Programs\startup
%ALLUSERSPROFILE%\Microsoft\Windows\Start Menu\Programs\startup
%ALLUSERSPROFILE%\Application Data\Microsoft\Windows\Start Menu\Programs\startup
In non-techie terms:
In most cases, users start seeing Jomrthaflape.ru on their screens after they install a malicious software bundle on their computers. Unfortunately, these bundles usually contain several different applications, which are not necessarily trustworthy, so it is highly recommended to scan the system with an automatic malware remover. It will find all active untrustworthy programs and then you could decide whether to erase them all manually or let an automatic tool do that for you.