Do you know what Job Knows is?
Only God knows why you would try to use an unreliable application like Job Knows. What we know is that this is yet another clone of a lately emerged and rapidly growing adware family that includes FamilyGurus, Weather Do, and PocketRebates. According to our researchers, this desktop program is completely useless since whatever it claims to offer you can be easily accessible through any reliable browser. So the question is: Why would you have such a questionable program on your computer? And, what are the risks of keeping this application? As a matter of fact, nothing should be trusted that comes from this application. Since its use may present to you potentially harmful web content, we believe that you should not engage with this adware program. What's more, we recommend that you remove Job Knows immediately. Continue reading our article if you want to find out more about this infection and how to protect your computer.
We keep realizing when we visit websites like JobKnows.com, the official page for this adware, that without proper protection, your computer is an open door to such infections and cyber criminals. If there is an up-to-date security tool installed on your system, for example, you cannot even load this page because it gets blocked right away as a Trojan is detected. Most probably, the problem comes from the hosted installer of this application. Our researchers have found that this installer bundles several questionable applications and malware threats as well, including Search Know, Sweet-page.com, and System Healer. This way you can infect your computer in one go with adware programs, browser hijackers as well as potentially unwanted programs. And this is the so-called official way to get this application.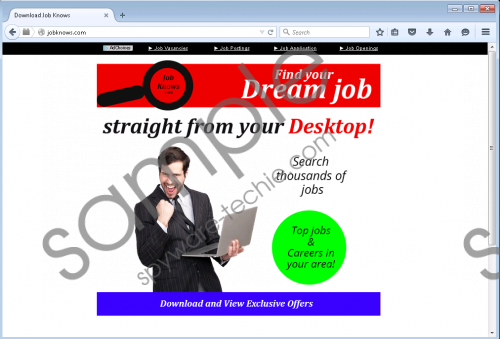 Job Knows screenshot
Scroll down for full removal instructions
Of course, there is not too much chance that computer users end up on this website and download this program; at least not too many people for sure. Reports show that it is more likely that this adware ends up on your computer through malware infections that are already on your system. For example, it is possible that you click on infected pop-up ads, such as download offers. These may come from different adware applications. Also, you may click on search results displayed through a browser hijacker. You need to know that unreliable search engines promoted by browser hijackers may be able to manipulate search results to include potentially unreliable content, such as ads and links. It is enough to click on a corrupted link and you could download this adware. Since practically there is no way for this software to be all alone on your PC, we advise you to scan your system with a reliable malware scanner right after you remove Job Knows.
Once you start up this program, it may launch two separate windows: one for its own GUI and the other one can be an Internet Explorer browser window. This application loads a promoted job and career-related site in both windows, such as startacareertoday.com. This seems to be a legitimate website. However, this application's own window does not seem to function as a browser, which makes it quite redundant. Since this adware may also start displaying third-party ads, which is also likely by the other malware infections it may come with, you cannot be safe while this application is on your computer. One click is more than enough on the wrong ad or link, and you may find yourself on a malicious website. This is something you should avoid at all costs since you can easily infect your computer with more malware programs or you may become the next online scam victim. Therefore, we advise you to remove Job Knows before it is too late.
Finally, we can provide you with some good news. This application has a working uninstaller, which means that it does not leave any leftovers on your system. You can find this uninstaller in the list of installed programs. Please use our guide below as a reference if you are unfamiliar with uninstalling an application. Also, take into consideration that there are possibly a number of other malicious programs as well. If you do not take care of them now, they may cripple your operating system before long. Therefore, we suggest that you apply an up-to-date anti-malware program that will safeguard your PC from similar attacks. Of course, you can also try to detect some of the malware types yourself manually and delete all the mess they have created. The choice is yours. But not doing anything has to be out of the question when it comes to your virtual security as long as you are a security-minded computer user.
Remove Job Knows from Windows
Windows XP
Click the Start button and select Control Panel.
Pick Add or Remove Programs.
Click on the program and press Remove.
Windows Vista and Windows 7
Tap Win+R and enter control panel. Hit OK.
Access Uninstall a program.
Click on the program and press Uninstall.
Windows 8, Windows 8.1, and Windows 10
Tap Win+Q and enter Uninstall a program. Press Enter.
Click on the program and press Uninstall.
In non-techie terms:
Job Knows is a questionable desktop program that is totally useless for you. It simply provides you access to promoted career sites, which you could easily do through any trustworthy browser in fact. However, this application may fail to act as a browser, so you can simply view the promoted webpage only. It is also possible that this program displays potentially unreliable third-party ads. Therefore, our researchers have classified it as an adware program. If you click on any content offered by this adware, you may be redirected to potentially dangerous websites. Therefore, we think that you should remove Job Knows as soon as possible. Unfortunately, the presence of this adware may also be a sign that other malware threats have "set foot" on your PC. That is why the best solution would be for you to install a reputable malware removal application to take care of all known threats with the click of button.