Do you know what JFileManager is?
Our malware researchers identify JFileManager as a potentially unwanted program for several different reasons. First of all, the application is promoted with a different name – Downquick (downquick.com). Secondly, the download manager is highly questionable, due to which we recommend replacing the program with more reliable, reputable tools. Lastly, the program comes bundled with malware which could jeopardize your virtual security. Needless to say, you must delete JFileManager from the system and remove the running malicious infections as soon as possible. If you have questions about the removal process of undesirable, intrusive software, you should read the report first. If your questions remain unanswered – leave a comment below.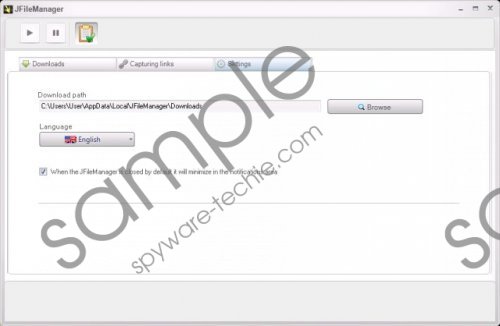 JFileManager screenshot
Scroll down for full removal instructions
If your operating system is safeguarded, you will not be allowed to install and run JFileManager because most security systems recognize the potentially unwanted program as a serious threat. However, if automatic malware removal software is not installed to shield you, the program could be installed bundled with malware. Trojans, advertisement-supported software and other suspicious applications may be installed to corrupt the operating system. The ability to infect the system with dangerous malware is the main reason we push you to remove JFileManager without further delay. Note that the additional clandestine threats could, without your notice, steal private information, download other infections, and even hijack personal accounts. You can evade all this is you delete JFileManager and the related threats from the system right away.
Manual JFileManager removal is the option that most users choose. Unfortunately, it is not ideal in all cases. If Trojans and other threats are active, it is important to install automatic malware removal software to delete them. You can install this software after getting JFileManager deleted manually (see instructions below); however, it is just a waste of time if you are ready to install reliable security tools and trust them to delete running malware from the Windows operating system.
Delete JFileManager from Windows
Delete from Windows 8:
Right-click on the Metro UI screen to open a new tab and then click All apps.
Open the Control Panel and in the menu choose Uninstall a program.
Locate the app you wish to remove, right-click this app and select Uninstall.
Delete from Windows Vista & Windows 7:
To open the Start menu click the Windows logo placed on the Taskbar.
Select Control Panel and in the menu click Uninstall a program.
Right-click the program you want to remove and select Uninstall without any hesitation.
Delete from Windows XP:
Move to the left of the Taskbar, click the Start button and select Control Panel.
Double-click Add or Remove Programs and open the Change or Remove Programs list.
Remove the undesirable software.
In non-techie terms:
JFileManager is a PUP (potentially unwanted program) which appears to have been created to aid the distribution of third-party infections. Needless to say, you have to remove JFileManager and other malicious infections which may be active. Even though the PUP can be deleted manually, you should employ a reliable automatic malware remover to delete running infections. In fact, these threats may corrupt the system and aggravate the installation of automatic malware removal software. Due to this, we have created a guide which will help you install security software even if your PC is basically inoperable.