Do you know what Jewsomware Ransomware is?
Jewsomware Ransomware is a threat we are sure you would not want to encounter. Even though it did not encrypt any files at the time of writing, it does not mean that it cannot be fixed and become dangerous malware encrypting files, so our piece of advice for you is only one - do not keep your system unprotected! You should stay away from suspicious email attachments too because this ransomware infection might be dropped on your computer if you open a malicious one. What should you do in case Jewsomware Ransomware has already entered your system? Delete it from your computer right away. As mentioned, it did not lock or delete a single file on our test machine during the analysis, but it might get an update soon and then encrypt/delete your data. Our team of experienced malware researchers says that this malicious application is not one of those sophisticated malicious applications that only experts can remove. It does not even create any entries in the system registry in order to load up with the Windows OS, so we are sure you will manage to delete Jewsomware Ransomware yourself. Before you do that, finish reading this report first.
Even though Jewsomware Ransomware does not work properly, it still opens a window with a picture when launched. It covers the entire Desktop, which makes it extremely difficult to access programs and files. The window opened contains a message and two timers, one showing the time when the payment will be doubled and the other one counting hours till users' files will be deleted. Speaking about the message it contains, it tries to convince users that their files have been encrypted. It is very likely that it is not true, as we have already mentioned, so do not hurry to send money to cyber criminals. Yes, like many other ransomware infections analyzed by our researchers, it demands money from users. Jewsomware Ransomware wants 600 EUR in Bitcoin, but if you make a payment within a minute, it will be enough to send 300 EUR. Cyber criminals promise to send the decryption key right after they receive the ransom. It is very likely that your files have not been encrypted and thus you do not need it, so do not rush to transfer money. Even if you find your files locked, you should consider whether it is worth paying money for them because there are no guarantees that you will receive the decryption tool from cyber criminals. They might take your money but do not give you the decryptor, and, unfortunately, you could not do anything about this.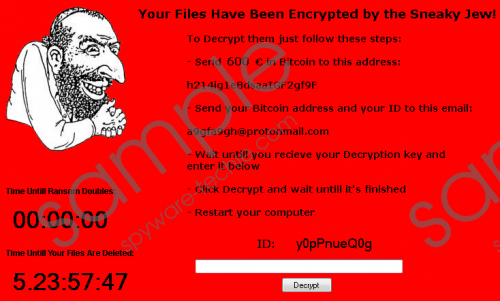 Jewsomware Ransomware screenshot
Scroll down for full removal instructions
Let's now turn to the distribution of Jewsomware Ransomware. Specialists say that it should be also mainly distributed via spam emails, so do not go anywhere near suspicious emails holding attachments if you do not want to find this threat installed on your computer. You should also make sure your Remote Desktop Protocol credentials cannot be hacked and thus the ransomware infection cannot be dropped on your computer without your knowledge. Users usually find out about the successful entrance of this ransomware infection when it is too late because when launched, it opens a fake Windows 10 update window. Once it is fixed, it should keep this window opened until it finishes encrypting data on the affected computer. As mentioned, you should not open suspicious emails and use only secure RDP credentials; however, there is one more thing you should do - install security software on your computer to ensure its maximum security. Be careful; not all antimalware tools are as reliable as they seem to be at first glance.
You must delete Jewsomware Ransomware from your computer even if your files have not been encrypted because nobody knows when it will get an update and lock files. Since it does not drop any files and does not make any modifications in the system registry, you will delete it by erasing the malicious file you have launched recently. You can delete malware using an antimalware tool as well. If you decide to erase it manually, check our instructions below.
Delete Jewsomware Ransomware
Press Ctrl+Shift+Esc.
Open Processes.
Locate the process of Jewsomware Ransomware.
Right-click on it and select End task.
Close Task Manager.
Open Windows Explorer.
Access the following directories one by one: %USERPROFILE%\Desktop, %USERPROFILE%\Downloads, %TEMP%, and %APPDATA%.
Find and delete the malicious file you have launched recently.
Empty Trash.
In non-techie terms:
Jewsomware Ransomware is a threat that might illegally enter your computer if you keep it unprotected. It was developed by cyber criminals to obtain money from users easier, so even though it did not lock files at the time of analysis, it is only a question of time when cyber criminals will fix it and start distributing it actively. Never send money to malicious software developers because they only want your money, so the chances are high that you will not get anything from them in exchange. You should remove the malware you have encountered instantly instead.