Do you know what Jazz Spot is?
Jazz Spot is not a helpful application. It is an advertising-supported program that can communicate with remote adware servers and inject various advertisements. Whether you encounter banner ads, pop-ups, surveys, or interstitial advertisements, you have to ignore them all. Unfortunately, most users will initially see these ads as exciting, useful, and beneficial rather than potentially dangerous. The cookies installed by this adware can collect data about your browsing history and your interaction with virtual content to learn what you are interested in. This information is then shared with advertisers – most likely for a certain price – which helps them create the most attractive and personal offers. Needless to say, users are more likely to interact with attractive offers rather than random, generic offers. Well, if you interact with these offers, you might get in trouble, and this is why we advise deleting Jazz Spot.
Have you downloaded Jazz Spot along with third-party software? According to our research, this adware is usually distributed via unfamiliar third-party installers that might be used for the distribution of various other threats as well. Keep in mind that malware might exist even if you are unaware of it. Silent computer infections might be much more dangerous than ad-supported software, and you might miss it completely. Due to this, you should not forget about malware scanners. Although you can use malware scanners at any point, we suggest using them before and after eliminating malicious threats. This way, you will know which threats require removal, as well as if your attempts to eliminate them were successful. Whether your operating system is infected with Jazz Spot or any of its clones, such as Elements Peruse, or Pop Bubbles – it is possible that you will find malicious tracking cookies, potentially unwanted programs, hijackers, and similar threats. Needless to say, they all require immediate removal.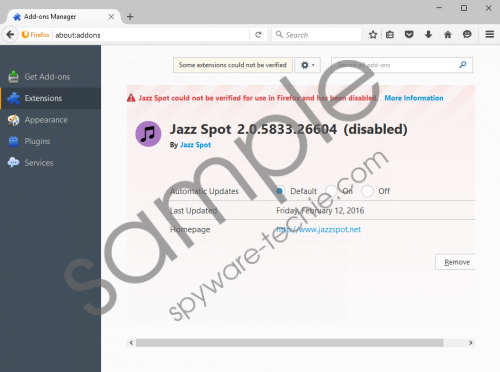 Jazz Spot screenshot
Scroll down for full removal instructions
Jazzspot.net (IP address 23.59.190.121) was set up to introduce computer users to Jazz Spot. This website is completely useless because it does not explain how the program works and it does not provide a working installer. Luckily, it provides as a full Privacy Policy that you should familiarize yourself with to learn more about tracking cookies and third-party companies involved. Of course, the information presented is very vague, and it is basically impossible to form a clear view about this adware. For example, this document does not explain the silent communication with http://install.jazzspot.net/ih and http://cdn.jazzspot.net/JazzSpot/iez?beid=ab3559cb-04c7-47db-b56c-8689828afa80&v=1.0.5833.26617 servers. Traffic Spiral – the company associated with this adware – stays silent about this communication because most users will remain unaware of it anyway. As you might know, if you do not delete the files contacting these servers, information about your activity will be continuously leaked. Furthermore, it is possible that software updates will be downloaded without your notice.
Have you found the files of Jazz Spot in its folder under %ProgramFiles% (or %ProgramFiles(x86%)? If you delete the files found within this folder, you will also need to get rid of the Firefox extension file located in the %AppData%\Mozilla\Firefox\Profiles\*\extensions directory, as well as Temp files and registry keys. This is the complicated route, and we suggest following the instructions below instead. These instructions explain how to uninstall the undesirable ad-supported program from your Windows operating system. According to our tests, leftovers will not be left behind if you use these steps, which makes this an ideal solution; of course, unless other threats are active on your operating system. If you are dealing with several infections at the same time, employ automated malware removal software as soon as possible to clean your PC and protect it hereafter.
Remove Jazz Spot from Windows
Windows 10, Windows 8.1, or Windows 8
Launch RUN (simultaneously tap Win+R keys).
Enter Control Panel and click OK.
Move to the Uninstall a program menu.
Right-click and Uninstall the undesirable program.
Windows 7 or Windows Vista
Click the Windows/Start button on the Taskbar.
Open Control Panel and move to the Programs menu.
Click Uninstall a program and right-click adware.
Click the Uninstall button.
Windows XP
Click the Start icon on the left of the Taskbar.
Open the Control Panel menu for more options.
Double-click Add or Remove Programs.
Locate the unwanted app, click it, and choose Remove.
In non-techie terms:
Despite the promises that you might have been given prior to installing Jazz Spot, we can assure you that this is an advertising-supported program that requires immediate removal. This program was not created to provide you with beneficial services. Instead, it serves third-party advertisers who can use this adware as a platform to showcase their virtual offers. Unfortunately, suspicious ad-supported programs like this one are often exploited by malware distributors, which is why you need to delete this adware as soon as possible. The removal guide above shows how to erase this adware, but we want to point it out that other threats could be active on your PC at the same time, and it is wise to trust anti-malware software to eliminate them from your operating system successfully.