Do you know what Jandarma Genel Komutanligi Virus is?
If your PC has been locked due to illegal activity performed from your personal computer, Jandarma Genel Komutanligi Virus might have been infiltrated onto your personal Windows system. This threat targets those Windows users who live in Turkey; however, our researchers have reported hundreds of other malicious ransomware threats which may hijack the systems all over the world. Since the infection is targeted at a specific country, the screen-locking notification which follows the lock-down of the computer is represented in Turkish. Additionally, you are forced to believe that your computer has been locked by the Directorate General of Turkish National Police. The information presented within the alert indicates that you have violated cyber security laws, and the credentials suggest that Interpol, Europol, Copyright Alliance and other well-known agencies are somehow connected to the system's paralysis. We can guarantee that your PC has been locked and your administrative privileges have been removed illegally, which is why it is absolutely necessary to have Jandarma Genel Komutanligi Virus deleted as soon as possible.
Those Windows users who live in Turkey and do not implement authentic spyware detection and removal software to protect their systems could be targeted by schemers behind Jandarma Genel Komutanligi Virus, Bllgisayarinizin Bloke Edilmistir Virus, Türk Polisi Virus, and other threats. Even though these infections have completely different looking interfaces and collect different fines (e.g. 200 TYR), all of them use deception to fool you into paying money for cyber crimes you most likely have not performed:
Sizin kişisel bilgisayar güvenlik hususunda aşağidaki nedenlerle bloke edilmiş. […] Türkiye Cumhuriyeti Ceza Kanununun 161-ci maddesi ile 5 yildan 11 yila kadar kapis cezasi olarak sağlar. […] Para cezasi bozuntuya yol verildikte 48 saat süresinde tarafinizdan ödenmeli […] Para cezaniz €100 Euro değerinde.
Ignore the intimidating penalties, criminal cases and imprisonment punishments listed within the warning. In reality, if you do not pay the fine – your computer will remain locked and no Police departments will be notified of this. All in all, it is clear that the fine is fictitious just because it is represented in Euros, a currency which is not used in Turkey. Additionally to this, you are ordered to pay this fine via Ukash, and this unreliable money transfer system would never be used by Police to collect fines.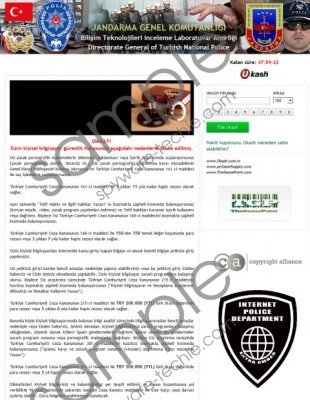 Jandarma Genel Komutanligi Virus screenshot
Scroll down for full removal instructions
What would happen if you did not remove Jandarma Genel Komutanligi Virus from the operating Windows system? The answer is quite simple – your computer would remain locked with malicious infections running freely. There is a great chance that your personal computer will become infected with private data stealing malware if you do not delete Urausy Trojan (threat behind the ransomware) immediately. How should you remove this threat? Our spyware researchers do not recommend manual removal; however, you can use the instructions below to install reliable automatic spyware detection and removal software.
Remove Jandarma Genel Komutanligi Virus
Remove from Windows XP:
Restart the computer and wait for BIOS to load. Start tapping F8.
Using arrow keys select Safe Mode with Networking and tap Enter.
Click YES on the appeared Desktop alert and launch a browser.
Visit http://www.spyware-techie.com/download-sph and download a spyware remover.
Open the Start menu, click RUN, enter msconfig and hit OK.
In the System Configuration click the Startup tab and select Disable All. Click OK.
Restart the computer (normally).
Install the malware removal tool and delete the ransomware Trojan running on the PC.
Remove from Windows Vista/Windows 7:
Firstly restart the computer and wait for BIOS screen to disappear.
Instantaneously start tapping F8 to access the Advanced Boot Options menu.
Use arrow keys to select Safe Mode with Networking and tap Enter.
Go to http://www.spyware-techie.com/spyhunter and download the tool.
Install the application, perform a system scan and delete all detected malware.
Remove from Windows 8:
Tap the Windows key on the keyboard to access the Metro UI start screen.
Download the reliable, efficient malware remover SpyHunter.
Immediately install the program and use it to delete ransomware.
In non-techie terms:
Jandarma Genel Komutanligi Virus is a ransomware which may corrupt the operating Windows system and display a misleading ransom warning. Ignore the bogus accusations and demands to pay a fictitious fine because Police have no connection to the scam. To remove the threat use the instructions provided above.
Aliases: