Do you know what Jamboxlive.com is?
Jamboxlive.com is one of the dubious search tools usually referred to as a browser hijacker. Specialists tend to call it like this because it can change browsers' settings without permission. Specifically, it sets itself as a default search tool. It claims that it works on both Mozilla Firefox and Google Chrome; however, our researchers have noticed that it applies changes to Google Chrome only, so the chances are high that it is compatible with this only browser in reality. If you already see the JamBox extension promoting Jamboxlive.com next to other Google Chrome add-ons, you should rush to remove it even if you have installed it willingly because it is not as beneficial as it claims to be. That is, although it claims that it can "enhance your browsing experience," we cannot confirm that it is as useful as it claims to be. Actually, our malware researchers have found more drawbacks linked to it than benefits, so we would lie if we said that you could do nothing about its presence. Of course, you are the one in charge here, so decide whether or not to keep the extension active yourself. We recommend making the final decision after reading this entire article.
The JamBox extension promoting Jamboxlive.com is advertised as a tool that can enable users to find their favorite songs, artists, and listen to "live radio stations" with the click of a button, but it quickly turns out that it is not exactly what it claims to be. It only sets a new search tool on users' browsers. If you perform web searches using it, your all searches will be redirected from http://feed.jamboxlive.com/?q=buy&publisher=jambox&barcodeid=523510000000000 to yahoo.com. Because of this, you might see advertisements on the search results page opened to you. It is one of the reasons we do not recommend using Jamboxlive.com as a default search provider. You should not trust it also because it might record the non-personally identifiable information about you and your machine if you use it. Research has shown that it collects such technical details as a type of the browser used, language preferences, time stamps, the operating system, IP address, and more. Additionally, it will record all your search queries, so you should not enter anything very personal in its search box. Last but not least, our researchers have found it quite surprising that the JamBox extension needs permissions to read and change data on all websites users visit and manage apps, extensions, and themes. If we were you, we would not keep such a suspicious extension active.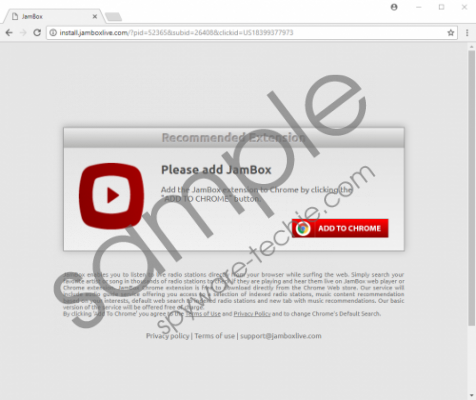 Jamboxlive.com screenshot
Scroll down for full removal instructions
Users usually install the JamBox extension from https://chrome.google.com/webstore/detail/jambox/ndafjalmnedicmiaahbkegkdljhcfglg (Chrome Web Store) or install.jamboxlive.com/?pid=52365&subid=26408&clickid=US18399377973 (it might show up as a pop-up); however, there are, of course, some users out there who know nothing about its installation, which suggests that it might slither onto computers without permission as well. The most likely scenario is that it arrives on users' PCs bundled with third-party software. A bunch of other untrustworthy applications is spread bundled too, so do not let new undesirable software show up on your PC – install a security application on your computer ASAP.
You can clear your affected browsers (most probably, you will only see Google Chrome with altered settings) by removing the JamBox extension from them. First, you will need to access the add-ons manager – our instructions will help you to open it. Then, you will need to disable the add-on linked to Jamboxlive.com. You will have to put some effort into the manual removal of the undesirable extension, but we are sure it will be easier to erase it if you follow our step-by-step manual removal guide. If you do not feel experienced enough to erase it manually yourself, you should go to scan the system with an automated malware remover. Frankly speaking, it is the easiest and quickest undesirable software removal method.
How to delete Jamboxlive.com
Google Chrome
Open Google Chrome and press Alt+F.
Click More tools and open Extensions.
Select JamBox and click the trash button.
Click Remove.
Mozilla Firefox
Launch Mozilla Firefox.
Press Ctrl+Shift+A.
Select Extensions.
Locate the undesirable extension.
Click Remove.
In non-techie terms:
JamBox is not as beneficial as it claims to be, so think twice before installing it. Setting a new search tool Jamboxlive.com in the place of a user's default search tool is all it does, so we have some doubts about its usefulness. The search tool it promotes cannot be called a fully reliable search provider either. It has been found that it might present users with advertisements/sponsored links and collect information about them and their machines. You are the only one who can decide what to do with it, but if we were you, we would hurry to delete it. This can be done by removing the browser extension promoting it.