Do you know what Jaff Ransomware is?
Ransomware programs are extremely common nowadays as cyber crooks craft them to make huge illegal profits. Our researchers have discovered a new program of this classification that goes by the name of Jaff Ransomware. If you ever happen to come across such a program, be sure to avoid it at all costs. It is absolutely crucial to do so because this program functions in an extremely malicious manner. Just like any of its contemporary counterparts, it is fully capable of encrypting a large number of your personal files, without any notification or authorization. It should be more than obvious that such functionality could cause disastrous outcomes. Learn more about the intricate inner workings of this malicious program by reading the rest of our article. In addition to that, we provide a detailed removal guide that will help you delete Jaff Ransomware in its entirety.
At its basic level, Jaff Ransomware functions like a lot of its counterparts. It starts doing its dirty work as soon as it gains successful access to your operating system. At first, it performs a full system scan for data stored on your hard drive. Right after that, it starts the encryption procedure. During research, it has been discovered that this malicious program uses a strong cipher known as AES-256 to lock files on your hard drive. Unfortunately, due to the strength of this algorithm manual decryption is out of the question. Every file affected by this malware will be tagged with a .jaff extension to denote the fact that it is locked. The ransomware in question targets a large variety of file types such as .doc, .docx, .psd, .ppt, .xml, .mp3, .mp4, .avi, .avi, .png, .jpeg, and many others. Further analysis has revealed that this malware, fortunately, does not attack files which are used for the functionality of your operating system. In addition to all of this, this intrusive application will alter your default wallpaper. You will also notice a ransom note asking for a payment of 1 Bitcoin in return for a decryption procedure. Under no circumstances make this payment as there is no way to know that your files will be unlocked even if you happen to pay up. That is so because developers of this malware are not obliged in any legal way to actually provide you such services even if the payment is made. It should be more than obvious that the complete removal of Jaff Ransomware must be executed as soon as possible. Do so by following the detailed instructions that we present below.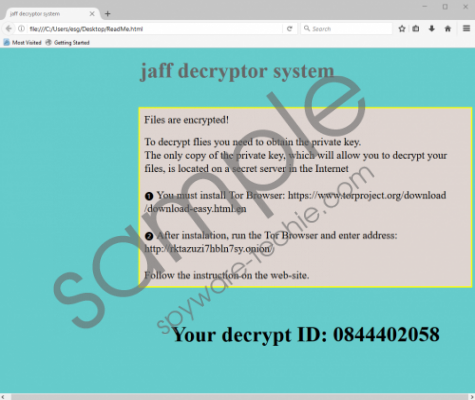 Jaff Ransomware screenshot
Scroll down for full removal instructions
It is critical to take preventative steps to improve your overall virtual security because Jaff Ransomware is known to be distributed quite actively nowadays. Since the this malicious program is mostly spread via spam e-mail campaigns, we highly advise you to avoid all e-mail attachments that come your way from unknown sources. Our research team has discovered that in quite a few cases the malware in question comes as a .pdf attachment that has a suspicious name such as Copy_8533585. Just opening this malicious attachment is enough to infect your computer with the ransomware in question. You can additionally improve your virtual security by bypassing all suspicious third-party download websites at all times since they are infamous for setup files filled with devious and n some instances even malicious programs. Of course, your best bet to maintain a fully secure operating system at all times is by having a professional antimalware tool active on your PC. Such a tool can detect and delete any virtual threat in a fully automated manner.
Do not delay the removal procedure of Jaff Ransomware since leaving it active just for a short amount of time could be more than devastating. If you ever discover this malicious program active on your PC, be sure to delete its ever single bit because that is the only way that you can stop its malicious functionality. Remember that in some instances traces of this ransomware could be used for its restoration; in other situations, just a few leftovers could be enough for it to continue its malicious functionality. To be sure that the termination process has been successful, you need to perform an extensive analysis of your entire operating system for traces associated with Jaff Ransomware. Such analysis must to be performed as soon as you are done with the manual removal.
How to remove Jaff Ransomware from your computer
Open your File Explorer.
Navigate to C:\ProgramData.
Right-click a malicious folder called Rondo and select the Delete option.
Right-click your Recycle Bin and select Empty Recycle Bin.
In non-techie terms:
Some users might find manual removal and the analysis of their PC a bit too complicated. If you happen to be one of those users, you need to follow the instructions below. By using the alternative removal guide, you will be able to delete Jaff Ransomware in a fully automated way.