Do you know what iWin Games is?
iWin Games is a potentially unwanted program that you will encounter if you try to play the online games at iwin.com. Usually, playing games from this site requires you to download and install the custom download manager. In other cases, iWin Games might enter your system in a software bundle, and you may not even know that this application was installed on your PC. Either way, if you care about your system's security, you will see to it that iWin Games gets removed as soon as possible. Although it is not a malicious computer infection, the program is associated with several security concerns that should not be overlooked.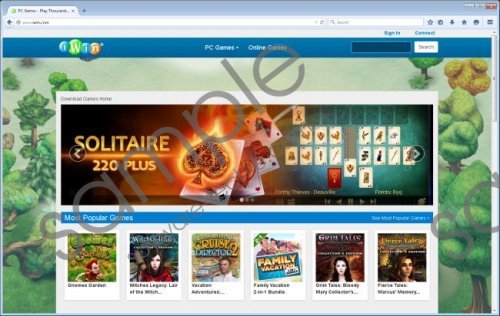 iWin Games screenshot
Scroll down for full removal instructions
Whenever you encounter websites that offer you to play games for free, you have to realize that there is a catch to it. The games might be available for free, but then the site or the program in question (like iWin Games) could be involved in some monetary schemes to cover all the development costs. Most of the time, such programs indulge in third-party advertising. It is a simple tactics that does not require much on the program's side. The only thing it has to do is accommodate the third-party advertisements on its advertising space, and if users click the ads, iWin Games gets paid via the pay-per-click system. There is nothing illegal in that, but the thing that should concern you is the fact that iWin Games does not check whether the third-party content in the ads is reliable.
This is the main problem with all adware and potentially unwanted programs. Sure, iWin Games provides you with free games to download if you install the download manager. However, the ads that the application displays cannot be accounted for. iWin Games may not generate any commercial ads on your browser, and it does not flood your desktop with annoying pop-ups. Yet, nothing good can be said about the ads within the application itself. The commercial content promoted by iWin Games does not differ from the pop-ups that are generated by genuine adware programs. For example, some of the iWin Games ads might offer you to install fake Java, Flash or web browser updates. Not to mention that clicking them could lead you to websites that distribute malware or steal your information for illegal purposes.
Thus, you can easily see that iWin Games may cause particular security issues even if the complete system takeover is not part of the program's agenda. Not to mention that you should never tolerate program if you did not intend to have. So there is no time to waste. Open your Control Panel and uninstall iWin Games. This should not be much of a problem because the application can be easily removed manually.
Now, if you think there might be more undesirable programs on-board, then you need to run a full system scan with the SpyHunter free scanner. This is probably the most efficient way to ensure that your computer is safe and clean. Investing in an antimalware tool of your choice would also be a great idea because it is always easier to protect your system with some professional help.
How to Delete iWin Games
Windows 8 & Windows 8.1
Slide the mouse cursor to the bottom right of your screen.
When the Charm bar appears, click Settings and go to Control Panel.
Open Uninstall a program and remove iWin Games.
Windows Vista & Windows 7
Open the Start menu and click Control Panel.
Go to Uninstall a program and remove iWin Games.
Windows XP
Click the Start menu button and open Control Panel.
Navigate to Add or remove programs and uninstall iWin Games.
In non-techie terms:
iWin Games is a download manager for free online games. This program indulges in third-party online advertising because it needs to support itself somehow. Sometimes these third-party ads may be embedded with unreliable links to corrupted websites. If you click those links, you could get infected with malware. Thus, if you do not find iWin Games useful, you should remove this program from your computer because you need to get rid of all the potential system security threats at once.