Do you know what iStream.link is?
A browser hijacker called iStream.link is known to have risen in popularity over recent weeks. While conducting extensive research on this devious piece of software, our malware experts have noticed that it is most popular in the region of North America. Thus, users within this area must be extra aware of it. The reason for being extra cautious so is the fact that the hijacker in question is only capable of making unauthorized changes to your web browser's default settings. Such functionality consequently causes major disruptions and alters the way you experience the web in a negative way. Since it is mostly spread in devious ways in this report, we present a few fundamental security tips that will help you keep your computer safe and secure at all times. The rest of this article highlights the invasive functionality of iStream.link. Along all of that, we present an in-depth removal guide that must be used to terminate this browser hijacker once and for all.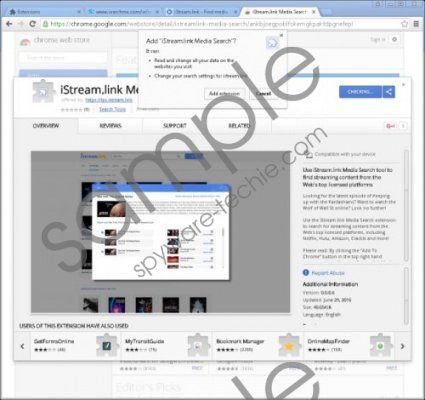 iStream.link screenshot
Scroll down for full removal instructions
The first indication that iStream.link is up and fully running on your PC is a sudden change of your web browser's default settings. It does not matter what browser you use since the hijacker in question affects major web browsers such as Google Chrome, Internet Explorer, and Mozilla Firefox. The particular modifications are made to your default homepage and search engine. Unfortunately, the user is not notified about any of these alterations, which is annoying, to say the least. Both of these changes triggered by this unwanted hijacker will have an overall negative effect. It is so because you will have virtually no choice but to use the new and questionable search engine for all of your online queries whether you like it or not. In regards to the homepage, virtually the same thing will happen as you will be forced to start ever single online session on a questionable third-party website. While all of this is a reason enough to delete iStream.link you must know that there is something potentially harmful about it. Upon further investigation, it has been discovered that using a newly appointed search engine could prove to be detrimental as some results presented by it could be embedded with redirect links. This means that by clicking on a result presented by the questionable search provider you could be taken to sites that might prove to be hosting malicious software. In some cases just entering such web pages could be more than enough to get your PC infected with some unknown malware. Do not take any risk with iStream.link and delete it as soon as possible by following the instructions that we present below.
To maintain a fully secure operating system at all times, you must take a few precautionary steps. Firstly, you must practice safe browsing habits since often iStream.link comes via bundled installers. Such setup files are infamously hosted on third-party download websites; thus, avoiding them and obtaining your programs from official vendor's websites only, will significantly reduce the risk of infecting your PC in such a manner. Additionally, we urge ever users to pay their utmost attention while installing any application on their PC. This is paramount since you could be presented with a chance to cancel a potentially unwanted or even malicious application. Such manner of installing software must become a habit since quite a few users install devious programs by simply rushing through the setup procedure. Lastly, but most importantly make sure to install a professional antimalware tool on your PC if you do not have one already because it is paramount to your overall virtual security as it can detect and delete any potentially dangerous content. These simple steps will allow you to run a fully secure system at all times.
The removal of iStream.link should be executed right away. Do not hesitate because leaving it active on your PC is a huge risk. The instructions that we present below should be followed by an extensive analysis of your PC for potential leftovers. This is critical because a single mistake or a missed step while executing the removal guide could result in an incomplete removal, which in consequence could mean that the changes made by iStream.link might still be intact. In other instances, traces of this browser hijacker could be more than enough to trigger a silent restoration procedure.
How to delete iStream.link from your PC
Google Chrome
Open your File Explorer.
Go to C:\Users\(your username)\AppData\Local\Google\Chrome\User Data\Default.
Now select and remove files called Preferences, Secure preferences, and Web Data.
In the same folder locate and remove a folder entitled ankbjoegpoblfokemgkpakfdpgnefepl.
Mozilla Firefox
Launch your web browser.
Select the Menu button.
Click the question mark icon at the bottom.
Select Troubleshooting Information and click Refresh Firefox.
Click Refresh Firefox to confirm your choice.
Internet Explorer
Open your web browser.
Click the Menu button.
Select Internet Options.
Select the Advanced tab.
Click Reset.
Check Delete personal settings and then click the Reset button.
Click Close.
In non-techie terms:
It is critical to delete iStream.link from your PC entirely. if unfortunately, you find manual removal and analysis of your PC too challenging, make sure to follow the instructions that we present below. This alternative guide was crafted by our malware researchers to help users get rid of this browser hijacker in an automatic manner.