Do you know what IstDownload.net is?
IstDownload.net is name of a website to which you can be taken by some deceptive pop-up advertisements displayed by adware programs. Usually, a computer user is provided with a pop-up warning inviting him/her to update a computer application. In our case it was the FLV Player. Upon clicking on the OK button, a suspicious warning in a grey background is loaded. The installer available at IstDownload.net is bundled with various free programs, mainly adware, and, if you want to prevent more annoying pop-ups or even computer infections, you should ignore the recommendation to update your media player or some other software program. During the analysis, we have been offered VoPackage, Fralimbo, SaveClicker, Clicknmark, and some other adware programs. Moreover, a trial version of the PCSpeedMaximizer has been provided. If you do care about your online privacy, you should disregard IstDownload.net recommendations.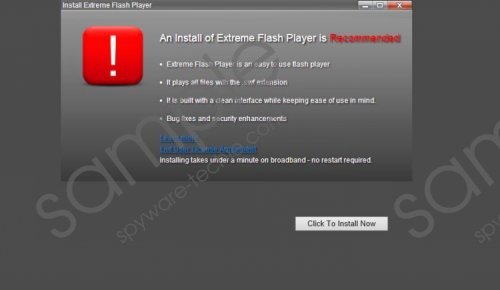 IstDownload.net screenshot
Scroll down for full removal instructions
However, it is not enough to ignore IstDownload.net pop-ups because the adware program may be recording information about your online behavior. It may record your clicks, search terms, the URLs of the websites that you accesses, time spent on various websites, IP address, browser language, browser time, and some other non-personally identifiable information. The developers of the program may use the information for various purposes and also share it with other parties.
In addition to IstDownload.net pop-ups, you may also find some web banners and other advertisements. They may be sent from other advertising servers, so, if you want to avoid more problems, act right now to remove the unwanted program.
If you think that your Internet browsers are infected, you are mistaken because adware programs are very often bundled with other free programs. Hence, it is crucial to read the license agreement that you are provided with during the installation. The odds are that you have skipped some information related to the adware program and now have to face up to the consequences.
Below you will find our removal guide which should help you get rid of IstDownload.net advertisements; however, we recommend that you implement a reputable spyware removal tool. Our advice is to use SpyHunter because this malware and spyware removal tool can readily detect and remove undesirable programs. The recommended security program can protect your operating system against Trojan horses, rogue anti-virus programs, browser hijackers, adware programs, rootkits, and many other undesirable programs, so do not hesitate to implement it if you want to be secure on the Internet.
How to get rid of IstDownload.net ads
Windows Vista and Windows 7
Click Start.
Select Control Panel.
Click Uninstall a program.
Remove the adware.
Windows XP
Click Start.
Select Control Panel.
Click Add or Remove Programs.
Uninstall the unwanted program.
Windows 8
Move the mouse to the lower-left corner of the screen.
Right-click.
Select Control Panel and click Uninstall a program.
Remove the adware program.
In non-techie terms:
IstDownload.net is the URL of pop-up advertisements displayed by some adware programs. IstDownload.net may also refer to an advertising server hosting various advertisements. It is highly advisable to remove the program associated with the server because its pop-ups can redirect you to scam websites.