Do you know what Istartpage123.com is?
Istartpage123.com is a recently released browser hijacker that unlike most present day hijackers is able to modify browser settings of Microsoft Edge in addition to, Firefox, and Chrome. You should remove this hijacker, because it is set to use deceptive means to enter your computer, so if you have it, then it is likely that you got it by installing a software bundle. Istartpage123.com is considered a browser hijacker, because it takes control of your browser and changes the homepage and search engine to its promoted search engine. It is plain to see what this supposed search engine really is, but if you want to know more, please read this full article.
The company that owns this browser hijacker is called Turing Tech Inc. It has been releasing browser hijackers for quite some time now. Indeed, Istartpage123.com has a lot of clones, such as Isearch.omiga-plus.com, Istartsurf.com, Mystartsearch.com, and so on. However, the previous versions were unable to affect Edge, but this recently released hijacker definitely can. It is hard to determine how browser hijackers are disseminated, but one thing is for sure, they are not distributed as standalone programs. Like its predecessors, Istartpage123.com is disseminated using bad software bundles that contain potentially unwanted programs, adware, and other junk software. However, currently we are unaware of the specific websites that host the bundled version of Istartpage123.com. But, if you do know which websites feature it, then please let us know by posting a comment in the comment section below.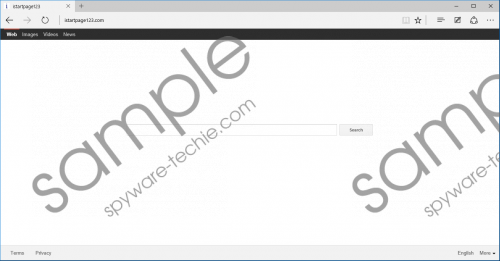 Istartpage123.com screenshot
Scroll down for full removal instructions
When you install a software bundle that contains this browser hijacker, then it will be injected into your browser without prior warning or your authorization. Upon installation, this hijacker will change your browser's homepage and search engine. This is done in order to redirect web traffic and force inexperienced users who do not know how to uninstall this hijacker to use it for searching. The problem is that Istartpage123.com is likely to contain promotional links can be unreliable. Those links may redirect you to websites that contain malicious downloads or misleading content or even websites that were set up by cyber criminals for various scams. Istartpage123.com purpose is to generate advertising revenue, and it has nothing good to offer. Furthermore, all of it searches get redirected to the Yahoo search engine that is opened in a new tab page. However, this does not mean that the search results do not contain potentially dangerous third-party links.
Istartpage123.com is definitely an undesirable search engine. Its developers resort to using browser hijacking techniques in order to make money, because no one would willingly start using it as a search engine. This hijacker redirects all of your searches to Yahoo.com, but the search results are apt to include promotional links from Turing Tech Inc. Therefore, for computer's security may be compromised, because it may promote shady websites and malicious software, such as adware that can promote even more malicious programs, such as ransomware. So do not take any unnecessary risks and remove Istartpage123.com.
How to remove Istartpage123.com
Windows 10/8.1/8
Tap Windows Key+R.
Enter Control Panel in the dialog box and click OK.
Select Uninstall a program.
Locate the application and click the Uninstall button.
Windows 7/Vista
Click the Start menu and go to Control Panel.
Then, select Uninstall a program.
Locate the software and double-click on it.
Click Uninstall.
Windows XP
Click the Start menu and go to Control Panel.
Click Add or Remove Programs.
Find the undesirable program and click Uninstall.
Remove Istartpage123.com from the browser
Microsoft Edge
Click More actions and go to Settings.
Select Open with a specific page or pages and enter a new address.
Click Advanced settings.
Type a new homepage address in the address bar.
Choose or enter a new search engine in Search in the address bar with section.
Google Chrome
Press Alt+F and click Settings.
Find Manage search engines button and click it.
Locate and Remove the unwanted search engine.
Then, select or enter a new one.
Find the On Startup list.
Click Set pages.
Enter a new homepage address and click OK.
Mozilla Firefox
Press Alt+T and click Options.
In the General tab enter a new address.
Then, click Search.
Highlight and Remove the undesirable search engine.
Enter or select a new search engine.
Close the window.
In non-techie terms:
Istartpage123.com is considered a browser hijacker that is distributed using malicious software bundles. It is set to secretly enter your computer and change your browser's homepage and search engine. This hijacker prevents you from removing by implementing certain protective measures. Thus you are forced to use it and make money for its developers. However, its search can contain unreliable promotional links. Therefore, you ought to remove Istartpage123.com.