Do you know what istart123.com is?
There is no doubt that istart123.com is not a reliable search engine. In fact, this one is linked to a browser hijacker which may attack Internet Explorer, Mozilla Firefox and Google Chrome browsers without your permission. Unfortunately, computer users do not rush to delete istart123.com thinking that it is a harmless search tool which can help you access Facebook, Twitter, Amazon or Google search results in an easy manner. The fact that the suspicious search tool does not present original search results and simply redirects you to google.com is a red flag for malware researchers who now recommend having the hijacker removed from the system. Please continue reading the report to learn more about the suspicious application and why getting rid of it is the best thing you could do.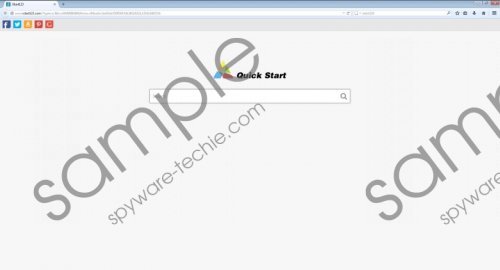 istart123.com screenshot
Scroll down for full removal instructions
There is little information about how the hijacker enters the operating system; however, it is most likely that istart123.com follows the footsteps of other infamous Qvo6 family hijackers, such as Qone8, v9 or Omiga-Plus. These threats usually travel bundled with third-party applications which may require removal as well. As malware researchers have discovered, the hijacker can be bundled with PUPs, adware and suspicious browser extensions SupTab or QuickStart (or FastStart). These may be installed illegally, and so getting them removed is recommended as well. Unfortunately, many find istart123.com removal impossible because the hijacker can modify the browser shortcut and regenerate the infection if you do not take the appropriate removal steps. We can share these steps with you.
You can remove istart123.com quite easily if you know how to perform the task. In order to restore the browser Target, you need to uninstall the program. Follow the instructions below, and you will have regular search tools restored in no time. Unfortunately, other clandestine threats may circumvent the manual removal, and so we advise using authentic Windows security software. The automatic malware removal tools will make sure that all existing threats are deleted and that the system is no longer vulnerable to other clandestine computer infections which may be installed silently.
Remove from the computer
Remove from Windows XP:
Click the Start button on the Task Bar and select Control Panel.
Double-click Add or Remove Programs to find istart123 uninstaller.
Click and Remove the undesirable application.
Remove from Windows Vista or Windows 7:
Open the Start menu from the Task Bar at the bottom of the screen.
Select Control Panel and click Uninstall a program to access a new menu.
Right-click the application you wish to delete from the PC and select Uninstall.
Remove from Windows 8:
Right-click on the Metro UI screen to open a pane and select All apps.
In the Apps menu go to Control Panel and then to Uninstall a program.
Now right-click the program you wish to delete and select Uninstall.
Delete from the browsers
Delete from Google Chrome:
Open the browser, simultaneously tap Alt+F and choose Settings.
Move to On Startup and mark Open a specific page or set of pages.
Click Set pages and change/remove the URL of the undesirable search tool. Select OK.
Move to Appearance and mark Show Home button.
Click Change and overwrite/remove the URL of the undesirable search tool. Select OK.
Move to Search and click Manage search engines.
Choose a new default search tool and remove (click X) the undesirable one. Click Done.
Tap Alt+F again, select Tools and then Extensions.
Find the undesirable plugin, click the recycle bin on the right and select Remove.
Delete from Mozilla Firefox:
Open the browser and click the search provider icon placed on the Firefox search box.
Choose Manage Search Engines and Remove the undesirable option. Click OK.
Simultaneously tap Alt+T to open a menu at the top and then choose Options.
Click the General tab, overwrite/remove the Home Page URL and click OK.
Lastly simultaneously tap Ctrl+Shift+A to access the Add-ons Manager menu.
Select Extensions and Remove the undesirable plugins.
Delete from Internet Explorer:
Open the browser, simultaneously tap Alt+T and choose Manage Add-ons.
Select Toolbars and Extensions and Disable the undesirable plugins.
Select Search Providers and add/select a new default search provider.
Remove the unwanted search provider and click Close.
Simultaneously tap Alt+T and select Internet Options.
Click the General tab, overwrite/remove the Home Page URL and click OK.
In non-techie terms:
istart123.com is a browser hijacker which we recommend having removed. The threat may attack the web browsers illegally and then modify your browsers in order to force you into using an unreliable search engine. Note that even though this search tool presents seemingly authentic search results, it is likely that it runs web cookies possibly capable of spying on you. You can eliminate the risk by having istart123.com deleted. Note that you can use further instructions below if you want to use reliable security software.