Do you know what istart.webssearches.com is?
Istart.webssearches.com may appear on your browser when you least expect it. This domain belongs to a browser hijacker that is part of a big group of computer infections that includes such threats as Aartemis, Nation Zoom, Qone8 Virus and others. Although more of than not you are allowed to choose whether you want your default home page changed to istart.webssearches.com or not, this application is still a dangerous infection which should be dealt with immediately. For manual istart.webssearches.com removal instructions, please scroll down to the bottom of this article.
This infection is also known as Webssearches. It may enter your system surreptitiously, but security experts note that quite often users allow this dangerous application to enter their computers themselves. It happens, when they install the likes of Quick Start and other similar freeware applications that istart.webssearches.com is known to travel bundled with. In other words, istart.webssearches.com may not be exactly honest about what it is and what it does, but users generally give their own permission for the application to be installed on their computers when they set up other freeware.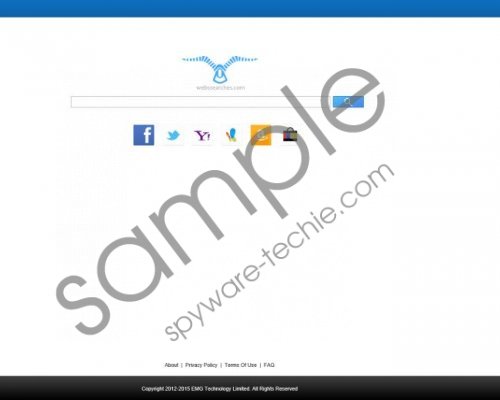 istart.webssearches.com screenshot
Scroll down for full removal instructions
The main security concern related to istart.webssearches.com is commercial adverts. It is possible that you will be exposed to third party advertising via pop-ups, but it is more often that various commercial ads are displayed on istart.webssearches.com home page itself, right below the search box. It should be pointed out that istart.webssearches.com does not general the ad content itself, and it does not review it. Therefore, the browser hijacker may display ads that lead you to various adware-related websites, or even worse – constant redirection to unreliable web pages could eventually result in a dangerous malware infection.
Thus, it can be said that such browser hijackers as istart.webssearches.com do not threaten your system directly or cause much harm, but they significantly lower your system's security level, making you and your computer vulnerable to outside threats and various exploitations. Consequently it is important that you remove istart.webssearches.com right here and now.
Unlike other browser hijackers from the same family, istart.webssearches.com comes with an uninstaller that is easy to use via Control Panel. After you have removed the application, you will need to restore your browser settings manually. However, you need to keep in mind that, a full system scan with a licensed antimalware tool has to be performed as well, because that will definitely help you determine whether you need to remove any other potentially dangerous applications.
Uninstall istart.webssearches.com
Windows 8
Move mouse cursor to the bottom right corner of the screen.
When Charm bar appears, click Settings and go to Control Panel.
Select Uninstall a program and remove Webssearchers uninstaller.
Windows Vista & Windows 7
Open Start menu and click Control Panel.
Go to Uninstall a program and remove Webssearches uninstaller.
Windows XP
Open Start menu and navigate to Control Panel.
Go to Add or remove programs and uninstall Webssearches uninstaller.
Restore browser settings
Internet Explorer
Press Alt+X and go to Internet options.
Type in a new home page address under General tab and press OK.
Press Alt+X and go to Manage add-ons.
Remove Quick Start from Toolbars and Extensions.
Click Search providers on the left pane.
Set a new default search engine and delete istart.webssearches.com.
Restart browser.
Mozilla Firefox
Press Firefox button and go to Options.
Under "When Firefox starts" choose Show my homepage.
Enter a new startup page address under General tab and click OK.
Click search engine icon on the left of Firefox search box.
Click Manage search engines on drop-down menu.
Delete istart.webssearches.com from the list and click OK.
Press Firefox button again and select Add-ons.
Remove Quick Start from Extensions and restart your browser.
Google Chrome
Press Alt+F and go to Settings.
Under On Startup select Open a specific page or set of pages.
Click Set pages, delete istart.webssearches.com and enter a new home page address. Click OK.
Under Appearance, next to Show Home button click Change.
Remove istart.webssearches.com and enter a new home page address. Click OK.
Under Search select Manage search engines.
Set a new default search engine, delete istart.webssearches.com and click Done.
In non-techie terms:
It may seem that istart.webssearches.com is a useful search engine, but the truth is that it is a dangerous browser hijacker. You need to remove this infection before it manages to cause any serious trouble. For more information, do not hesitate to leave me a comment.