Do you know what Isearch.tinyresults.com is?
Do you believe that Isearch.tinyresults.com is a reliable and useful search provider? Unfortunately, you might be wrong about this because our research has revealed that this search tool is completely unpredictable, it can collect information about your activity, and it can showcase suspicious third-party content after redirecting you to a different search engine. In a nutshell, this search tool is not beneficial or reliable, and the best thing you can do is get rid of it. Deleting Isearch.tinyresults.com can be difficult, especially if you have no experience, but before we start discussing the removal of this hijacker, we suggest that you read the entire report. In this report you will find information regarding the distribution of this strange search tool, as well as the risks that you might encounter if you continue using and trusting it. If any questions remain unanswered within this report, please post them in the comments section below so that we could address them.
Although Isearch.tinyresults.com looks like a search engine, in reality, it is an advertising tool. You might see adds on the home page of this search engine, and these ads are very easy to spot and avoid. You could also be introduced to ads via the search results shown to you after you initiate a web search. These ads might be difficult to spot because they might hide behind links that are no different from the ones corresponding to the information you have requested. On top of that, Isearch.tinyresults.com redirects all search queries to the Bing Search, which might make you less careful. Although you are unfamiliar with the hijacker – due to which you are likely to be more cautious with the search results – you might be familiar with the Bing search provider. Needless to say, you are more likely to click on links represented via this search engine without paying too much attention. Do not rush to blame Bing for cooperating with the developers of the hijacker because they are likely to exploit this search engine illegally.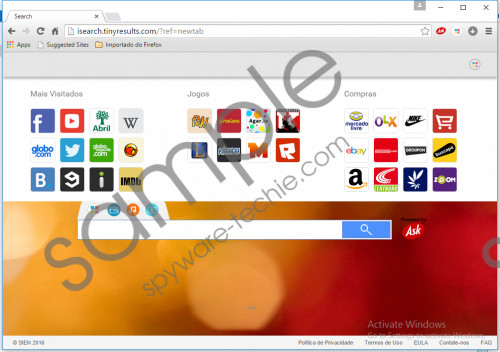 Isearch.tinyresults.com screenshot
Scroll down for full removal instructions
The suspicious Isearch.tinyresults.com is classified as a hijacker because it can modify homepage and search provider settings. Have you agreed to install this search tool? Even so, this hijacker is not reliable, which means that it was introduced to you in a misleading manner, which means that your search tools were modified in an unreliable manner. As a matter of fact, the distribution of this hijacker is also very suspicious, whether it is installer with or without permission, it is most likely that it comes bundled with third-party software. You can install a malware scanner to inspect your operating system and check for this software. Even the legal information that is meant to support this hijacker does not provide useful information, mostly because it represents 1stBrowser by SIEN. It is possible that SIEN is also the creator of the hijacker and that it comes packaged with this Chromium-based web browser. In any case, the legal information presented does not appear to represent the hijacker, which makes it even more suspicious.
If you decide to remove Isearch.tinyresults.com manually, you have to change homepage and default search provider settings. If the hijacker is no longer corrupting your browsers after you restart your PC, you need to scan your computer to check for leftovers, as well as third-party malware. If you find that your operating system is clean, you then need to take care of your virtual security. We advise strengthening it with a trusted security tool. Alternatively, you can install an authentic anti-malware tool that will simultaneously inspect your PC, clean it from malware, and protect it in the future.
Delete Isearch.tinyresults.com
Google Chrome
Open the browser and tap keys Alt+F together.
In the menu on the right choose Settings.
Go to the On Startup menu.
Select Open a specific page or set of pages and click Set pages.
Overwrite the URL of the hijacker and click OK.
Go to the Appearance menu.
Select Show home button and click Change.
Repeat step 5.
Go to the Search menu and click Manage search engines.
Set the desired provider and click X to erase the unwanted one.
Click Done and restart your browser.
Mozilla Firefox
Open the browser and tap keys Alt+T together.
In the Tools menu at the top click Options.
In the General menu overwrite the Home Page URL.
In the Search menu set the desired search provider.
Select the unwanted provider and click the Remove button.
Restart the browser.
Internet Explorer
Open the browser and tap Alt+T keys together.
In the Tools menu at the top click Internet options.
Click the General tab and overwrite the Home Page URL.
Tap Alt+T one more time and select Manage Add-ons.
Set the desired provider and Remove the unwanted one.
Click Close and restart the browser.
In non-techie terms:
If you do not delete Isearch.tinyresults.com hijacker from your browsers, you might become a victim of scams delivered via advertisements. Furthermore, this hijacker could leak information about you to unknown parties (most likely to advertisers). These are serious risks that you need to consider if this suspicious search engine has corrupted your browsers. When it comes to the removal process, we advise using automated malware removal software, but you might also be able to clean it manually. If you choose the latter option, make sure you scan your PC afterward with a legitimate scanner to see if your operating system is clean and safe to use.