Do you know what isearch.omiga-plus.com is?
If you want to rid your browsers of isearch.omiga-plus.com, here you will find out how to do it safely. Isearch.omiga-plus.com is a search engine and is also categorized as a browser hijacker, because it can replace the home page and the default search provider of your Internet Explorer, Google Chrome, and Mozilla Firefox. And you may find the changes on your browsers after installing some freeware. Even though it is possible to have the browser settings changed without your permission, you should never skip the information that is given once you launch the installer. By reading the terms of use or privacy terms, you have a chance to find out how the program may modify the settings and prevent adverse results.
If you do not remove isearch.omiga-plus.com from your browser, you will be exposed to various advertisements every time you launch the browsers. You will find irrelevant advertisements on the startup page, which you should ignore in order not to access insecure websites. You may be invited to reader about weight loss, healthy diet, computer applications, and the like. Do not install the applications promoted through isearch.omiga-plus.com because you may unknowingly install a counterfeit software program. Isearch.omiga-plus.com also provides the user with paid advertisements which are presented as regular search hits. The majority of them are likely to be legitimate websites; however, you should keep mind that part of the links that are presented as ads may be insecure. On a corrupted website your computer may get infected and if you want to prevent this, remove isearch.omiga-plus.com from the browsers.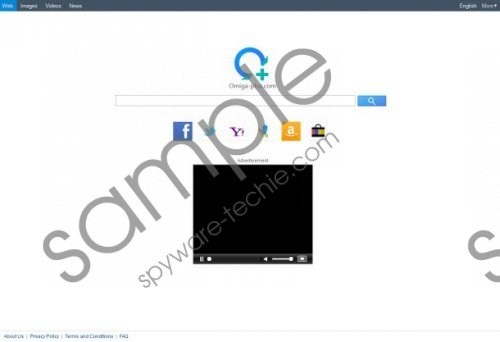 isearch.omiga-plus.com screenshot
Scroll down for full removal instructions
At first sight, it may seem that isearch.omiga-plus.com is a useful tool for improving your browsing because the startup page contains five links. With one click you can access Facebook, Twitter, Yahoo, MSN, Amazon, and eBay. However, you should not risk your privacy. The search engine collects your search terms and records the websites that you visit so that the information can be used for advertising or marketing purposes.
In order to remove isearch.omiga-plus.com, we recommend using SpyHunter. The anti-spyware program will also shield the system from various computer threats so that you can browse the Internet safely, so if you want to browse the Internet safely, implement the application right now.
Below you will find our instructions on how to edit the shortcuts of the browsers and reset the browsers so that you can make your own changes. Having finished the removal procedure, do not forget to scan the computer to make sure that all the unwanted components of the browser hijacker are removed.
Remove isearch.omiga-plus.com from the browsers
Internet Explorer
Press Alt+T and click Internet Options.
Open the Advanced tab.
Click Reset.
Check the box and click Reset.
Click Close.
Mozilla Firefox
Press Alt+H and click Troubleshooting Information.
Click Reset Firefox - > Reset Firefox - > Finish.
Google Chrome
Press Alt+F.
Point to Tools and click Extensions.
Remove suspicious browser plug-ins.
Click Settings.
Under On startup, click on the third option and click Set pages.
Change the startup page. Click OK.
Under Search, click Manage search engines.
Delete isearch.omiga-plus.com and type in a new URL. Click Done.
In non-techie terms:
Isearch.omiga-plus.com is a search engine which can be set as your home page. It will provide you with various advertisements and monitor your browsing behavior, so if you want to restore the former settings, implement SpyHunter, which will remove the browser hijacker and shield the system from various threats.
Aliases: Omiga plus.