Do you know what Iron Ransomware is?
Iron Ransomware can sneak onto your computer behind your back and start up its destructive mission of encrypting your files. The bad news is that, like in most ransomware attack cases, you cannot stop this malicious process in time to save your files from the fate of encryption. Our researchers say that this threat comes from a well-known, or rather, infamous ransomware family called Maktub. As you may know, ransomware infections are among the most dangerous ones in the malware world. You may want to take this attack seriously since there seems to be no way out of this with happy ending. You can believe that paying thousands of dollars to these attackers for the decryption will save you, but there is no guarantee whatsoever. You may simply lose your money, too. This is why we are pretty certain that the only way for you to end this nightmare is to remove Iron Ransomware from your PC immediately.
It is quite possible that you have opened a spam email recently. This ransomware is mainly spread via spamming campaigns as a malicious attachment. This attached file may look like a document, an image, or even a ZIP file. However, you should know now that this is the ransomware .exe file, which can encrypt all your personal files the moment you choose to run it. "Why would I just do that?," you may think. Well, the truth is, such a spam can be very convincing and tricky. Even more experienced computer users may fall for this dirty trick. This spam may look totally legitimate to you, too. You may think, even if finding it in your spam folder, that you must check this one out right away. It may claim that you have failed to pay a parking fine or a speeding ticket, a parcel could not have been delivered to your address, or your online booking went wrong due to wrong credit card information. All or any of these matters would make any one of us curious, right? But please, make sure next time that this mail is sent to you personally from a credible source. Because once you open this mail, it is quite likely that you will also want to see the attachment. One click and you will not be able to delete Iron Ransomware from your system anymore without losing your files.
We also need to mention the importance of keeping your browsers and Java and Flash drivers always up-to-date. Cyber criminals use malicious websites with Exploit Kits to take advantage of out of date software security bugs to drop such dangerous threats. All you have to do is click on a corrupt third-party ad beforehand and that could redirect you to such a malicious site in no time. Once the page loads in your browser, there is no way back even if you exit your browser window as quick as you can. It is also important that you properly configure any remote desktop application you may use with a strong password so that such cyber villains cannot find vulnerabilities to attack you this way. Because, in the end, you will be left with no other choice than deleting Iron Ransomware.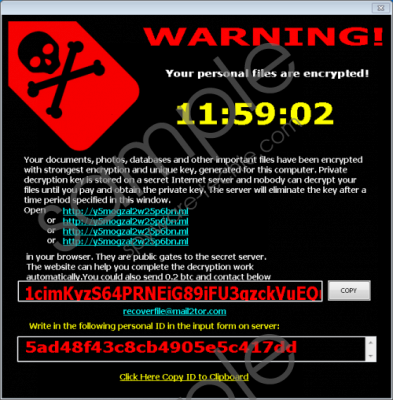 Iron Ransomware screenshot
Scroll down for full removal instructions
As a matter of fact, this severe threat can encrypt as many as 374 extensions on your system. The only good news here is that it does not corrupt Windows system files or directories; not that this really lessens the problems you may be facing right now. You can easily identify the encrypted files since they have a ".encry" extension. This ransomware program also drops a ransom note .html file named "!HELP_YOUR_FILES.HTML" in every affected folder.
After the attack you are informed that you have to pay 0.2 Bitcoins, i.e., about 1,778 dollars within the first 3 days to a certain Bitcoin address. If you fail to do so, this amount is increased by 0.3 Bitcoins every third day up to 15 days. Even if it means losing thousands of files, we do not think that it is a good idea to contact or pay any amount to cyber villains. It is also not safe to do so because they may infect you with yet another dangerous threat once you paid. All in all, our researchers say that it is best to remove Iron Ransomware from your computer right away.
It is usually not too difficult to delete ransomware infections because once their job is done, cyber crooks cannot care less about their infections and how you eliminate them. You can use our guide below if you are ready to act manually. Although this may be the most dangerous threat on your system right now, it is also possible that you will find other malicious and potential threats. Therefore, we suggest that you start using a reputable anti-malware program, such as SpyHunter, to automatically safeguard your PC against all possible threats out there on the Internet.
Iron Ransomware removal from Windows
Launch Task Manager by tapping Ctrl+Shift+Esc simultaneously.
Select the malicious process by clicking on it.
If you want to make sure you got the right process, you can check out if its Description field shows "ado64". Right-click on the process and select Properties. Remember the Location field, too, if you want to easily find the malicious .exe file. Click OK or Cancel to close the pop-up.
Click End task.
Close your Task Manager.
Tap Win+E.
Delete the malicious .exe and all other suspicious files you have saved on your computer lately.
Delete all the "!HELP_YOUR_FILES.HTML" files.
Empty your Recycle Bin and reboot your computer.
In non-techie terms:
Iron Ransomware is a serious threat to your files since it can slither onto your system without your knowledge and encrypt all your important files in no time; at least, you will not have enough time to notice it and then, quickly abort its dirty mission. This also means that if you do not have a backup kept safe offline or in cloud, you can actually lose all your files in the malicious attack. Although you are offered to pay 0.2 Bitcoins (1,778 US dollars at present) for the decryption of your files within 3 days, our researchers are quite skeptical about such cyber criminals, to say the least. The amount grows by 0.3 Bitcoins every 3 days after that. If you want to recover your system at least, we believe that it is vital that you remove Iron Ransomware as soon as possible. Protecting your PC could be more important now than ever before. This is why we recommend that you install a reliable anti-malware program.