Do you know what Invincible Ransomware is?
If you ever encounter a program that is known as Invincible Ransomware be sure to do everything in your power to avoid it. It is critical to do so because the malware in question might be capable of locking large quantities of data as soon as it gains full access to your operating system. As you can imagine, such functionality could have devastating outcomes, to say the least. In our detailed report, we provide an in-depth analysis of this ransomware program so you could have a better understanding in regards to its inner workings. Furthermore, we present virtual security recommendations that will allow you to maintain a fully secure operating system at all times. Besides all such information, below you will find a detailed removal guide that will help you delete Invincible Ransomware in no time at all if it is ever found active on your PC.
During the analysis malware, experts working at our Internal labs have discovered that Invincible Ransomware functions in a poor manner, which is good news for anyone that already has this malicious piece of software fully active on your personal computer. Unlike the majority of other ransomware applications that are active nowadays, this one does not encrypt any of the files on the affected computer after you launch its executable. Even though this is fortunate, at the moment, you must be aware of the fact that this devious application might start acting in the way it is designed to without any notification or authorization. If that happens, you could obviously face devastating outcomes, to put it lightly as this malware is designed to lock large quantities of data in a matter of moments. What is even more concerning is the fact that despite not encrypting your data this malware still issues a devious ransom note. It falsely claims that all of your important data has been encrypted and that you must make a payment within three days for decryption services. This is nothing more than a hoax scare technique used to trick paying large sums of money for services that they do not need. Do not take any chances with Invincible Ransomware and conduct its complete removal at the very same moment that it is found active on your personal computer. Do so quickly and easily by following the instructions that we provide below.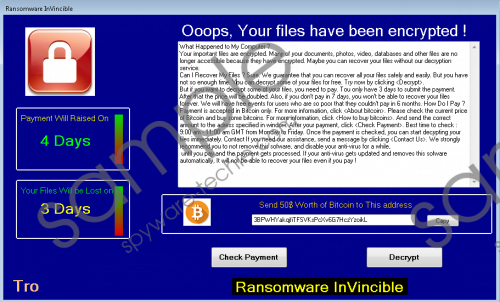 Invincible Ransomware screenshot
Scroll down for full removal instructions
Invincible Ransomware like a lot of its counterparts is spread in various ways. To avoid such malicious applications, you must take preventative steps to improve your overall virtual security. Since in the majority of cases programs of this classification are distributed using spam email campaigns, our malware experts highly advise you to refrain from all questionable attachments that are sent from unidentifiable sources. You should also avoid all unauthorized download web pages since they tend to host a lot of bundled installers, which are infamously favored by malware developers as means of distribution. By obtaining all of your applications from an authentic developers' websites only you will drastically reduce the risk of acquiring a malicious setup file. Likewise, we recommend learning as much as possible about any application that you may want to have running on your PC. That is important because you could fall prey to misleading marketing techniques used by cyber crooks to trick users into downloading and installing their application without understating what they do. Finally, and most importantly, be sure to install a professional antimalware tool if you do not have one already. Such a tool is the most important part of your overall virtual security due to its wide array of abilities; it can warn you in advance about any virtual threat as well as it can terminate such threats automatically. These precautionary steps will ensure that your operating system will be safe and secure at all times.
Be sure to follow the instructions that we provide below with care to delete Invincible Ransomware completely. It is critical to get rid of everything related to this ransomware before it starts acting in the way it should. To be sure that no leftovers are active on your operating system, we highly advise you to conduct a detailed analysis of your computer for anything associated with Invincible Ransomware. Such analysis must be performed as soon as you are done with the manual removal instructions below. This way you will be sure that every single bit of Invincible Ransomware has been deleted entirely.
How to remove Invincible Ransomware from your PC
Open your File Explorer.
Go to C:\Users\[your username[\Downloads.
Right-click the malicious .exe file and then select the Delete option. Note that the name of this file is random.
Close your File Explorer.
Right-click your Recycle Bin and then select Empty Recycle Bin option.
In non-techie terms:
If you think that manual removal Invincible Ransomware is too complex, do not worry. Malware researchers at our internal labs have crafted an alternative removal guide. Follow the instructions that we present below and you will be able to delete this ransomware automatically.