Do you know what InternetSpeedRadar Toolbar is?
When you open your browsers and you notice a new search website with extra features like InternetSpeedRadar Toolbar, you should always double-check what that is unless you knowingly installed it. This browser extension is not the type you want to keep in your browser for too long. In fact, our researchers say that this featured search website is a newborn clone in the well-known Mindspark family of potentially unwanted programs (PUP) or bad toolbars that also include OnlineWorkSuite Toolbar and CinematicFanatic Toolbar. Although it is possible that you may need to check your Internet speed every now and then or even more frequently for some reason but you can always bookmark a reliable website that provides you with authentic data and preferably no questionable third-party ads. This PUP may also gather data about you and present to you modified search results that could be risky to click on. We suggest that you remove InternetSpeedRadar Toolbar from your system because we do not find this tool reliable enough. But let us tell you more about this PUP so that you can make up your mind as soon as possible.
There are two options for you if you want to download this app officially. You can directly install it either on its very simple official page, internetspeedradar.com, or in the Chrome web store, chrome.google.com/webstore/detail/internetspeedradar/gnpfgkmogeglaogaahfpmphbcniepmia. We need to mention here that loading the official page may become problematic when your PC is protected with proper security software. When a PUP's website is listed as a potential threat by any security tool, it is already a good reason to doubt its reliability although sometimes it still could be a reliable program. But is it worth the risk to have such an extension on your system? We do not think so. What's more, we recommend that you delete InternetSpeedRadar Toolbar as a PUP right now but we have more to say about this questionable tool.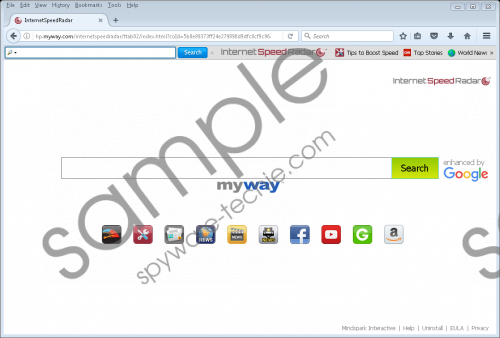 InternetSpeedRadar Toolbar screenshot
Scroll down for full removal instructions
It is possible that you have never visited these two sites and you still have this annoying search engine page in your major browsers when you launch them, including Mozilla Firefox, Internet Explorer, and Google Chrome. This is usually the case when you have installed free program recently that you downloaded from a suspicious source (a torrent or a freeware page) or when you clicked on compromised or corrupt third-party content (an advertisement, a fake button, or a fake notification). The bigger issues here is that when you do any of these, there is a good chance that you download a whole package of programs. Such a bundle can contain all kinds of unreliable and malicious threats, such as PUPs, adware programs, browser hijackers, fake alerts, Trojans, and more. Installing such a package could seriously increase the vulnerability of your system to cyber attacks. If you want to avoid such infections, you should stay away from questionable websites, use only official pages to download software and updates, and stop clicking on third-party ads. But right now all you can do is delete InternetSpeedRadar Toolbar and scan your system with a reliable online malware scanner to see how bad your security situation is.
We always recommend that whenever you need to access a website frequently or you need to remember it, you should use the bookmarking function of your browsers because that is the safest thing to do. PUPs like this one offer you quick links to Internet speed testing sites and related pages but these can host potentially unreliable third-party ads, for example. It is also possible that when you click on a thumbnail link displayed below the main search field in the middle of the page, you get redirected to a page with promoted content. But if these are not enough for you to question this PUP, you should also know that you cannot trust the search engine either. This family has been promoting the search.myway.com search engine up until now, as it seems they started to use Ask.com, a previously promoted search engine. The problem is that this extension may modify the search results and no matter how reliable third-party search engine it would redirect you to, the results could contain potentially unreliable third-party ads and sponsored links. If you click on such content, you could let further infections onto your system or end up being scammed by cyber criminals on fake pages. This is why we advise you to remove InternetSpeedRadar Toolbar from your PC.
In order for you to eliminate this PUP entirely, you need to run its uninstaller via Control Panel and reset Mozilla Firefox and Google Chrome. Of course, this only applies if you have this undesirable extension in all of these major browsers installed. Please follow our instructions below if you want to erase this PUP with your own hands. Keep in mind though that this alone may not clean your system fully. You can either try to identify all other threats manually or use a professional malware removal application like SpyHunter to do that for you automatically. Remember that if you do not change anything regarding your web surfing habits, future malicious attacks could be unavoidable. Protect your PC now to save future headaches.
InternetSpeedRadar Toolbar Removal from Windows
Windows XP
Click the Start button and go to Control Panel.
Open Add or Remove Programs.
Click on the uninstaller and press Remove.
Windows Vista and Windows 7
Open the Start menu and select Control Panel.
Pick Uninstall a program.
Click on the uninstaller and press Uninstall.
Windows 8, Windows 8.1, and Windows 10
Tap Win+R and type Control Panel. Click OK.
Select Uninstall a program.
Click on the uninstaller and press Uninstall.
Reset your browsers
Mozilla Firefox
Tap Alt+H and go to Troubleshooting Information.
Press Refresh Firefox.
In the pop-up window, click Refresh Firefox.
Google Chrome
Tap Alt+F and select Settings.
Click Show advanced settings at the bottom.
Click Reset settings at the bottom of the page.
Press Reset in the pop-up.
In non-techie terms:
InternetSpeedRadar Toolbar is another new useless browser extension from the Mindspark family that may pose an indirect threat to your virtual security. This potentially unwanted program may redirect you to websites with questionable third-party content as well as present to you potentially unsafe modified search results. In other words, engaging with any content provided by this tool is potentially risky. This extension may also sneak onto your system under questionable circumstances, such as via freeware bundles, that could indicate the presence of malware infections, too. We recommend that you remove InternetSpeedRadar Toolbar and all other possible threat sources from your system to make it more secure. It may be time to start using a professional malware removal application to protect your system.