Do you know what Internet Quick Access is?
Internet Quick Access is a web browser that can be downloaded from internetquickaccess.com. However, if you are perfectly satisfied with your default web browser, there is no need to download and install Internet Quick Access because this application is not as reliable as we would want it to be. Our research team says that Internet Quick Access can be classified as a potentially unwanted program because, more often than not, it enters computers when users expect it the least. It might get installed on your PC along with a list of unwanted programs that could seriously jeopardize your system's security. Thus, when you remove Internet Quick Access, you have to terminate all the other undesirable applications as well.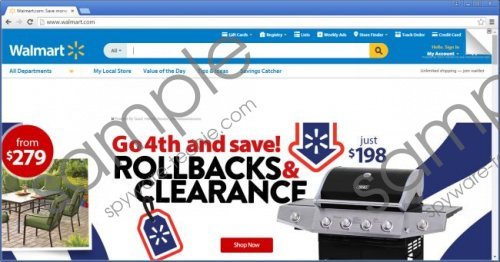 Internet Quick Access screenshot
Scroll down for full removal instructions
One of the reasons users do not find Internet Quick Access suspicious is that the program is based on the Chromium engine. Therefore, the browser looks very much like Google Chrome, and some users might even consider it another version of the popular web browser. However, you should not be fooled by its looks. If the program enters your system uninvited, it is more than obvious that it should not be tolerated. When a program enters your system behind your back, it is clear that it has some hidden agenda, so you simply must intercept it.
The good thing about Internet Quick Access is that this browser and all the behavioral patterns that come with it do not affect your other browsers. It means that you will be assaulted by countless pop-up advertisements only if you browse the Internet via Internet Quick Access. This browser is a type of freeware, so it is clear why it displays commercial ads: It needs to cover its development costs by earning the money via the pay-per-click system. If the advertisements displayed via Internet Quick Access were absolutely safe, there would not be much of a problem, but now even the program itself cannot guarantee that.
On top of that, Internet Quick Access cannot provide you with reliable search service, too. The browser comes with a search engine that is called safebrowsesearch.com, but the engine does not seem to work properly as well. Whenever you would enter a search query into the search box, hitting Enter would redirect you to plustnetwork.com. It is yet another third-party search engine that displays customized search results. Together with the ads that are labeled "Powered by Quick Internet Access internetquickaccess" it creates are rather annoying and potential harmful combo. We have to keep it mind that no one check the reliability and legitimacy of the third-party content, so the best way to protect us and our computers from harm is to remove Internet Quick Access for good.
Uninstall this program through Control Panel, and then check the list of the installed programs for other potential threats. The best way to figure out whether you have more unwanted apps on-board is to run a full system scan with the SpyHunter free scanner. If you happen to have several potential threats installed, remove them all automatically with a licensed antispyware tool.
How to Remove Internet Quick Access
Windows 8 & Windows 8.1
Move the mouse cursor to the bottom right of your desktop.
Click Settings on the Charm bar and go to Control Panel.
Select Uninstall a program and remove Internet Quick Access.
Windows Vista & Windows 7
Click the Start menu and open Control Panel.
Go to Uninstall a program and remove Internet Quick Access.
Windows XP
Open the Start menu and navigate to Control Panel.
Select Add or remove programs and uninstall Internet Quick Access.
In non-techie terms:
Internet Quick Access is a potentially unwanted program that cannot be trusted. It could be used by cyber criminals to promote malware. If you care about your system's security, you will have to remove Internet Quick Access right away. For an alternative removal method, please refer to the secondary set of instructions below this description. You can always contact us through our social media accounts if you have any further questions on how to ensure your system's security.