Do you know what Interesting20news17.net is?
If you visit our site often, you must have seen this line more than once: this and this is a browser hijacker. It is becoming a habit to introduce a new browser hijacker each day and today is not an exception. Interesting20news17.net is one more security threat we need to talk about, and it does fall under the browser hijacker category. When we know the category of a particular system security threat, it is easier for us to deal with it. Likewise, you can remove Interesting20news17.net from your computer without much difficulty because we have researched this threat already.
If you are reading this article just for the removal method, you can simply scroll down to the bottom of this description. On the other hand, we would like to point out several things that you should know about browser hijackers, freeware, and their delivery patterns. After all, this is not a genuine malware infection that sometimes does not even need your permission to enter your PC. Users tend to install browser hijackers themselves, but the thing is that they are not aware of the fact because they do not know how such programs travel around the web.
Our research team says that Interesting20news17.net usually comes in bundles. It means that the program arrives in a software package when you download a particular application. Normally, this happens when you download programs from file-sharing websites. If you must have a new program on your computer, make sure you get it from an official website. We mention this all the time, but it is very important to check the steps in the installation wizard, especially if you downloaded some program from a third-party source. Most of the information presented in the wizard might look default, but if the installer bundles several programs together, you are bound to be informed about it. And if the information is there, you can choose to avoid installing the apps you neither need nor want.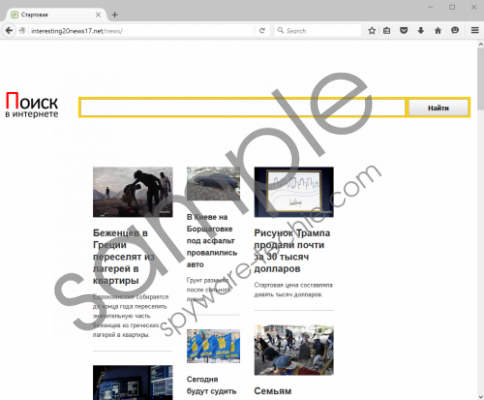 Interesting20news17.net screenshot
Scroll down for full removal instructions
However, if this browser hijacker does enter your system, it will work similarly to its counterparts. As far as we know, Interesting20news17.net is similar to time-to-read.ru and 12korov.ru. So this program will hijack your homepage, and it will launch your browser each time you restart your computer. Since this hijacker can affect all the major browsers in the market, if it enters your PC, you can expect to find your browser's settings modified.
What's more, the domain itself will be used as adware. It means that it will be used to promote third-party content that might prove to be annoying and even dangerous. In fact, you do not even need to open specific pages to encounter these ads. Upon the installation, Interesting20news17.net will create a Scheduled Task that will open the interesting20news17.net link every 34 minutes on your default browser. After that, it will continue to redirect you to various binary trading, sex cameras, lotto, and other types of websites. It is clear that the program comes forth with the intention to make some money, but it is highly unfortunate that it drags you along as the collateral damage.
Of course, for the most part, the ads displayed by Interesting20news17.net are annoying and intrusive, but they do not aim to steal your personal information. The main security threats may arise when and if the browser hijacker gets exploited by malevolent third parties. It is always a possibility because such applications are highly vulnerable and have a lot of security loopholes that can be misused by cyber criminals. So we believe that we do not need to continue persuading you to remove Interesting20news17.net for good.
It is more complicated to look for other unwanted applications than to delete Interesting20news17.net manually. If you follow the instructions below, you will be able to do that in no time. However, keeping in mind that the hijacker comes bundled with freeware, you need to look for other unwanted applications, too. If you do not want to go through the list of installed programs manually, you can always can your PC with a licensed antispyware tool. A computer security application of your choice will definitely locate all the potential threats, and it will help you terminate them automatically.
How to Remove Interesting20news17.net
Chrome
Press Win+R and the Run prompt will open.
Type %LOCALAPPDATA% into the Open box. Click OK.
Navigate to Google\Chrome\User Data\Default.
Remove the Preferences, Secure Preferences, and Web Data files.
Firefox
Press Win+R and enter %AppData%. Press OK.
Go to Mozilla\Firefox\Profiles\[Unique User ID].
Open the prefs.js file with Notepad.
Remove the string that has "interesting20news17.net" in it.
Save changes and exit the file.
Internet Explorer
Press Win+R and enter regedit. Click OK.
Open HKEY_CURRENT_USER\SOFTWARE\Microsoft\Internet Explorer\MAIN.
Right-click the Start page value on the right pane.
Select Modify and edit your homepage. Click OK.
Open HKEY_CURRENT_USER\SOFTWARE\Microsoft\Windows\CurrentVersion\Run.
On the right, right-click the random 10-character value.
Delete it and navigate to HKEY_CURRENT_USER\SOFTWARE\Start Page.
Right-click the Start Page value on the right and click Modify.
Edit your homepage address and click OK.
In non-techie terms:
Interesting20news17.net may not look like much, but this browser hijacker is an annoying and intrusive security threat that might lead to serious security problems. The program is mostly used to promote commercial content, and if you interact with that content, you help them make money. On the other hand, you do not get anything in return, and sometimes this intruder might inadvertently expose you to something more dangerous. Hence, the sooner you remove Interesting20news17.net, the better.