Do you know what InstantSupport is?
It is possible that you find InstantSupport on your computer and you do not even remember installing it. This application places an icon on your Taskbar and in your browser windows, so you would notice it right away if this infection appears suddenly on your system. But, of course, there are a few more reasons why our researchers have labeled it a potentially unwanted program (PUP) apart from the "mystery" of its arrival. Although we cannot go as far as calling this PUP a dangerous malware infection, it can still expose you to schemers whose only goal is to get your money. If you want to learn how you can delete InstantSupport and protect your computer from other attacks, please read our full report.
According to our researchers, you cannot find a promotional website for this PUP, so it is not available in a standalone version. That is rather suspicious and you should ask yourself how you could trust technical support coming through an application that practically has no official site or representation. How does that make you feel? For us, it would be enough to take action and remove InstantSupport right now if it is there on the computer. But it is your choice, of course. It is up to you how far you are willing to leave such a questionable program on-board. So let us share with you more reasons to make up your mind.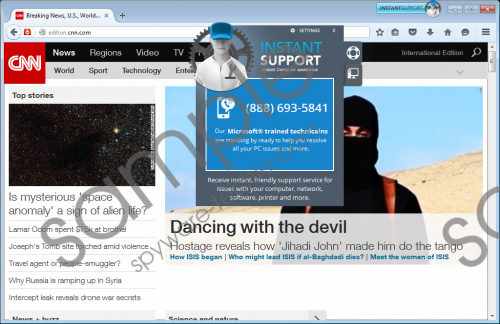 InstantSupport screenshot
Scroll down for full removal instructions
Another suspicious thing that is related to the "missing" website is that you may find InstantSupport packed with other PUPs, including PC Accelerate Pro, and possibly malware programs as well. Such bundles are mostly promoted on questionable file-sharing websites, which means that you can actually prevent them from entering your computer if you stay away from these sites. Well, maybe you cannot avoid all malware attacks this way, but you can definitely lower the risk.
Most people do not know that these infections usually do not just appear mysteriously on their computers, but they are the ones who actually install them or allow them to be installed by not opting out when they still have a chance. When this PUP is activated, it does not "stay in the shadows"; it puts an icon on your Taskbar so that you cannot miss it. If you click on it, a pop-up appears promoting technical support services and a telephone number you can call if you are in trouble. However, we recommend that you refrain from calling that number. As a matter of fact, it could be a costly call. Not only the call itself, but it is most likely that you will be offered a program to buy that will solve all your issues; or it may not at all, of course. Since there is no advantage in keeping it on your computer, we advise you to remove InstantSupport.
After the cold shower, it is time for us to provide you with a solution as well. If you want to manually remove this PUP, please use our guide that we have included below this article. Since this application has a working uninstaller, you do not need to call a hotline to sort out this issue; simply uninstall InstantSupport via Control Panel. Unfortunately, this may not be enough if you want your PC to be perfectly clean of threats. Therefore, we suggest that you download and install a professional security tool to protect your virtual world.
Remove InstantSupport from Windows
Windows 8, Windows 8.1, and Windows 10
Press Win+Q and type in Uninstall a program. Press Enter.
Select the program and click Uninstall.
Windows Vista and Windows 7
Press Win+R and type in Control Panel. Hit OK.
Go to Uninstall a program.
Select the application and click Uninstall.
Windows XP
Open the Start menu and access Control Panel.
Click Add or Remove Programs.
Select the program and click Remove.
In non-techie terms:
InstantSupport is a program that has no use for you at all. It does nothing else but promotes a technical support telephone number to call. However, that call could cost you a lot of money. Not only the call itself, but you might also be persuaded to buy an application to sort out your problem, which, of course, may not even work. Since it is possible that this potentially unwanted program enters your computer with other PUPs and even malware infections, we advise you to remove InstantSupport and all the other possible threats as well.