Do you know what the Inspirational and Motivational Quotes plugin is?
Inspirational and Motivational Quotes is a browser extension which constantly displays motivational quotes to empower and inspire people. The developers of this browser plugin present their product as a means of re-enforcing people to take action towards their goals. Potential customers are encouraged to install the application because it is available at no charge. The Inspirational and Motivational Quotes plugin is compatible with the Chrome browser, and is promoted at the Chrome store. The browser application does seem to be interesting, but it has already caused trouble to some computer users. For this reason, malware researchers decided to analyze the browser extension, which resulted in categorizing the extension as a potentially unwanted program (PUP). PUPs typically have features that outweigh their advantages; hence, they should be removed from the computer, or the browser as in the present case.
After installing the Inspirational and Motivational Quotes plugin, no visual changes are made within the browser, and it is possible to continue using the browser as usual. As the description of the program explains, motivational quotes are displayed in a new tab. Unfortunately, the new tab is no longer capable of offering the same default search provider set on the browser. Instead, the search bar featuring an inspirational quote fetches search results from rambler.ru. More specifically, the search term goes to search.reviringyourmind.com, nova.rambler.ru, thebestwebsearch.com and only when the user finds results that are delivered through rambler.ru. Such practice is sometimes regarded as browsing hijacking. The Software End User Licence Agreement suggests that some changes concerning the search provider can be done, but no specific search engines are mentioned. Our advice is to avoid using the search engine offered by the Inspirational and Motivational Quotes plugin and remove the extension. It is even more important to remove the plugin if you are sure that you have not installed it by yourself.
The Inspirational and Motivational Quotes plugin can be spread alongside freeware as an additional program. If you do not remember installing it, the odds are that you have recently installed some other program. In any case, it is worth running a system scan to make sure that the operating system and your personal data are not at risk.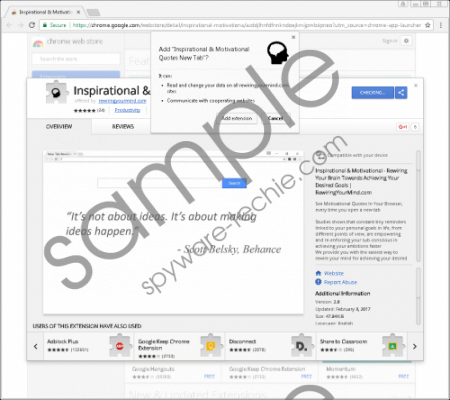 Inspirational and Motivational Quotes Plugin screenshot
Scroll down for full removal instructions
Another important issue regarding the Inspirational and Motivational Quotes plugin is advertising. By agreeing to install the plugin, you agree to be provided with various advertisements. This seemingly harmless browser app has its EULA, Terms of Use, and Privacy Policy, the latter or which informs you that some ads may be displayed. If you really care about your online security and want to use a malware-free computer, you should ignore all questionable ads, including pop-up ads and ads in the form of search links and remove the unwanted browser extension. Similarly to many other browser applications, the Inspirational and Motivational Quotes plugin collects particular non-personally identifiable information. For example, it saves the computer's IP address, technical information about the computer, web browser, your preferences regarding browser settings, websites visited, and some other details. The data collected may be shared with third parties, which make a whole range of partners and institutions. If you do not want to be part of some marketing research or be related to some other affairs, remove the Inspirational and Motivational Quotes plugin. Before installing a program you have never heard of, check its reviews to make sure that it does not have negative comments.
When it comes to removal, you always have two options. You can either delete the plugin manually, or rely on an antimalware program. As the Inspirational and Motivational Quotes plugin is not a Trojan horse or some other complex infection, it is possible to remove it manually using the following instructions. However, the fact that some other unreliable programs may be running on the PC should be taken into consideration. To find out what malicious files are present on your PC, you can use our recommended security program.
How to remove Inspirational and Motivational Quotes
Open Chrome.
Click on the More button in the upper-right corner.
Select More Tools > Extensions.
Remove Inspirational & Motivational Quotes.
In non techie terms:
The Inspirational and Motivational Quotes plugin is a browser extension for the Chrome browser. This browser extension shows motivational quotes in new web browser tabs and offers a search box powered by a different search provider. Some advertisements may also be displayed. This browser plugin is a product of Rewiring Your Mind and is categories as a potentially unwanted programs, which means that it can be detected and removed by certain antimalware programs.