Do you know what InfoSearchBox.com is?
Our malware research team categorizes InfoSearchBox.com as a browser hijacker because it can modify the homepage of your web browsers in an undesirable manner. Even if you choose to replace your regular homepage yourself, you must realize soon that this search tool is useless and unreliable, which might mean that it was represented to you in a misleading manner. Search providers that are installed illegally, forced upon users, or represented using misleading information are all classified as browser hijackers. Needless to say, we recommend deleting InfoSearchBox.com from your browsers, and there are more reasons than just its infiltration. Before we start discussing this hijacker and its removal, you should scan your operating system to see if it is clean from other malicious programs. In many cases, this hijacker travels in bundles, and the programs packaged with it could be dangerous. Of course, if you discover more malicious threats, you should take care of them first.
The distribution of InfoSearchBox.com is quite mysterious. Obviously, an official download page does not exist; however, it was found that more and more users living in the United States report this hijacker, which means that it is spreading somehow. According to our information, this infection is most likely to spread via software bundles. As you already know, this could lead to the infiltration of other infections. Once installed, InfoSearchBox.com is most likely to take over the homepage, but hijackers are usually also capable of corrupting default search providers and New Tab pages. If you notice this, please leave a comment below, and we will update the removal guide. Overall, the interface of this hijacker is quite misguiding. At the top, there is a bar representing easy-access links to popular websites, such as ebay.com, facebook.com, and gmail.com. There is nothing wrong with these links, at least at the moment, but the Search tool is very suspicious.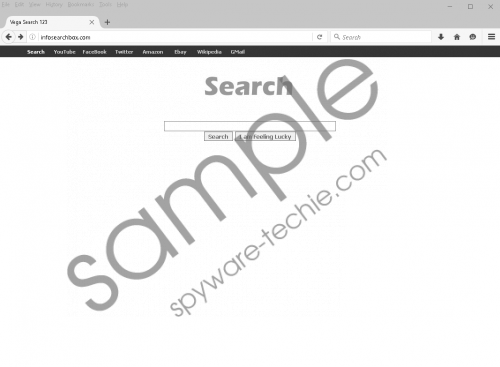 InfoSearchBox.com screenshot
Scroll down for full removal instructions
As you might have noticed already, InfoSearchBox.com is represented as "Vega Search 123." This is the tab name that shows up on the tab that represents this browser hijacker. Did the hijacker have a different name in the past? Is it being converted to Vega Search 123 at this very moment? It is difficult to say, and it is even worse that we cannot contact the creator of this threat and figure things out. The interface of the hijacker does not provide contact information, privacy policies, or other content that we usually see supporting legitimate software. Although many users might overlook this completely, we warn you that this is a red flag. After all, if you cannot review the privacy policies, how can you be sure that this infection is not using intrusive HTTP cookies, leaking data to malicious parties, or preparing to expose you to unreliable content via the search results shown? At the moment, the search tool does not work at all, and so there really is no reason to postpone the removal of InfoSearchBox.com.
What is holding you back when it comes to the removal of InfoSearchBox.com? Have you chosen to ignore this hijacker? Although it does not work, and it is easy to access the desired search tool, you should not ignore this infection. As mentioned previously, this hijacker is unpredictable, and it could perform intrusive actions without your notice. If you are postponing the operation because you do not know what to do, follow the instructions below. Do not skip the installation of a malware scanner because you do not want invisible malware running on your PC. If you detect infections that you cannot erase yourself, use an automated malware remover. Just make sure you download a legitimate and reliable one.
Delete InfoSearchBox.com from browser
Internet Explorer
Launch Internet Explorer and tap Alt+T.
Select Internet options.
Navigate to the Home Page section.
Overwrite the URL and click OK.
Install a trusted malware scanner.
Mozilla Firefox
Launch Firefox and tap Alt+T keys.
Select Add-ons to access the about:addons menu.
In the menu on the left click Extensions.
Remove the unwanted extension.
Install a malware scanner to examine your PC.
Google Chrome
Launch Chrome and tap Alt+F.
Select More tools and then select Extensions.
Click the trash bin next to the unwanted add-on.
Choose Remove.
Scan your computer with a reliable malware scanner.
In non-techie terms:
There is no reason to defer the removal of InfoSearchBox.com because this hijacker is useless and unpredictable. Even if you do not realize how dangerous this "search tool" could be, you should delete it just because it does not work. As you enter keywords into the search engine, you will be routed to an empty page, and that, of course, is a useless service. You can erase the hijacker using the guide below, but you should run a malware scanner just in case leftovers remain active. If they do, delete them ASAP. The same goes for additional malware that could have slithered into your operating system along with the threat. If you need our help removing all threats, use the comments section below to start a discussion.