Do you know what InfoAtoms is?
InfoAtoms is a free browser plug-in that enables you to quickly search for information whenever you find something of interest. In this article we will discuss how this application works in greater detail. However, from the very outset, we must say that InfoAtoms falls into the category of adware for showing commercial ads. First of all, the advertisements are annoying and can greatly obstruct your browsing. Second, the ads are likely supplied by third parties, which make this application unreliable. Therefore, we highly recommend that you remove this application as soon as possible. Please read this article if you are not sure whether you need to do so.
Allegedly, InfoAtoms was made by a company under the same name. But this particular application is nothing new. In the past, we have encountered numerous clones that basically do the same thing. WordShark, QuickSurf, Termblazer, and LinkWiz are applications that were released prior to InfoAtoms. Of course, the applications have minor differences. Earlier versions had dedicated websites that did not feature a download button. This application, on the other hand, can be downloaded from its dedicated website that now has a different style.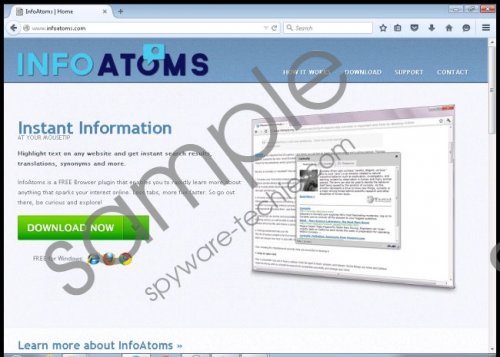 InfoAtoms screenshot
Scroll down for full removal instructions
Previous applications where distributed via software bundles. But it appears that there is now a different trend that is likely to continue in the future. As far as we know, InfoAtoms main means of distribution is its dedicated websites. To our knowledge, no one has found a software bundle featuring this program. That is actually good news, because users used to install these applications unintentionally when installing software bundles.
InfoAtoms is installed as a Windows application and as a browser extension that is compatible with Internet Explorer, Chrome, and Firefox. As opposed to most adware programs, this particular application actually has features that work. You can activate its functions by highlighting the select text segment. A small symbol will appear that will open the program's window if you click it. The program should have three tabs that provide different functions. The first tab searches for the highlighted text on Wikipedia and presents results if any are found. The second tab is a translator, which can translate the highlighted text to a variety of languages. The third tab will provide definitions of words and collocations. Of course, such great functions come at a price.
The application is free, but the developers still need to get paid, so they built in additional functions that enable the application to display coupons and pop ups. Coupons can be ignored, while pop-ups will constantly get in the way, which is very irritating. As per usual, the ads are provided by shady entities, so we do not recommend clicking the advertisements. There is just no way of knowing where you might get redirected. In the worst case scenario your PC might become infected with malicious software, but most of the time the ads will just annoy you.
So, that being said, it is clear that InfoAtoms is an adware application. It does have useful functions, but they hardly compensate for the frustration of dealing with unasked-for advertisements that might compromise your computer's security. Therefore, we recommend that you remove InfoAtoms using the removal guide we have provided below or using a dedicated antimalware tool, which will do all of the dirty work for you.
InfoAtoms manual removal guide
Windows 8 & 8.1
Simultaneously press Windows key+W.
Type Control Panel and press Enter.
Click Uninstall a program.
Find InfoAtoms and click the Uninstall button.
Windows Vista & 7
Simultaneously press Windows key+R.
Type Control Panel and click OK.
Go to Uninstall a program.
Find InfoAtoms and click the Uninstall button.
Windows XP
Open the Start menu and go to the Control Panel.
Select Add or Remove Programs.
Find InfoAtoms and click Remove.
Remove InfoAtoms from your browser
Microsoft Internet Explorer
Simultaneously press Alt+T, and then select Manage Add-ons.
Select Toolbars and Extensions.
Find the extension and click Remove.
Mozilla Firefox
Simultaneously press Ctrl+Shift+A.
Click Extensions.
Find the unwanted extension and click Remove.
Google Chrome
Simultaneously press Alt+F, and then select More tools.
Choose Extensions.
Find the plug-in and click Remove.
In non-techie terms:
InfoAtoms is a barely useful application that you should remove, because it will display third-party ads on your browser. The application has some useful functions, but they are not that spectacular. So it would be wise to remove InfoAtoms from your computer and then scan it with an antimalware scanner just in case.