Do you know what Info Trigger Ads are?
Info Trigger Ads pop up on your browser when you install Info Trigger adware application on your computer. You may not even notice that you have this program on your computer because it is not too obnoxious. Nevertheless, you should not tolerate Info Trigger Ads since they might expose you to potential computer security threats. Hence, it is necessary to remove Info Trigger from your computer and scan the system with a reliable antispyware scanner. There are bound to be other unwanted applications on your system because adware programs travel in packs.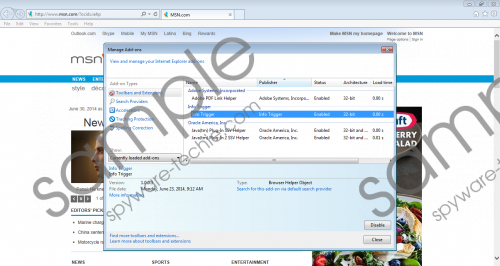 Info Trigger Ads screenshot
Scroll down for full removal instructions
Our research lab team cannot say anything new about this adware application since we have encountered a lot of other similar programs before. Info Trigger is a potentially unwanted program from SuperWeb adware family. It is a huge group of adware applications that arrive at target systems bundled with freeware. Info Trigger and other similar apps (like NetCrawl, Gooternet, TopicTorch, etc.) also have non-functional homepages that are supposed to make an impression these programs are legitimate and reliable. Opening Info Trigger's website at infotrigger.net will not help you much. It only says that with this program you can "enjoy a suite of web browsing features that customize and enhance your interaction while surfing the web."
However, were you to try and click the Start Now! button, nothing would happen. It is common that SuperWeb adware apps do not have a working direct download link. Instead they come together with other unwanted programs. It is very likely that you have download and installed Info Trigger Ads onto your computer yourself, after having clicked a fake Java or Adobe flash update link. You have to realize that Internet is not as safe as it might seem, and in order to avoid various computer security threats you should implement safe internet browsing habits.
As far as system security is concerned, Info Trigger Ads cannot infect you with malware directly. However, this application constantly displays ads, commercial deals and coupon offers, at the same time collecting information about your shopping and internet browsing habits. This information could be sold or leaked to malevolent third parties, and eventually you could find yourself on a dangerous website. Adware programs are there to generate financial profit for their creators, but at the same time they could be exploited as malware distribution tools.
Therefore, you have to protect your computer from harm by uninstalling Info Trigger right now. You can do it via Control panel. Nevertheless, do not forget that you most probably have other programs to remove as well. Not to mention, that manual removal does not guarantee complete unwanted program removal. You should scan your PC with SpyHunter free scanner and then delete all the unnecessary applications with a legitimate antimalware program.
How to remove Info Trigger Ads
Windows 8
Drag mouse cursor to the bottom right corner of your screen.
When Charm bar appears click Settings and go to Control Panel.
Open Uninstall a program and remove Info Trigger.
Windows Vista & Windows 7
Open Start menu and click Control Panel.
Select Uninstall a program and remove Info Trigger.
Windows XP
Click Start menu button and navigate to Control Panel.
Select Add or remove programs and uninstall Info Trigger.
In non-techie terms:
Info Trigger Ads will annoy you to no end unless you remove Info Trigger for good. Please refer to the secondary set of instructions below for a complete removal of unwanted programs, and do safeguard your system against other potential intruders.