Do you know what inetoboz.com is?
inetoboz.com is one malicious application that can come uninvited to your computer and cause a lot of inconvenience. Our researchers have classified this program as a browser hijacker, because it modifies your browser settings and makes inetoboz.com the browser's default homepage. If you do not want to have this address as your homepage, then you have come to the right website, because we at Spyware-techie.com have a solution that will help you get rid of this infection.
inetoboz.com is a recently launched news website that has been steadily becoming more and more popular during the past month. Its global rank is currently #10,680,959, not the best score, but for a website such as this, it is not bad either. The website's rank has been increasing due to the fact that it uses a browser hijacker to take over your browser's homepage and force you to access and view the page every time you open the browser.
Even though the website is in the Russian language and is focused on presenting news for the Russian speaking diaspora, it is, however, registered to an organization located in Germany, called Protectservice, LTD, its Registrar is Evoplus LTD. Its server is located at Whois.evonames.com. The website has three server hosts, one is located is the Netherlands and two are located in the United States. So, that is all the information regarding the origins of this website. The website itself is considered safe and does not contain any malicious traits. However, inetoboz.com browser hijacker is considered malicious, because it automatically changes the homepage and prevents the user from changing it back to its previous state. We are of the opinion that this is unacceptable, and you should not tolerate this.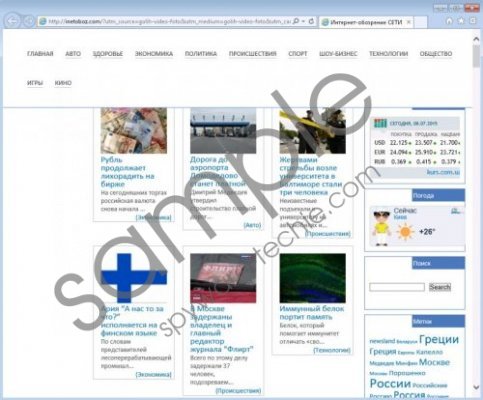 inetoboz.com screenshot
Scroll down for full removal instructions
You can get your computer infected with inetoboz.com by downloading software from websites that distribute pirated content. Since the application is intended to infect the computers of users of the Russian speaking world, it is likely that it is also distributed on Russian language websites. However, the World Wide Web is not restricted to geographical boundaries, so it is possible for anyone's computer to become infected with this malicious application.
It is impossible to remove inetoboz.com using traditional means. It is not listed in the browsers list of extensions or among the list of programs located in the Control Panel. You can remove the application manually by running its uninstaller located at %WINDIR%\unins000.exe. You will have to modify the browser's shortcut target line, and only then change your browsers homepage via its settings. However, in the case on Internet Explorer, the application modifies its registry, so it is very difficult to fix manually. Therefore, we recommend using an antimalware scanner, such as SpyHunter to take care of it for you.
We hope that the information provided in this article was sufficient. As you can see, inetoboz.com is a malicious application that forces you to view a certain website that you did not ask for and you do not want. The application is very difficult to root out manually. It is possible, but difficult, and you may damage your PC by tampering with the Windows Registry. Therefore, we recommend using an anti-malware scanner to remove the application for good.
How to remove inetoboz.com from your computer
Remove inetoboz.com manually
Go to C:\Windows and locate unins000.exe.
Run unins000.exe and click Yes.
Right-click on the browser's shortcut.
Select Properties.
Open the Shortcut tab.
Remove the additional command from the Target line.
Click OK.
Remove inetoboz.com from your browser
Microsoft Internet Explorer
Open the Start menu.
Type Run in the Search box.
Click Run found in the results.
Type regedit in the dialog box and click OK.
Go to HKCU\Software\Microsoft\Internet Explorer\Main.
Locate Start page somewhere amongst all the values on the right side of the window.
Open it and change the value to www.Google.com, www.Bing.com or any other webpage.
Open the Browser and press Alt+T and click Internet Options.
Open the Advanced tab and click Reset.
Select the Check box.
Click Reset and then click Close.
Done.
Mozilla Firefox
Press Alt+H and click Troubleshooting Information.
Click Reset Firefox.
In the dialog box, click Reset Firefox.
Click Finish.
Done.
Google Chrome
Press Alt+F and click Settings.
Click Show advanced settings.
Click Reset settings.
Click Reset.
Done.
In non-techie terms:
inetoboz.com is a browser hijacker that automatically changes your browser's homepage to inetoboz.com and prevents you from changing it by modifying your browser settings. Therefore, it is very difficult to remove this infection manually. For this reason our experts recommend using an anti-malware scanner, called SpyHunter, which is capable of rooting out this infection.