Do you know what Incognito Searches is?
Incognito Searches is a potentially unwanted program that can be added to the Chrome browser accidentally. If users find this extension on their browsers, they are advised to remove them as soon as possible. The longer unwanted programs remain on your computer, the more issues they may cause. Of course, we are not trying to say that Incognito Searches is a dangerous infection. That would be a gross overstatement. However, if you wish to remove this extension from your system (and you most definitely should!), you have opened the right page.
The main problem we have with this application is that it is supposed to protect you from intrusive third parties, but it cannot. Incognito Searches says that your online activity is always tracked by big companies. With this extension on your browser, you should be able to protect your online activity from third-party monitoring. But it does not mean that the extension would not do the same. In fact, online monitoring is one of the main things it does because it needs to collect information on your likes and preferences. This is important because the program indulges in online tracking for marketing purposes.
It also means that if Incognito Searches remains on your computer, you will probably end up getting exposed to a number of dangerous websites. Although the program does not intend to infect you with malware or anything, it may inadvertently redirect you to corrupted web pages that could be associated with malware. That is probably the main security concern associated with this application. This is almost the main problem most of the users have when they get exposed to potentially unwanted programs. You see, such extensions, in general, are not malicious, but no one can guarantee that they will not be exploited by cyber criminals.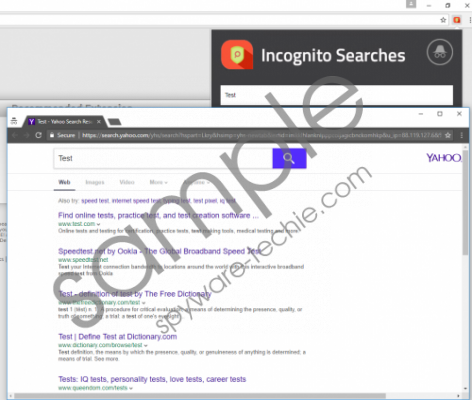 Incognito Searches screenshot
Scroll down for full removal instructions
So what can you do about it? Obviously, the best way to protect yourself from such issues would be avoiding Incognito Searches in the first place. For that, you need to know how this application spreads around. Since it is a potentially unwanted program, we can already see at least three basic distribution channels for it. Please take note that the same route can be used by other potentially unwanted programs, so you should always remain vigilant.
Incognito Searches has an official homepage, so it is obvious that the program is far from a malicious computer infection. The homepage is located at install.incognitosearches.com. The page does not look sophisticated at all. It is more like a pop-up that you might encounter when you visit various sites. Below the "Recommended Extension" box, you can see a description in small letters that reads as follows:
IncognitoSearches gives you peace of mind when searching the web. Using our service you can quickly and safely do protected web searches from your browser without giving up sensitive private data or worrying about your search history being saved.
This promotional line is rather convoluted, but it should be possible to understand that the extension is there to protect your privacy. However, what are the chances that will encounter this program out in the open? Also, what are the chances that you will open its page on the Chrome Web Store? In fact, the most likely distribution route is through bundled freeware downloads. So if you have recently downloaded some freeware app from a file-sharing website, Incognito Searches must have come with it, too. What's more, aside from having this extension added to your Chrome browser, you probably have several other unwanted applications on-board. So when you get down to removing Incognito Searches, you should terminate other intruders, too.
Luckily, this extension works only with the Chrome browser at the time of writing, so it is not complicated to delete it. You can follow the instructions below to terminate the application. Now, as far as other unwanted programs are concerned, you should seriously consider scanning your computer with the SpyHunter free scanner. After a full system scan, you will get a list of all the potential threats you have to remove. When your computer is safe and clean again, you can invest in a licensed antispyware application of your choice to protect it from harm.
How to Remove Incognito Searches
Open your Chrome browser.
Press Alt+F and click More tools.
Select Extensions.
Remove Incognito Searches from the list.
Restart your browser.
In non-techie terms:
Incognito Searches is a browser extension that does not deliver what it promises. You must have installed this program accidentally when you downloaded some other app. Please make sure that you terminate all the unwanted programs immediately. It is extremely important that you do not keep unfamiliar apps on-board because they could easily lead to your system's demise. For any further questions, please do not hesitate to leave us a comment.