Do you know what Il vostro computer è stato bloccato is?
Il vostro computer è stato bloccato is a virus you do not want running on your operating Windows system. Why? There are many answers to this question. First of all, the infection has no purpose or right being on your computer. Secondly, it uses deception and scare tactics to get your money. If you do not delete the application it can open backdoors for even more malignant programs. You can prevent this if you apply automatic removal software and have Il vostro computer è stato bloccato deleted timely. Do you find this task troublesome? Then continue reading to find out all you need to know about this nasty program's removal.
Like all Ukash or Paysafecard ransomware infections, Il vostro computer è stato bloccato is represented with a bogus, computer locking notification:

Il vostro computer è stato bloccato a causa della cyberattività vietata. […] Per sbloccare il computer ed evitare le consequenze legali, Lei deve pagare la multa pari a 100 EUR.
The demand is illegal, the fine is bogus and all stated accusations are 100% fictional. There is no reason to think that you have been discovered distributing pirated files, pornographic content or sending terrorist content spam emails. This is because Polizia di Stato has not carried any investigations and all of the ridiculous statements are displayed by schemers! Note that the same cyber crooks stand behind Your computer has been locked! Virus, GVU Virus, United States Cyber Security and other viruses, all controlled via the Reveton Trojan. This infection is truly malicious and you will need to delete it once you manage to remove Il vostro computer è stato bloccato virus.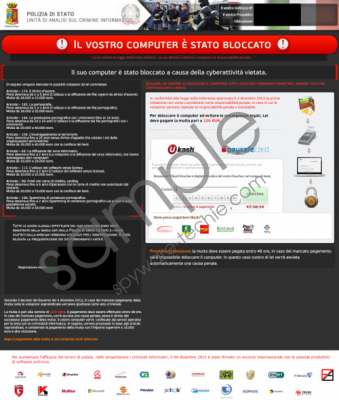 Il vostro computer è stato bloccato screenshot
Scroll down for full removal instructions
Il vostro computer è stato bloccato removal is not as impossible as it may seem at first because certain steps can help you unlock the computer and install automatic removal tools. Are you thinking about getting the virus deleted manually? This is recommended to experienced Windows users only, which is why we suggest following these removal guides instead:
Removal for Windows Vista/7 users:
Press the power button to restart the computer.
Wait for BIOS screen to disappear and start hitting F8.
Use arrow keys to navigate to Safe Mode with Networking and hit Enter.
Download SpyHunter from http://www.spyware-techie.com/download-sph .
Install the automatic malware removal tool.
Removal for Windows XP users:
Follow steps 1 through 4. Click Yes when the "Desktop" alert pops up.
Click on the Start menu and launch RUN.
To access System Configuration Utility – type "msconfig" and click OK.
Now click on the Startup tab and select Disable All.
Click Apply and OK.
Restart the PC, install SpyHunter and have the virus deleted.
In non-techie terms:
Is Il vostro computer è stato bloccato virus running on your PC? Are you ready top make the payment in order to restore your Windows functionality? Invest your good money in reliable, automatic virus removal tool instead because your money will not unlock the computer. Do you have more questions regarding the removal? Leave a comment below.
Aliases: Stato bloccato virus.