Do you know what ihurricane@sigaint.org Ransomware is?
If you infected your system with a malicious application called ihurricane@sigaint.org Ransomware, we recommend reading this article as you might find here some useful information. For starters, we could tell you that it might be possible to find a decryption tool on the Internet, which may unlock data damaged by this threat. Apparently, the malicious program could be the newest variant of an infection known as Stampado Ransomware. Meaning, IT specialists might be able to create a new decryption tool, or the old one could work for this newer variant. What we would not recommend is dealing with the cyber criminals who are responsible for this malware. It is doubtful they care about the damage they cause to their victims, so who can guarantee they would keep up to their promises. Thus, if you have no wish to pay the ransom, it is advisable to erase ihurricane@sigaint.org Ransomware either with the instructions below or with reputable antimalware software.
Our specialists report that the malicious application might be distributed via infected software installers, which could be spread through harmful websites. However, unlike other similar threats that are distributed with fake updates or suspicious applications, this one could be spread with reliable-looking programs, for example, antimalware tools. It might be quite difficult for a victim to understand what has happened because the malicious setup file should install both the legitimate application and the malware. Therefore, while users think they received only a legitimate program, ihurricane@sigaint.org Ransomware enters the system silently and stays there hidden until it is time to communicate with the victim.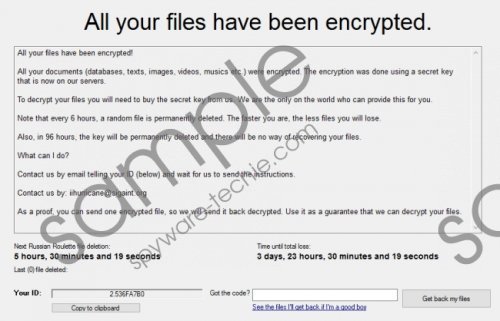 ihurricane@sigaint.org Ransomware screenshot
Scroll down for full removal instructions
After the infection places its data on the system, it is only a matter of time when it will start the encryption process. During it, the threat should look for particular file types on the computer. For instance, it could lock your text documents, pictures, photos, video or music files, and other. Later, ihurricane@sigaint.org Ransomware should reveal its presence by showing a warning on the user's screen. It might be a window titled as "All your files have been encrypted." Below the title users can see the instructions. According to them, users are supposed to purchase a unique decryption key before it is permanently deleted from a secret server where it is held for 96 hours.
Furthermore, the warning also demands users to contact the malware's developers via email (iihurricane@sigaint.org). Apparently, the reply would determine how much users have to pay for the decryption key and how to transfer this sum. Instead of doing what these cyber criminals want you to do we would advise you to look for a free decryption tool on the Internet. Our researchers say the malicious application is based on Stampado Ransomware for which IT specialists have already managed to create a decryption tool. It is possible the same device could work for ihurricane@sigaint.org Ransomware, or you might find a newly created version just for this infection.
If you figured out a way to restore data encrypted by this threat on your own or simply do not want to waste your money while paying these cyber criminals, we urge you to erase the infection as soon as possible. Leaving it on the system could be a bad idea, especially since according to the note it will be playing the so-called Russian roulette with your data every 6 hours for 96 hours. For those who would like to delete the malware manually, we would recommend following our removal guide placed below this text, unless the task seems to be too complicated. The other way to erase ihurricane@sigaint.org Ransomware is to download a reliable antimalware tool, perform a full system scan and press the removal button to get rid of the threat.
Eliminate ihurricane@sigaint.org Ransomware
Press Windows Key+E.
Navigate to: %UserProfile%\AppData\Roaming
Right-click a file named as scvhost.exe and click Delete.
Find the Temporary files folder.
See if you can find there a malicious file with a random name.
Right-click it and choose Delete.
Locate the infected installer that allowed the malware to settle in; it could be in the Downloads, Desktop, or other directories.
Right-click the suspicious installer and click Delete.
Exit the File Explorer.
Press Windows Key+R.
Insert Regedit and click Enter.
Go to this location: HKCU\Software\Microsoft\Windows\CurrentVersion\Run
Right-click a key named as Windows Update and click Delete.
Exit the Windows Registry.
Right-click the Recycle bin and empty it.
In non-techie terms:
The research shows that ihurricane@sigaint.org Ransomware could be based on another malicious application called Stampado Ransomware. Luckily, because of this, it might be possible to find a decryption tool free of charge on the Internet. Therefore, if you have no copies to restore encrypted data, it could be a good idea to look for such tool. We would also suggest eliminating the threat immediately since it might be programmed to erase a random file each 6 hours. To get rid of it manually follow the removal guide above or use a reputable antimalware tool of your choice.