Do you know what IEncrypt Ransomware is?
It looks like IEncrypt Ransomware might be targeted at particular companies only, which means it may not be distributed widely. It encrypts files on the infected computer and shows a ransom note saying: "no free decryption software is available on the web." It seems the malicious application's developers wish to be contacted via email. Of course, we do not recommend trusting the cybercriminals behind this malware as there is a chance the victim could get scammed. It seems to us the safest option is to restore data from backup copies available on cloud storage or removable media devices if the user does not want to risk losing his money in vain. Naturally, for safety reasons, it is advisable not to transfer copies or create new files on the infected device before removing IEncrypt Ransomware. The removal guide available below will show how one could erase the threat manually. However, it is vital to stress, the process could be complicated, and it might be much easier to employ a reputable antimalware tool.
Our computer security specialists say IEncrypt Ransomware should be distributed through malicious email attachments, software installers, and so on. Such data can enter the system from unreliable file-sharing websites, with Spam emails, or unsecured RDP connections. Thus, to avoid such threats, it is crucial to be both careful while receiving data from the Internet and to ensure the system has no vulnerabilities that could be exploited. As an extra precaution, we advise employing a trustworthy antimalware tool that could guard the computer against various malicious applications. In case you receive a suspicious file, do not hesitate to scan it with your chosen security tool so you would know if it is safe to open it or not.
It seems IEncrypt Ransomware might try to remain unnoticed and can even employ Windows features, such as Windows native command line utility, and modify legitimate files. The version we tested created a copy of itself in the %WinDir% directory. This file was impersonating a legitimate .NET framework file. Impersonating legitimate data or modifying it is what might make the malicious application's deletion a bit of a challenging task. In any case, when it settles in, it should start encrypting various data belonging to the user. All of it should be marked with .cmsnwned extension.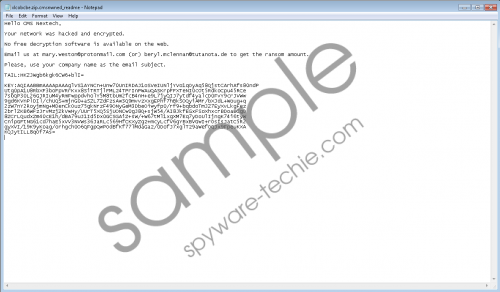 IEncrypt Ransomware screenshot
Scroll down for full removal instructions
Later it shows a ransom note asking to contact the hackers to get decryption tools. There is nothing said about making a payment, but given it claims there is no free decryption software available, users should assume they will most likely be asked to pay a ransom. In our case, the sample's ransom note addressed a particular company. It is unknown whether IEncrypt Ransomware was or is targeted on any other organizations, although it is entirely possible it could be.
For those who do not want to fund hackers and risk losing their money in vain, we advise deleting IEncrypt Ransomware. The removal guide available below shows how it is possible to eliminate it manually, but as we said earlier, the process might be too complicated. In which case we highly recommend leaving this task to a reputable antimalware tool of your choice.
Erase IEncrypt Ransomware
Click Ctrl+Alt+Delete simultaneously.
Pick Task Manager.
Take a look at the Processes tab.
Locate a process associated with this malicious program.
Select this process and tap the End Task button.
Click Windows Key+E.
Navigate to the suggested paths:
%TEMP%
%USERPROFILE%Desktop
%USERPROFILE%Downloads
Find a file launched when the system got infected, right-click the malicious file and select Delete.
Navigate to %WinDir%
See if you can find a malicious .NET framework file, right-click it and choose Delete.
Then find these paths:
%WinDir%\System32
%Windir%\Syswow64
Look for recently modified files that could have been altered by the malware, right-click them and select Delete.
Then the malware's ransom notes, right-click them and choose Delete.
Close File Explorer.
Empty Recycle bin.
Restart the computer.
In non-techie terms:
IEncrypt Ransomware is a malicious file-encrypting program that enciphers victim's files and displays a ransom note asking to contact the malware's developers. In other words, it is a tool used for money extortion. What victims should realize is the hackers cannot be trusted as they cannot guarantee anything no matter what they say. Usually, the cybercriminals ask to pay with Bitcoins for anonymity. Needless to say, once the money gets transferred, you cannot take it back even if the malware's creators do not keep up with their promises. For this reason, we advise not to put up any demands and erase the malicious application. Once it is gone, it ought to be safe to restore encrypted files by replacing them with backup copies. To avoid losing important documents, photos, or other files after receiving ransomware or threats alike, it is highly advisable to regularly back up such data to chosen cloud storage, removable media devices, and so on.