Do you know what iDeals is?
Allegedly, iDeals is a shopping assistant that should save you money by showing lower prices on other online retail stores. Unfortunately this is only deceptive marketing tactics, so you should remove this program as soon as you can. Our researchers have deemed this application as adware. In reality, this application will not help you save any money as its ads in no way correspond with products that you might be searching for. In fact, clicking the ads will get you redirected to non-shopping-related websites. On top of that, iDeals has been programmed to gather rather sensitive information about you. So if you care about your online security, we invite you to remove this application. We also recommend that you read this short article to gain more knowledge about adware in general.
iDeals insists that it is a shopping assistant, but it only helps out its developers in generating a healthy profit. It is compatible with Google Chrome Mozilla Firefox and Microsoft Internet Explorer, so in addition to installing on the operating system, the installation wizard will also install browser extensions for the three browsers. iDeals's advertising campaign claims that this application "scans the web for you before you buy online." After testing this program, our researchers have found that it does not scan anything. It has been programmed to display predetermined advertisements, so that is why this application cannot adapt and will not provide you with relevant content and genuine good deals from other websites. Most of iDeals's ads will be marked with "by Shopping optimizer." Only coupons were observed while testing this program, so it is not very intrusive. Nevertheless, you should not tolerate this application, because it features one more secretive function that you may not know about.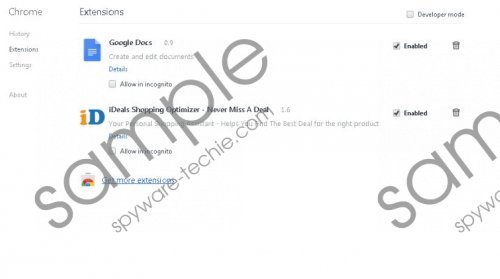 iDeals screenshot
Scroll down for full removal instructions
A lot of adware programs collect information about users' in order to get an idea what interests them and present targeted ads. However, since iDeals displays ads regardless of the user's interests there is no clear reason why it collects it. In any case, the information it collects includes search queries and related searches on search engines you make, browser type and version, language and keyboard language, type of operation system, and "click-stream" on iDeals Shopping Optimizer's offers and any e-commerce websites operated by third parties, among other things. Allegedly, this information is collected to improve the software, but it is most likely only gathered for the purpose of sharing it with third-parties.
All in all, iDeals is an odd application. Perhaps it has not been fully set up to display variable commercial advertisements, so the developers currently have to settle with what they have right now. Regardless, iDeals is a deceptive that you ought to delete, because its ads are misleading and the collected information it collects can end up in the hands of even more unreliable entities. At any rate, you must first uninstall this application via the Control Panel and then remove its browser extension.
iDeals removal guide
Windows XP
Click Start and go to Control Panel.
Open Add or Remove Programs.
Find iDeals and click Remove.
Windows 7/Windows Vista
Click Start located at the bottom left side of the screen.
Select Control Panel and click Uninstall a program.
Find iDeals and click Uninstall.
Windows 8/8.1
Open the Charm bar and select Settings.
Click Control Panel and click Uninstall a program.
Find iDeals and right-click on it.
Click Uninstall.
Windows 10
Right-click on the Windows Start menu logo.
Select Programs and Features.
Find iDeals and right-click on it.
Click the Uninstall button.
Remove iDeals from your browser's list of extensions
Mozilla Firefox
Simultaneously tap Ctrl+Shift+A and select Extensions.
Find and Remove iDeals.
Microsoft Internet Explorer
Simultaneously tap Alt+T and select Manage Add-ons.
Find and Remove iDeals.
Google Chrome
Simultaneously tap Alt+F and select More Tools.
Click Extensions, Find and Remove iDeals.
In non-techie terms:
iDeals is a sort of a fake program, because it claims to show price comparisons from various online shopping websites, but only manages to display predetermined, fixed advertisements that are not influenced by what you are searching for. Therefore, this application is useless. In addition, it is also unreliable; because it has been set to gather various kinds of information about you which will most likely be relayed to third parties. So you can remove this application manually using our removal guide.