Do you know what Ideal Deal is?
Ideal Deal is not the best shopping assistant out there. In fact, it is an adware program that will disrupt your usual browsing in order to expose you to unreliable third-party content. Adware applications are usually more annoying than dangerous, but no one should ever overlook such applications because they can easily lead to severe computer security problems. If you happen to have this adware program on your computer, it is strongly recommended that you remove Ideal Deal right now. There is no use in keeping the application on your system, and by eliminating it you will protect your system from harm.
This adware program is compatible with all major browsers. Once Ideal Deal enters your computer, it adds extensions to Google Chrome, Mozilla Firefox, and Internet Explorer. According to the information at idealdeal.co, the application should help you "save money and time while shopping online, delivering the best deal straight to your browser." However, that is not the only reason it installs the extensions on your browser. Ideal Deal also makes use of various tracking methods to monitor your web browsing habits. After all, the application needs to know your likes and preferences to direct custom commercial content at you.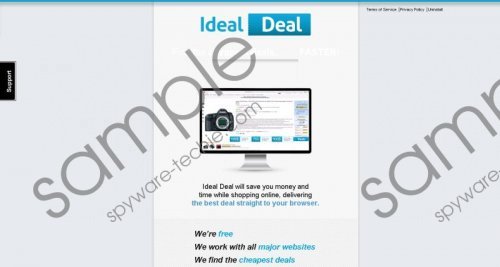 Ideal Deal screenshot
Scroll down for full removal instructions
In this aspect, Ideal Deal is a direct clone of Best Online Deals. Even the homepages of those programs look identical. These programs belong to the Lyrics adware family. Usually, applications from this group would claim that they can turn your YouTube video watching into full-fledged karaoke sessions. However, that is not the case with Ideal Deal. This and other similar programs aim at online shopaholics who feel the dire need to save whenever they can.
Unfortunately, even if you find attractive deals via the Ideal Deal ads, there is no guarantee that you will be redirected to a reliable online store. The application displays ads to help its creators make money, and, most of the time, the ad content is outsourced to third-party advertising networks. In that sense, Ideal Deal is just a vehicle that delivers commercial content to you. Since it does not check whether or not the content is safe, you click the ads at your risk.
If you happen to land on an unfamiliar website after clicking one of the Ideal Deal ads, you should refrain from clicking anything else because you do not know what your click would be used for. Usually, adware programs are involved in one of the pay-per-click monetary schemes that help adware creators make money when users increase traffic on affiliated websites.
However, sometimes the links in the ads redirect users to malware-related websites as well.
No one is protected from that, so you need to prevent any potential malware infections by deleting Ideal Deal today. While you are at it, please remember that there might be more unwanted and potentially harmful applications on-board, so you will need to remove them as well. If you cannot do that via Control Panel, you should resort to using a licensed computer security application. Investing in a computer security tool is always a smart move because that way you would also safeguard your PC against other uninvited guests in the future.
How to Remove Ideal Deal
Windows 10, Windows 8.1 & Windows 8
Press Win+R and the Run command box will open.
Enter "control" into the Open box and click OK.
Go to Uninstall a program and remove Ideal Deal.
Windows Vista & Windows 7
Open the Start menu and click Control Panel.
Go to Uninstall a program and remove Ideal Deal.
Windows XP
Click the Start button and open Control Panel.
Select Add or remove programs and uninstall Ideal Deal.
In non-techie terms:
Ideal Deal is not a useful computer application. It only tries to make money for its creators, and it does not care what impact it will leave on your system. The program may accidentally redirect you to malware-related websites, so you need to avoid that by removing Ideal Deal immediately. When you are done with that, please make sure that your computer is protected against similar intruders. For any further questions, do not hesitate to leave us a comment.