Do you know what ibrowsersearch.com is?
Is ibrowsersearch.com set as your homepage or search provider? If it is, how did that happen? Did you install a browser, and the search engine was set by default? That is unlikely. Did you install an extension or application, and it came bundled with the search tool? That is more likely. Although there is no data proving that the search engine could be set up without the user's permission, we do not reject the possibility that it could act as a browser hijacker. Needless to say, the way we need to look at this search tool depends on how it entered the operating system and the browser. In this report, you will find information that will help you decide whether or not you want to remove ibrowsersearch.com. If your mind is made up already, and you cannot wait to delete the tool, find the instructions below. Otherwise, continue reading.
It is not exactly clear who ibrowsersearch.com is targeted at. The "About" section that can be accessed via the home page suggests that it was created by a private company that is based in Asia. Unfortunately, the name of the company is not revealed. Only the "Privacy" and "Terms" statements reveal more information, but it is difficult to say whether or not this information is completely transparent and trustworthy. According to the statements, personal information is not recorded by the company, and the user does not need to fear facing virtual security issues while using ibrowsersearch.com. This certainly is reassuring. Nonetheless, we cannot ignore the fact that the search engine does not actually offer real services. The only feature is the search tool, and all search queries are redirected to Google Search. Yes, the "powered by Google" tag is attached to the search field, but that does not mean that the tool itself is transparent. At the end of the day, if you delete the search tool and replace it with Google Search, you will have more benefits.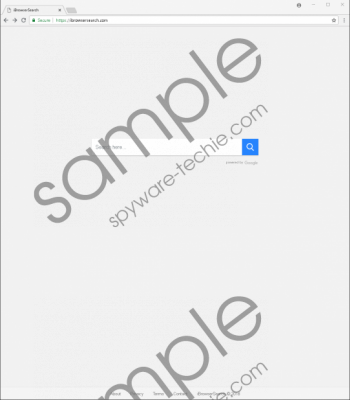 ibrowsersearch.com screenshot
Scroll down for full removal instructions
Were extensions or applications installed along with ibrowsersearch.com? We do not know what the situation is, but you can figure that our quickly using a legitimate malware scanner. If the tool informs that you need to get rid of threats, you should not hesitate to perform removal as soon as possible. What if other suspicious extensions or programs are not involved at all? If that is the case, you still need to think if ibrowsersearch.com is the search tool you want to continue using. As we have established already, it does not offer beneficial services because the only thing it can do is redirect you to Google. Furthermore, the legal statements supporting the search engine are pretty generic and vague, which leads us to believe that the creator is trying to hide itself or something else. Needless to say, you have to decide which risks you want to take, but our research team recommends deleting tools that could potentially inflict risks.
It is important to figure out if other threats or unwanted programs exist before you move on to the next step. That is because you might change your course of action accordingly. Let's say other threats exist. What will you do? You might decide to eliminate them manually, but, in this case, you will need to research and delete every one of them separately. Alternatively, and this is what we advise, you could install anti-malware software. Note that while it can automatically erase threats, its most important task is to keep your operating system safe. We suggest installing this software even if you find out that you need only to delete ibrowsersearch.com, which you can do using the guide below.
Remove ibrowsersearch.com
Mozilla Firefox
Open the browser and tap keys Alt+T.
In the Tools menu select Options.
Move to General or Home menu to find Homepage.
Overwrite the URL.
Move to the Search menu.
Choose the preferred provider and Remove the unwanted one.
Google Chrome
Open the browser and tap keys Alt+F.
In the Chrome menu select Settings.
Under Search engine click Manage search engines.
Choose the preferred provider and Remove the unwanted one.
Go back to Settings and then move to On startup.
Remove/Edit the undesirable startup page URL.
Internet Explorer
Open the browser and tap keys Alt+T.
In the Tools menu select Internet options.
Click the General tab to find the Homepage.
Overwrite the URL and click OK.
Tap Alt+F and then select Manage add-ons.
Navigate to the Search Providers menu on the left.
Choose the preferred provider and Remove the unwanted one. Click Close.
In non-techie terms:
Whether you let ibrowsersearch.com in yourself or it seems to appear out of nowhere, you need to think carefully if you should delete it. If the tool did not invade your system without authorization, and you find it useful, you might disagree with us, but we believe that the search tool is not beneficial, and its activity is not fully transparent. Besides, there are tons of more useful and reliable search tools; for example, Google Search, the search engine that the suspicious tool redirects all searches to. If other threats exist, we strongly advise employing an anti-malware tool that could automatically erase everything that requires it. If you want to take on the task yourself, delete ibrowsersearch.com using the instructions above, and do not forget to install a reliable malware scanner to check if you need to erase anything else.