Do you know what Hyper Browser is?
Hyper Browser is a crawler that opens a lot of internet browser windows to "crawl" through websites and create its own web index. This kind of practice is not exactly malicious, but with Hyper Browser on your computer you are bound to experience some annoying side effects, because this application takes up your system resources. If your computer is old and cannot support an additional application, you should remove Hyper Browser from your system immediately; otherwise your computer will soon be processing things at a very slow rate.
According to our security research, Hyper Browser is another version of GigaClicks and WebStroller web crawler. When this bot is installed on your computer, it will open from 4 to 6 new browser windows in order to collect information about particular webpages. Although this application cannot be considered a computer virus, it usually enters your system together with freeware applications. It means that you install Hyper Browser yourself, and if you do not remember anything of the kind, it means that you have gone through freeware installation automatically, skipping important steps.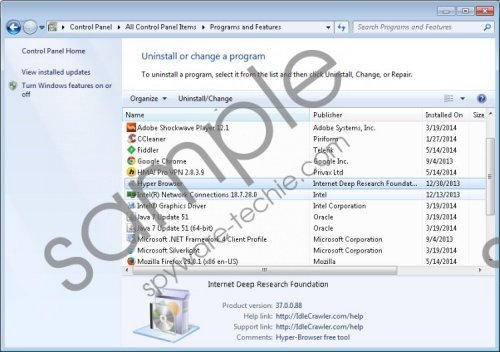 Hyper Browser screenshot
Scroll down for full removal instructions
Hyper Browser is known to be distributed along with PC Optimizer Pro, Pastaquotes, Aducky, Jollywallet and even v9 browser hijacker. Considering the company we can say that Hyper Browser is definitely not good news, and it would be for the best to remove Hyper Browser from your computer as soon as possible. Once again, if you had Hyper Browser only on your computer without any additional third party applications, you might experience various difficulties especially if your computer is old and your Internet is slow.
As it has been mentioned above, Hyper Browser and similar web crawlers are mostly used to create web indexes and they do not intend to steal your personal data or expose you to dangerous third parties. However, the issue that we have to address here is the fact that Hyper Browser may arrive bundled with v9 browser hijacker and other potentially unwanted applications. In other words – Hyper Browser can be installed on your computer even if you have no intention to.
Luckily, it is easy to remove Hyper Browser from your computer via Control Panel. While you are at it, you need to terminate all the other applications that should not be allowed to remain on the PC. If you do not know which programs must be terminated, scan the PC with SpyHunter free scanner and then get rid of the potentially dangerous programs automatically, after having invested in a powerful antispyware tool. Your computer security should be your utmost priority.
Manual Hyper Browser Removal
Windows 8
Slide mouse cursor to the bottom right of the screen.
Wait for Charm bar to appear and click Settings.
Open Control Panel and go to Uninstall a program.
Highlight Hyper Browser and click Uninstall.
Windows Vista & Windows 7
Click Start menu button and go to Control Panel.
Select Uninstall a program and remove Hyper Browser.
Windows XP
Open Start menu and navigate to Control Panel.
Select Add or remove programs and uninstall Hyper Browser.
In non-techie terms:
Hyper Browser is a potentially unwanted application and a botnet and crawls that taps into your system resources and slows down your computer. Remove Hyper Browser as soon as possible and make sure that your PC is protected from a number of dangerous threats.