Do you know what HydraCrypt is?
HydraCrypt is classified as ransomware as it encrypts user's files and demands money in exchange for a decryption key that would allow using one's data again. In most cases, this infection enters computers that are not protected, meaning that there is no legitimate antimalware tool installed or it is out of date. So it settles in your system uninvited, and it is not that easy to get rid of it, especially if it is the first time that you see ransomware or other malware. Also, even if you delete it you cannot decrypt your files, but we still do not advise you to pay the ransom, because there is no guarantee that they will keep their promise. Therefore, you might end up with lost files and a lighter valet too. There is no time for despair as we will help you remove HydraCrypt from your computer, just follow our instructions below.
Ransomware like this one can be spread in a few different ways such as spam email, fake download links, etc. However, it is possible that it was installed by a Trojan that infected your computer some time ago. Trojans are very dangerous malicious programs that can enter the system and remain there unnoticed. Unfortunately, it is very hard to detect and remove such infection. That is why we advise users to install a legitimate security tool that would locate infection and delete it automatically; besides, a reliable antimalware would protect your computer in the future.
As our researchers have tested this ransomware in our internal lab, they found out that once HydraCrypt infects your computer, it will launch in approximately from ten to twenty minutes. You can hardly miss it as it places a message on its demands, warnings, and instructions. The message says that "all your files and documents were encrypted!" Also, you can see a unique ID number of eight digits given to you. Then it warns you that it is impossible to decrypt your files without their special software and a unique key, which you will receive if you pay the ransom. So it commands you to contact HydraCrypt creators by given emails and it says that you must add your unique ID and your encrypted file to the email. The reason behind this is that they want to show you a proof that it is possible to regain your files, meaning that they will decrypt the file that you send as an example. However, it is possible that you will recover only that one file even if you pay because they do that only to gain your trust. The rest of the message can seem very threatening as it gives you only seventy-two hours to contact these cyber criminals. In addition, they display a few warnings to terrify you even more so that you would be even more willing to pay.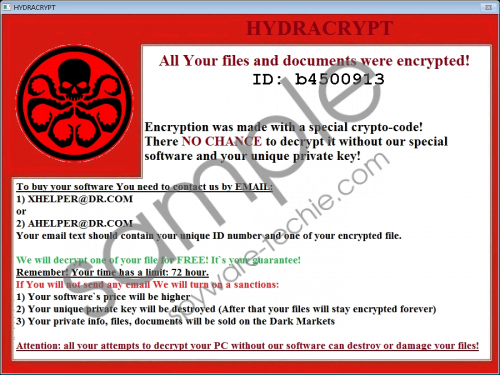 HydraCrypt Ransomware screenshot
Scroll down for full removal instructions
This message stays on your screen all the time. Even if you restart the computer or turn it off and on again, it does not help as the malware creates a point of execution in the Run registry, meaning that every time you turn your computer on it will start with Windows. Still, you can access Windows registry or Explorer. If the message is in your way, you can place its window somewhere else on your screen. What's more, our researchers found that this ransomware can encrypt these file types: .bin, .bk, .bmp, .cfg, .dat, .db, .doc, .docx, .gif, .gz, .htm, .html, .ini, .jpeg, .jpg, .js, .mp3, .mp4, .pdf, .png, .ppt, .pptx, .sdf, .tmp, .txt, .wma, .wmv, .xls, .xlsx, .xml., meaning, your personal files like photographs, documents, videos, etc. will be all encrypted. All these files are renamed from example.doc to example.doc.hydracrypt_ID_[8 character unique ID] and you cannot open them.
Your personal files could be very precious to you, so you might consider a possibility of paying. Keep it in mind that you are dealing with cyber criminals that only seek your money, so you cannot be sure if they will decrypt your files. Nonetheless, think about this clearly, maybe a huge part of your personal files like photos and videos are shared with family or friends, you might have copies on removable drives too; therefore, you can regain some of your files. Also, if you like to think ahead, you might have done the copies of all your files just in case of emergency. If that is the case, then you can calmly ignore the demands and remove HydraCrypt right away.
Our researchers have prepared removal instructions that you can find under this article. HydraCrypt creates copies of itself in three different directories, so you will have to search for its files in the listed places and delete them. There will be three files: an executable file with a random string of 7-10 letters and two image files that will resemble the HydraCrypt warning message. So if you are up to the job you can try to delete it manually, or you can install a legitimate security tool that will do it for you. Still, we want to remind you how important it is to make copies of your files and use security tools, especially if you surf the Internet every day. Without realizing, you can enter an unreliable website that can be the source of many infections. If you have some questions about security tools, or you need more help with this ransomware removal, leave us a comment or reach us through social media.
Delete HydraCrypt from your system
Display hidden files and folders
Windows 8 & 10
Open Windows Explorer.
Select the View tab on top-left corner.
Click on Options on top-right corner.
Select change folder and search options.
Click on View tab.
Select Show hidden files, folders and drives.
Click OK.
Windows 7 & Vista
Open Start and select Control Panel.
Choose Appearance and Personalization.
Open Folder Options and select the View tab.
Click on Show hidden files, folders and drives.
Click OK.
Windows XP
Go to Start and open Control Panel.
Select Appearance and Themes.
Choose Folder options.
Select the View tab.
Find and select Show hidden files and folders.
Click OK.
Remove HydraCrypt ransomware
Press the Windows key + R to launch Run.
Type regedit and press OK.
Navigate to: HKEY_CURRENT_USER\SOFTWARE\Microsoft\Windows\CurrentVersion\Run.
Find Value [random 16-24 digits name].
Right-click on it and select Delete.
Close Windows Registry editor.
Launch RUN (Windows key+R).
Type %APPDATA% and click OK.
Search for the executable file with a random string of 7-10 letters.
Check if the executable file is located with two images.
Right-click on these files and delete all three of them.
Repeat it all with the two other directories: %LOCALAPPDATA%, %TEMP%.
Empty the Recycle Bin.
Restart your computer.
In non-techie terms:
HydraCrypt is a dangerous infection that shows you how vulnerable your computer is. It enters your system without your knowledge, encrypts your files, threatens you, and demands a ransom. Also, it is a high chance that HydraCrypt is spread with Trojans. Therefore, you should consider using a security tool and scan your system to ensure that there are no threats left. Importantly, keep all of your files safe by making copies of them, for example, you can make copies on a removable medium, or you can save your files using online backup.