Do you know what HQube is?
HQube is an advertising-supported browser extension that injects various advertisements into different websites in an attempt to drive more traffic to third-party websites and increase their conversion rates. The program is compatible with Mozilla Firefox and Internet Explorer. The browser add-on added to Internet Explorer is a browser helper object (BHO) and is known to have been published by Evangelion Group.
The primary goal of HQube is to display YouTube videos in their best quality available, which is the characteristics of 123HD-Ready, Cinema-Plys, YourClip-HD, and some other browser extensions, the majority of which are advertising-supported as well as HQube.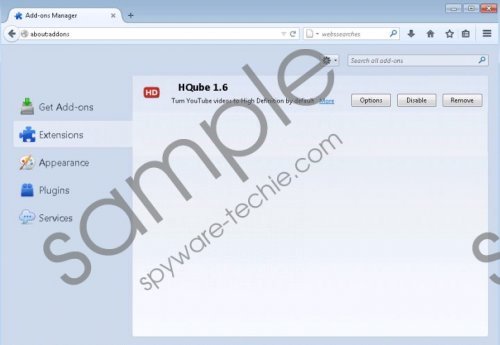 HQube screenshot
Scroll down for full removal instructions
The program is bundled with various free programs, including media players and browser extensions; hence, it is worth reviewing the license agreements provided by installation wizards so that you can prevent unreliable programs. This recommendation applies to every single installation program of a free program.
The truth is that HQube adds little functionality to your browsers because it provides you with randomly selected advertisements, which include web banners, pop-ups, and interstitial advertisements. The developers of this advertising-supported program accept no responsibility for your online behavior, nor do they endorse the sponsors of the program. As a result, you use HQube and interact with HQube advertisements at your own risk.
Bear in mind that HQube may display malicious advertisement, i.e. they may deceive you into downloading updates or new software programs, or taking part in fake surveys, which are likely to be aimed at obtaining your personal information.
Due to the fact that the user is the only person responsible for his/her interaction with third-parties, cyber criminals use adware programs as the means of advertising their corrupt websites. If you want to protect your personal information and be secure on the Internet, you should avoid advertising-supported browser add-ons and extensions because, by interacting with such programs, you may inflict some damage to the computer and put your personal information in danger.
Another reason why you should remove HQube from the computer is that the program monitors your online behavior. It records search terms, impressions, and other non-personally identifiable information.
In order to put an end to HQube, you should implement a reputable malware and spyware prevention program. It is possible to remove HQube manually, i.e. uninstall it; however, it is not enough because your computer needs protection against spyware and malware. If you want to be sure that you are secure on the Internet, install SpyHunter, which will remove HQube from the computer and safeguard the operating system against other threats.
How to remove HQube
Windows Vista and Windows 7
Click Start.
Select Control Panel.
Click Uninstall a program.
Remove HQube.
Windows 8
Move the mouse pointer to the bottom-left corner of the desktop.
Right-click and select Control Panel.
Click Uninstall a program.
Remove the unwanted program.
Windows XP
Click Start.
Select Control Panel.
Click Add or Remove Programs.
Uninstall the unwanted program.
In non-techie terms:
HQube displays third-party advertisements on numerous websites, and we recommend that you take action to remove them from your browsers. Below you will find our step-by-step instructions on how to install SpyHunter, which removes HQube and other malicious programs in no time.