Do you know what Hotsitetopic.com is?
If you ever happen to come across a program entitled Hotsitetopic.com, make sure not to waste any time and conduct its complete removal right away. Our research team highly advises you to do so because the devious application in question is yet another browser hijacker. Such classification has been made after a detailed analysis which revealed this program's annoying and intrusive features. It is important to note that it could be advertised as a useful tool that should enhance your overall online experience. Such marketing technique is used to lure unsuspecting Internet users into downloading and installing it. Unfortunately, the hijacker in question does nothing to improve your daily online activities; instead, it will only make surfing the web a frustrating task. To understand how this devious piece of software works and why its complete removal is essential, make sure to read the rest of this report. Below you will find a comprehensive removal guide that will help you terminate Hotsitetopic.com in a quick and easy way.
The overall functionality of Hotsitetopic.com is a rather basic one. Like a lot of other browser hijackers that are active these days, the one in question mainly relies on a browser extension to function properly. Upon intrusion, it will silently and without any notification or authorization install a suspicious third-party plug-in. This dubious extension will alter your default page and will keep this change intact. It means that for as long as this dubious program is active on your personal computer, you will not be able to start your online session on a site of your preference. Instead, you will be presented with a suspicious third-party website that hosts a search box, some quick access links, and ads. It goes without saying that this will change the way you experience the web in a negative manner especially if you had a homepage set up to your personal liking. During further investigation, our research team has discovered that the devious plug-in is also capable of establishing lasting connections to adware servers. This means that you might be presented not only with ads on the new homepage but might come across some pop-ups and coupons while surfing the web. Such content could be presented to you so frequently, that simply browsing the web could become an extremely frustrating task. If you want to regain your web browser's default functionality so you could surf the web the way you are used to, make sure to delete Hotsitetopic.com in its entirety by using the instructions that we provide below.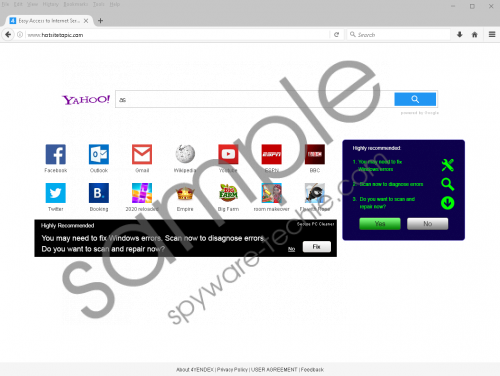 Hotsitetopic.com screenshot
Scroll down for full removal instructions
While annoying and invasive features are bad enough, you should know that in some instances Hotsitetopic.com could prove to be quite dangerous. As it turns out it could be the primary reason other suspicious programs might be able to enter your PC or could already be active on it. This is so because in the majority of cases the hijacker in question is spread via bundled installers, which host numerous suspicious programs. Therefore, we highly advise you to check your personal computer for other questionable software if you already have this hijacker up and running on your operating system. It is also crucial to refrain yourself from using the suspicious search box and clicking on any ads or pop-ups presented by this intrusive application. We recommend doing so because search results, ads, and pop-ups, could be embedded with redirect links, which might lead you to sites crafted by cyber crooks. In certain situations just entering such web pages could have detrimental outcomes; you could get your operating system infected or could provide your credit card data to suspicious third-parties without even realizing it. Make sure not to take any chances with Hotsitetopic.com and remove it immediately as it is a major virtual threat that no user should face.
The complete removal of Hotsitetopic.com is imperative if you wish to surf the web safely and without any interruptions. The instructions that we present below will allow you to terminate this browser hijacker in its entirety once and for all. This is important as its leftovers could be used in a devious manner; for instance, the hijacker could be restored without your knowledge with the help of just a few of its traces. In other cases, leftovers might be more than enough for it to continue its devious functionality. To avoid this, we highly recommend double-checking your personal computer for Hotsitetopic.com traces right after your have executed a detailed removal guide.
How to remove Hotsitetopic.com from your web browser
Google Chrome
Start your web browser and click the Menu button.
Select Settings.
Click Extensions.
Click the Trash can icon located next to the unwanted extension.
Click Remove.
Mozilla Firefox
Open your web browser.
Click the Menu button and select Add-ons.
Select Extensions.
Click the Remove button located next to the undesirable extension.
Internet Explorer
Launch your web browser.
Click the Menu button.
Select Manage add-ons.
Click Toolbars and Extensions.
Select unwanted extension.
Click Remove.
How to reset your web browser
Google Chrome
Start your web browser.
Click the Menu button and select Settings.
Click Show advanced settings and select Reset settings.
Click Reset to confirm your choice.
Mozilla Firefox
Launch your web browser.
Select the Menu button.
Click the question mark icon at the bottom.
Select Troubleshooting Information.
Click Refresh Firefox.
Click Refresh Firefox to confirm your choice.
Internet Explorer
Open your web browser.
Click the Menu button.
Select Internet Options.
Select the Advanced tab.
Click the Reset option.
Check Delete personal settings and then click the Reset button.
Click Close.
In non-techie terms:
In case you find manual removal and an in-depth analysis of your personal computer too complicated, do not worry. Malware experts at Spyware-Techie.com have crafted an alternative removal guide. By following the instructions that we present below you will be able to remove this browse hijacker in an automated manner.