Do you know what Hostify is?
Hostify is the software promoted on hostify.lu. It is developed by the company Wizzlabs, and it usually falls into the category of potentially unwanted applications. Of course, users do not know that it is not a 100% trustworthy application and tend to install it on their computers willingly. Of course, Hostify might sneak onto computers without obtaining direct permissions from users. If you ever detect this suspicious application on your computer too, you should know that it would be better to delete it from the system and download similar software instead of it. Yes, we know that this piece of software seems to be very trustworthy and beneficial at first glance; however, we also know that it might act in an undesirable way and even put the system into danger in reality. You will only make sure that this does not happen by eliminating Hostify from the system. Luckily, this will not be a hard task to do because potentially unwanted programs have uninstallers. More information regarding the removal of this software is provided in this report.
Users who willingly install this software on their computers usually do that because they want to share their connection with others, i.e. turn their computers into Wi-Fi hotspots. At first glance, it really seems that this application can do that – it immediately opens the window called the "Hotspot Wi-Fi Configuration" after a user double-clicks on the shortcut of Hostify (it can be found on the Desktop). It asks to enter the name of the Hotspot, password, and select the network to share. In the table on the right sight it should also show all the users connected. Unfortunately, nothing happens after users click on the Share button. Unfortunately, this means that the program does not work as it should. Generally speaking, it is basically useless, so it would be best to remove this potentially unwanted program and install another fully-working one instead.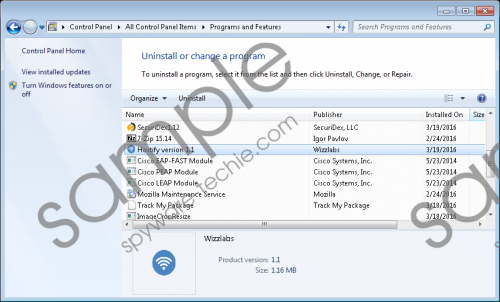 Hostify screenshot
Scroll down for full removal instructions
What's more, specialists also say that this application might perform a bunch of other undesirable activities, for instance, it might replace legitimate cookies with its own ones in order to be able to gather data about users' browsing habits. In addition, it is very likely that it will replace ordinary advertisements. In other words, it will display advertisements that belong to it. Unfortunately, these ads might expose to potential threats. Last but not least, you should eliminate this piece of software from the system because it is known that it might be used to spread malicious software, i.e. it might download software on your computer without your consent.
Another suspicious fact about Hostify is that it is somehow associated with Sound+, Max Driver Updater, and Max Computer Cleaner applications that are all known to be potentially unwanted programs too. As this piece of software is related to those aforementioned programs, it is not surprising at all that it can also sneak onto computers without permission. Actually, we are sure that the majority of users have not downloaded Hostify themselves because it is known that this program is usually spread in software bundles or might be silently installed by a malicious software updater. There are thousands of untrustworthy applications that are spread in software bundles. Users get these bundles from torrents, file-sharing, and other unreliable third-party web pages. In our opinion, you should never download software from such web pages if you want to protect your PC from harm.
We are sure that you will be able to delete Hostify yourself because it has an uninstaller. You can be sure that it is gone if you do not see its entry in Control Panel anymore and its main folder is gone from %PROGRAMFILES% (%PROGRAMFILES(x86)%). If the manual method is too complicated for you, you can erase Hostify in an automatic way, i.e. you just need to launch the scanner of the reputable security tool, such as SpyHunter.
Delete Hostify
Windows XP
Click the Start button.
Select Control Panel.
Click Add or Remove Programs.
Select the program and click Remove.
Windows 7 and Vista
Open the Start menu.
Click Control Panel.
Click Uninstall a program and right-click on the program.
Click Uninstall.
Window 8/8.1/10
Launch RUN.
Enter Control Panel in the box and click OK.
Click Uninstall a program.
Select the unreliable software and click Uninstall.
In non-techie terms:
If you have deleted Hostify manually, scan your system with a diagnostic scanner to make sure that your PC is really clean. The diagnostic tool can be easily downloaded from our web page. Click on the SpyHunter tab at the top and then click on the Download button. In case this tool detects threats on your PC, be sure that you get rid of them all in the nearest future.