Do you know what is Home.searchfreehoroscope.com?
If you are wondering why your browser's default settings were suddenly altered, you should know that it could be the doing of a browser hijacker. One application of this category that could be behind all of that is known as Home.searchfreehoroscope.com. Having this intrusive program active on your personal computer means that you will no longer be able to surf the web the way you like because of the changes that this devious piece of software imposes. If that was not enough, you must be informed that due to this browser hijacker your computer could be exposed to suspicious and in some instances even malicious web content. To learn how that could happen, make sure to read this detailed report. Additionally, we present a detailed removal guide to help you delete Home.searchfreehoroscope.com without encountering any major problems.
Home.searchfreehoroscope.com is fully compatible with major web browsers such as Google Chrome, Mozilla Firefox, and Internet Explorer. Due to such wide compatibility, a large number of users could be affected by this invasive browser hijacker; thus, being aware of it is crucial. As soon as this devious browser hijacker enters your operating system, it immediately makes invasive modifications to files and registry entries directly related to your browser's default settings. Once that is done you will notice an alteration of your default home page, which eventually will make surfing the web an incredibly annoying experience. That is so because for as long as this browser hijacker will be active on your PC, you will be forced to use a suspicious third-party website as your default homepage even if you do not like that. It goes without saying that because of this you will no longer be able to browse the Internet the way you are used to. What is even more annoying is that the search engine presented on a questionable web page is quite worthless since it can present you with a broad variety of third-party sponsored results. Some of those results could have nothing to do with your original query. If you wish to regain your web browser's default functionality, you need to perform a thorough removal of Home.searchfreehoroscope.com as soon as it is found up and running on your personal computer. To delete it quickly and easily, make sure to use the professional removal instructions that we provide below this article.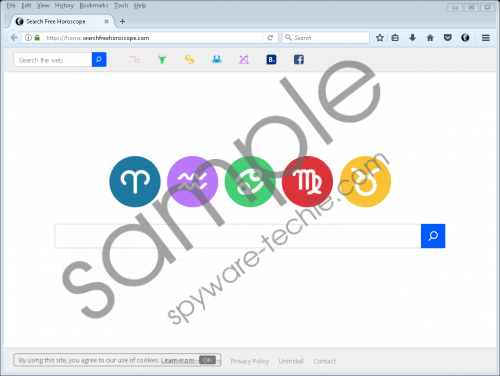 Home.searchfreehoroscope.com screenshot
Scroll down for full removal instructions
It needs to be noted that in some cases Home.searchfreehoroscope.com could prove to be quite dangerous as it might be the reason your operating system could be subjected to potentially dangerous web content. That could happen if you choose to use a suspicious third-party search engine because some of the results might host redirect links leading to questionable and even malicious sites. There is a chance that you could be taken to a site that runs an arbitrary code execution exploit. This particular exploit is favored by malware developers since it can trigger a remote installation without the user's content; thus, landing on a site that runs it could be more than enough to infect your PC with some unwanted program. You might also end up on fake online shops. Cyber criminals create such stores with a sole purpose of stealing unsuspecting users' credit card data. It goes without saying that entering any of such web site could have devastating outcomes, to put it lightly. Therefore, it should not be surprising that our researchers highly advise you to refrain from using the devious search box at all times. As you can see Home.searchfreehoroscope.com is just as dangerous as it is annoying. It is best not to take any chances with the browser hijacker in question. If you value your virtual security make sure to execute its complete removal at the very same moment that it is found active on your PC.
The removal procedure of Home.searchfreehoroscope.com must be executed with your utmost attention. It is crucial not to make any mistakes during the process since the consequences of incomplete removal could be devastating. Due to just a few traces, the Home.searchfreehoroscope.com browser hijacker could be restored without your knowledge. In other situations, those same leftovers might be enough for the hijacker to maintain its dubious change. To be sure that every single bit of Home.searchfreehoroscope.com has been terminated, make sure to double-check your entire operating system for its traces as soon as you are done with the instructions below.
How to remove Home.searchfreehoroscope.com from your PC
Open your File Explorer.
Go to C:\Users\<your username>\AppData\Local\Google\Chrome\User Data\Default.
Delete files entitled Preferences, Secure Preferences, and Web Data.
Navigate to C:\Users\<your username>\AppData\Roaming\Mozilla\Firefox\Profiles\<unique Mozilla profile ID>.
Locate and then delete a file called prefs.js.
Click the Windows button.
Type regedit into a search box and then select it.
Navigate to HKEY_CURRENT_USER\Software\Microsoft\Internet Explorer\Main.
Right-click a registry value entitled Start Page and select Modify.
Replace the unwanted URL with a new one and then click OK.
Right-click your Recycle Bin and then select Empty Recycle Bin.
In non-techie terms:
We are well aware of the fact that some users might find manual removal a bit too complicated. If you happen to be one of those users, do not worry. Malware experts at Spytware-Techie.com present an alternative removal guide. Follow the instructions that we provide below, and you will be able to delete Home.searchfreehoroscope.com in an automated manner.