Do you know what Home.fastemailaccess.com is?
You might think that Home.fastemailaccess.com is just another search engine, but the reality is that it is a browser hijacker, and we know this because our researchers have found how it is distributed. If you got it onto your browser accidentally, then you might want to remove it. Also, our researchers have found that this hijacker was configured to collect information about you and use it for advertising purposes because its search results are ad-supported. The bad news is that the promoted links can redirect you to malicious websites that can get your PC infected with malware. In this article, we will discuss how this browser hijacker works, how it is distributed and how you can get rid of it easily.
Home.fastemailaccess.com can come with a browser extension for Google Chrome and Mozilla Firefox called Fast Email Access New Tab. For Microsoft Internet Explorer, however, there is no browser extension. Therefore, we believe, that this hijacker can be bundled with malicious software installers featured on freeware websites that have been set to inject Home.fastemailaccess.com into Internet Explorer directly. Nevertheless, Fast Email Access New Tab might also be distributed via software bundles, but we have not found any evidence of that as well. What we do know for sure is that this extension can be downloaded from its main website at Fastemailaccess.com or the Chrome Web Store.
Our researchers have discovered that this hijacker was created by a company known as ElementSoft SL which is also responsible for releasing ZipperPro, a potentially unwanted program that is utterly useless. Therefore, it is apparent that this company offers malicious and useless products that do not improve one's browsing experience whatsoever.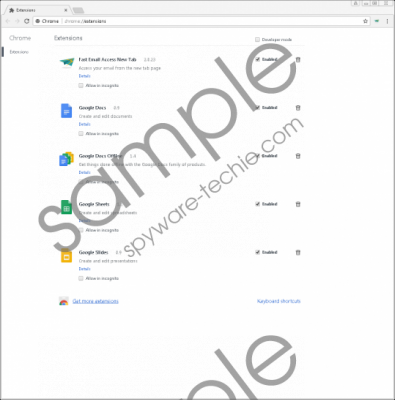 Home.fastemailaccess.com screenshot
Scroll down for full removal instructions
Home.fastemailaccess.com was created for one purpose — to replace your browser's default homepage address to make you use it for searching the web. Some users notice the change and get rid of this hijacker immediately. However, some may ignore or not notice the change which can have dire consequences. Our malware analysts say that Home.fastemailaccess.com redirects all entered search queries to a modified Yahoo search engine that features ad-supported search results which mean that the results will have promoted links, but they may not be labeled as promoted and can trick you into thinking that they are legitimate. The links can have deceptive headlines and redirect you to scam websites, fake online shopping sites, and websites that contain malware downloads. Not all links are malicious, but there is a good chance that some of them are. Therefore, we advise against using this hijacker for searching the web.
It may be difficult to avoid malicious links because they can be customized according to your browsing preferences. Researchers say that this hijacker can collect non-personally identifiable information about you automatically. The collected information can include your IP address, ISP domain name, entered search queries, browser type, operating system type, approximate geographical location and so on. This information can help this hijacker show you region-specific custom search results that generate ad-revenue when clicked.
In conclusion, Home.fastemailaccess.com is a highly undesirable search engine/browser hijacker that can put your PC in danger because it can feature deceptive links that can redirect you to malicious websites. Therefore, to be on the safe side of things, we recommend that you remove it and replace it with something else. See the instructions below for more information on how you can get rid of it.
Removal Instructions
Google Chrome
Press Alt+F.
Open More tools.
Select Extensions.
Find Fast Email Access New Tab.
Click Remove.
Mozilla Firefox
Press Ctrl+Shift+A.
Open Extensions.
Find Fast Email Access New Tab.
Click Remove.
Microsoft Internet Explorer
Hold down Alt+T and click Internet Options.
Erase https://home.fastemailaccess.com/ and enter a new homepage address.
Click OK.
In non-techie terms:
Home.fastemailaccess.com might look like a safe and reliable search engine but our malware experts have classified it as a browser hijacker because its creators use deceptive distribution methods to install it on your browser secretly. On top of that it can collect information about you to show ads in its search results that generate revenue when clicked. Surely, this is not a good search engine, so you can remove it without hesitation.