Do you know what Home.clearwebsearch.net is?
Home.clearwebsearch.net is a browser hijacker that installs itself without permission and displays commercial advertisements while you browse the web. It is definitely extremely annoying, so there is no reason to tolerate this behavior. It is in your best interest to remove Home.clearwebsearch.net from your system immediately because if you fail to do so at once, you can be sure that, sooner rather than later, your computer will be infected with malware. And it is a lot harder to deal with a malware infection compared to this browser hijacker. The removal instructions are provided right below the text, so please make use of them.
Unlike most of the browser hijackers that get distributed via third-party installers, you can download this program from its official homepage. The official homepage is located at clearwebsearch.net. The site looks minimalistic, and it gives you just the main promotional lines about the application. It says that Clear Web Search can "uncloud your searching needs so you can spend your time searching more effectively. With quick access to web search, handy widgets like weather and calendar display, and customizable backgrounds, design meets function to boost your productivity online." It is really doubtful whether Home.clearwebsearch.net is just as functional as the source claims, but it would not be surprising if some of the users fell for that.
Of course, this website is not the only distribution source. It is more often than not that users do not realize they install the browser hijacker on their system. When this program is distributed via bundled software installers, it is not too surprising that users are not aware of that. At the same time, if you happen to have installed this program on your PC via a third-party installer, perhaps it is the time you ran a full system scan. The chances are you have multiple unwanted applications on-board, and you must terminate them all at once. Potentially unwanted programs may not be severe computer security threats, but they can seriously slow down your computer and expose you to unfamiliar and even corrupted content.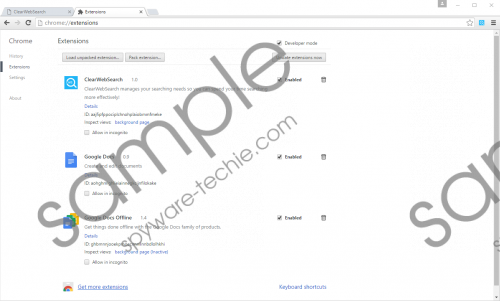 Home.clearwebsearch.net screenshot
Scroll down for full removal instructions
Even Home.clearwebsearch.net, too, might be a reason a Trojan or a ransomware application enters your system. Although this search engine looks like the real deal, it cannot provide you with reliable search results. In fact, it does not even have an original search provider. If you were to run a search query, you would see that all of your queries are redirected to search.findwide.com, and after that, you land on a customized Yahoo! Search page. This browser hijacker makes use of the Yahoo! Search to give you "supposedly" the most relevant search results out there.
However, that is not really the case. Almost all the search results you see on your screen will be modified according to your likes and preferences. How does the hijacker know what you like? Simple: online monitoring. The program employs cookies and other tracking techniques to figure out what websites you frequent and what you usually search for online. Once this information is processed, the hijacker has your online profile, and it can target specific content at you. This content is based on your latest browsing history, and so there is a bigger chance you may click a link or a pop-up delivered via Home.clearwebsearch.net.
It goes without saying that you should never succumb to these temptations because it might have undesirable consequences. As far as the hijacker is concerned, it earns money with every click you make, but it does not give you anything in return. Seeing that it is not safe to interact with the third-party content promoted by this program, you have to get rid of it without any further ado.
Home.clearwebsearch.net affects only the Chrome browser, so in the instructions below will deal with Google Chrome only. However, it does not mean that the application cannot enter your PC if you use some other browser. Once again, we urge you to scan your PC with a licensed antispyware tool once the manual removal is complete. This way, you will be able to see whether you have more unwanted programs to delete, and you can terminate them automatically. Automatic software removal is always faster and more sufficient than the manual one. Not to mention that a computer security tool of your choice will protect your PC in the future, too.
How to Remove Home.clearwebsearch.net
Press Win+R and the Run prompt will open.
Type %LocalAppData% into the Open box and click OK.
Go to Google\Chrome\User Data\Default\Extensions.
Locate and delete the aajfipfppociplchnohplaiobmmfmeke folder.
In non-techie terms:
There is no need to panic when your homepage suddenly changes to Home.clearwebsearch.net. It means you have an extension added to your browser that has also changed your default homepage settings. You need to remove this browser hijacker for good, and there are several ways to do it. If you do not feel confident about deleting this intruder on your own, you can always acquire a powerful security application that will do the job for you.