Do you know what HighlightSearches?
HighlightSearches is not a regular advertisement-supported program that displays banner ads, annoying surveys, pop-ups, and other kinds of irritating promotion. This adware is more clandestine because it targets Google search results. Once installed and activated, this malicious infection actually modifies Google results by injecting sponsored advertisements. This is the main reason why you should delete HighlightSearches without further postponement. As you will learn by reading this report, this adware travels bundled with malware and can be responsible for letting in computer infections and undesirable programs. This is an important fact because many computer users remove adware without realizing that their virtual security remains vulnerable.
It is highly unlikely that HighlightSearches is the only suspicious program active on your PC, simply because this adware does not travel on its own. Our research team here at Spyware-Techie.com has found that this ad-supported program is likely to be introduced to you by third-party distributors. The samples we have tested were all bundled with other unreliable programs. Even though software bundling is not dangerous in all cases, you should not expect malicious programs to travel bundled with reliable software. The truth is that most users, who remove HighlightSearches, discover that they need to delete more clandestine threats. The removal of these threats should not be underestimated or considered as less important, but right now we want to focus on the removal of HighlightSearches.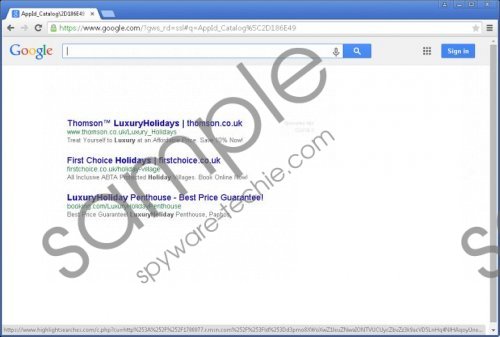 HighlightSearches screenshot
Scroll down for full removal instructions
According to the information at highlightsearches.com, HighlightSearches is a trustworthy search tool that helps you find what you are looking for in a quicker manner. Our researchers do not consider sponsored ads as helpful towards web search, which is what makes this adware questionable. Unfortunately, many Google users click the "Sponsored Ads" links without realizing that they belong to HighlightSearches. If you kill the process called abengine.exe, the irritating ads will stop showing up until the process regenerates. If you want a permanent solution, you need to remove HighlightSearches-related files and reset winsock (resetting Network Adapter). Prior to this, you need to go to %PROGRAMFILES(x86)% and delete a folder called HighlightSearches. If you do not delete the files within this folder, this adware will continue running.
Resetting winsock is not complicated, but you do need to know a few things to perform this operation. For one, you need to know how to launch Command Prompt. If you are completely lost about what you need to do, you can follow the instructions below. Once you are done with this part of the operation, we advise installing an automated malware remover to delete HighlightSearches leftovers and, of course, the infections that are active on your PC along with this adware.
How to reset winsock
Reset on Windows 8.1 and Windows 8
Open the Charm bar and click the Search icon.
Enter cmd into the dialog box and open the Command Prompt.
Type netsh winsock reset and tap Enter.
Once the reset is complete, restart your computer.
Reset on Windows Vista
Open the Start menu and click Control Panel.
Click Network and Sharing Center under Network and Internet.
Move to Manage network connections and click Local Area Connection.
Click Diagnose this connection and select Reset the Network adaptor.
Once the reset is complete, restart your computer.
Reset on Windows 7 and Windows XP
Open the Start menu and click Control Panel.
Launch RUN and type netsh winsock reset. Tap Enter.
Once the reset is complete, restart your computer.
In non-techie terms:
The suspicious HighlightSearches is not a helpful application. If you trust it, there is a great chance that you will end up visiting malicious websites and getting yourself tangled in scams. The instructions and removal advice in this report explain how to delete HighlightSearches, but you might have to use more aggressive methods if the infections associated with this adware corrupt your PC. In this happens, we suggest using the instructions below.