Do you know what High Stairs is?
High Stairs is an annoying application that will do you no good. It is an adware program that will redirect you to third-party websites for financial profit. If you refrain from clicking the pop-up ads and commercial links the program offers you, you may be able to avoid severe computer security issues, but why would you suffer this obnoxious program any longer? Remove High Stairs immediately and then look for other unwanted applications that might have arrived along with this adware program. Please have in mind that if you are attacked by annoying pop-ups, it is very likely that you have several unwanted applications on-board.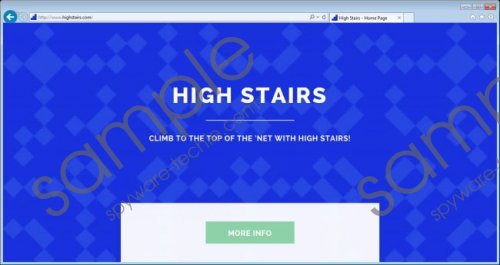 High Stairs screenshot
Scroll down for full removal instructions
The official website for High Stairs is located at highstairs.com. It greets you with a catchy tagline: "CLIMB TO THE TOP OF THE 'NET WITH HIGH STAIRS!" Seemingly, the program should enhance your browsing experience in some magical way, but the official homepage does not have a download button, and even if you click the More Info button, you are redirected to an inquiry page where you are asked to leave a message, in hopes that the people behind High Stairs would contact you. It does not take to be a genius to understand that the entire thing is just a scam, and the page is a cheap shell created to make users think that High Stairs is a reliable tool.
Fortunately, we know better than that, and we can surely say that High Stairs gets distributed in software bundles. Actually, it is the most common method of distribution applied by adware programs, and High Stairs just does whatever Blaze Deals, Gravity Space, Assist Point, and many other similar apps did before it. Our research also shows that this program is similar to the SuperWeb adware, although they are not identical. Unlike the SuperWeb family adware, High Stairs is based on the Injekt engine.
There is nothing too authentic about this application because it is yet another adware program that will spam you with ads. High Stairs will display pop-ups, shopping offers, and other types of commercial advertisements, most of which will be embedded with content related to your most recent browsing history. This happens because the program monitors your online activity in order to customize the ads based on your likes and preferences. Supposedly, this should increase the possibility of you clicking the ads, but you should know better than that.
Clicking the High Stairs ads could inadvertently redirect you to websites that promote and distribute adware, collect private information for online marketing purposes, and even distribute malware. Of course, malware infection is the worst case scenario when it comes to dealing with adware programs, but let us not rule that out.
Keeping everything in mind, it is clear that the best option is to remove High Stairs for good. Uninstall the application via Control Panel and then check your system for other unfamiliar and potentially harmful programs. If you think that you cannot find the uninvited guests on your own, scan your PC with the SpyHunter free scanner. A full system scan with a security tool of your choice will help you locate all the unwanted programs at once, and you will be able to remove them automatically without any further ado.
How to Remove High Stairs
Windows 10
Right-click the Windows icon and open Control Panel.
Go to Uninstall a program and remove High Stairs.
Windows 8 & Windows 8.1
Drag the mouse cursor to the bottom right corner of your desktop.
When the Charm bar appears, click Settings and go to Control Panel.
Open Uninstall a program and remove High Stairs.
Windows Vista & Windows 7
Open the Start menu and click Control Panel.
Navigate to Uninstall a program and remove High Stairs.
Windows XP
Click the Start button and open Control Panel.
Double-click Add or remove programs and uninstall High Stairs.
In non-techie terms:
High Stairs is nothing but an unnecessary application that induces headaches and exposes you to potential security threats. You probably installed it accidentally with some other freeware programs. Remove High Stairs from your PC right now and do not hesitate to leave us a comment if you have any further questions about computer security. You can also try out the secondary set of instructions below for alternative software removal.