Do you know what HiDef Media Player is?
HiDef Media Player is based on the well-known and popular VLC media player. However, our researchers believe that it is unreliable. Therefore, it has been classified as a potentially unwanted program, so we suggest that you remove it. This media player is not a malicious program, but if it comes bundled, then it is more than likely to come with real malicious software. In this article, we are going to present you with the most relevant information regarding HiDef Media Player. So if you have in installed on your computer, then it would be wise to scan it with an antimalware tool.
As mentioned, HiDef Media Player is based on the VLC media player, and in truth, it looks and functions almost exactly like it. The only differences between them are the name and the logo. However, there is no reason not to delete HiDef Media Player and get VLC instead. VLC media player is a product of VideoLAN, a non-profit organization while HiDef's developers are unknown. It appears that someone just rebranded VLC and distributed as their product. There is not much to discuss how HiDef works because it works as you would expect a media player to work and it does not contain any malicious features or unreliable advertisements. We have a problem with the way it is distributed and the software it comes bundled with, so let us take a closer look.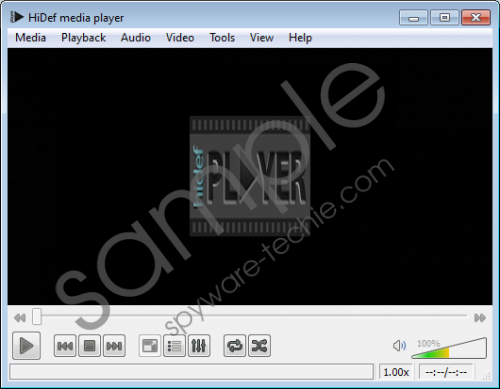 HiDef Media Player screenshot
Scroll down for full removal instructions
Our researchers have found that HiDef Media Player can be distributed using a number of methods. It used to be distributed via its dedicated website, but the website is no longer active, and there is little chance that it will be revived. Also, we found that this media player was featured on Software.informer.com, but now it is unavailable for downloading, because according to this website "The program is unavailable for downloading: the program's origin is unknown." However, we do know that this media player is still being distributed using AirInstaller bundles.
Research has revealed that AirInstaller is used to bundle legitimate applications with third-party software that may be unwanted or outright malicious. Furthermore, this installer may not offer users the chance to opt out from installing additional software. So, you might have gotten HiDef Media Player unintentionally. Furthermore, AirInstaller bundles are distributed using fake Java, Flash player or media player updates that are presented as advertisements inside the browser window. HiDef Media Player is a program that is almost dead, but you can still get it via malicious software bundles. Oddly enough, some software distributing websites refuse to feature it due to this program's unknown origins.
HiDef Media Player is a just a knockoff of a legitimate and reliable VLC media player. So it is no surprise that it was classified as potentially unwanted. HiDef will not provide you with the best user experience, and you may experience problems. Furthermore, since this media player comes bundled with other unreliable software you should scan your computer using an antimalware program just in case, it comes bundled with adware, browser hijackers, and even worse software. So you should consider removing HiDef Media Player and getting another, better media player.
HiDef Media Player removal guide
Windows XP
Open the Start menu.
Click Control Panel.
Select Add or Remove Programs.
Locate the media player.
Click Remove.
Windows 7 and Vista
Tap the Windows Key on your keyboard.
Select Control Panel and select Uninstall a program.
Locate the program and click the Remove button.
Windows 8/8.1/10
Right-click on the Start Screen button.
Go to Programs and Features.
Locate the program and click the Uninstall button.
In non-techie terms:
HiDef Media Player has been classified as a potentially unwanted program because it is just a copy of VLC media player. Also, our researchers have found that HiDef Media Player comes bundled with malicious software, so we think that you should delete it along with its accompanying software. The malware it comes bundled is subject to change, so we recommend using an antimalware scanner to detect and remove it.