Do you know what Hidden-Peach Ransomware is?
Hidden-Peach Ransomware is a suspicious infection that apparently belongs to the Crysis/Hidden Tear ransomware family. Legioner_seven@aol.com Ransomware, Masterlock@india.com Ransomware, and Hollycrypt Ransomware are few of the many infections that belong to this faction. In most cases, these infections use unique email addresses created for communication with their victims. Unfortunately, we do not know which email address is used by the Hidden-Peach infection because this threat does not work properly, and we still have not obtained a sample that would work fully. All in all, we have gathered some important information, and we can show you how you can remove Hidden-Peach Ransomware from your own Windows operating system. We are sure there is no need to remind you that this infection is extremely malicious and that you need to delete it from your operating system as soon as possible.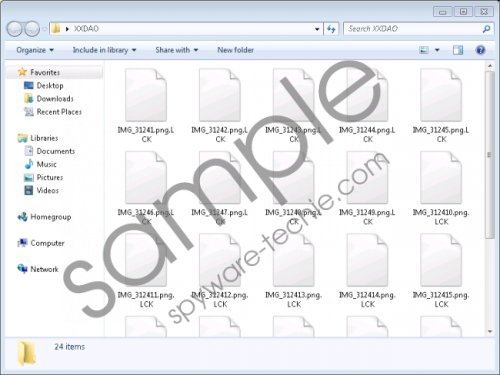 Hidden-Peach Ransomware screenshot
Scroll down for full removal instructions
Just like all other Cryris/Hidden Tear infections, Hidden-Peach Ransomware spreads via spam emails. To hide the threat, its developer might create a misleading email address that, at least, looks similar to the original email address. Also, the message supporting the malicious launcher attached to the email might be written in a professional manner. Overall, even if the message addressed to you appears to be authentic and attractive, you should not trust it if it is unexpected, and if it is marked as spam by your email provider. Unfortunately, spam emails can be used to expose you to all kinds of malware, including Trojans and rogue malware removers. The worst part is that Hidden-Peach Ransomware might stay hidden even after you let it in yourself. The encryption process might be silent as well. The sample we have tested in our internal lab only encrypted files in a folder it created itself on the Desktop, which suggests that maybe this threat is still being tested by its own creators. Notably, the ransomware attaches the ".LCK" extension to the files it encrypts, and this is what you need to be cautious about. If you cannot open your files and this extension is appended to them, you know which infection you need to delete from your operating system.
Hidden-Peach Ransomware should introduce you to a ransom note after it encrypts your files. While this is now how the current version of this ransomware works, eventually, it should demand a ransom from you. You might be asked to email the unique email address we discussed previously for further instructions, and these instructions should focus on you paying a large sum of money in Bitcoins. If you face a ransom demand, think carefully about what you want to do. If the files that were encrypted have been backed up before the infection struck, you should not even think about the ransom. The only situation in which you should think about this is if your files are incredibly important to you and if you have no other way of recovering them. Note that there is always a risk that your precious files will remain locked even if you pay the full ransom. If you do not want to take such a risk, you can delete Hidden-Peach Ransomware without further hesitation. Now, when it comes to the removal of this threat, you have to erase the launcher that was introduced to you as a harmless spam email attachment. We also advise installing an anti-malware tool to keep your PC protected in the future. If you skip this step, you might face malware soon enough.
Remove Hidden-Peach Ransomware
Identify the malicious launcher.
Right-click the file and select Delete.
Empty Recycle Bin.
Scan your PC for leftovers.
In non-techie terms:
There is no question on whether or not you should delete Hidden-Peach Ransomware. Unfortunately, it is not that easy to make the move once this threat enters and encrypts your personal files. Although the most recent version of this threat is incapable of encrypting files at all, we are sure that there will be a version capable of doing that. If the ransomware has encrypted your files already, you might have no other option but to pay the ransom fee, but that is not something we can recommend because we cannot guarantee that your files would be freed if you fulfilled the demands of cyber criminals. After you remove the threat from your operating system, we suggest employing reliable security software and backing up your files.