Do you know what Heropoint Ransomware is?
Ransomware infections are very often launched before they are fully completed. The Heropoint ransomware is one of those threats that is still in its developmental stage but is still capable of causing havoc. The Heropointb ransomware is categorized as a screenlocker, which is loaded soon after installation. All the content of the desktop is covered with a black full-screen background which also contains a so-called ransom warning. If you have just found that you cannot access your data, do not panic. Fortunately, the Heropoint ransowmare does not encrypts files, and the black full-screen image can be removed from the screen by rebooting the computer. However, it is necessary to fully removed the Heropoint ransomware, which you can do with the help of the instructions provided at the end of the report.
An analysis of the infection has revealed that the Heropoint threat has a XOR routine for file encryption. However, encryption does not take place because of a function with the same name returning "NotImplementedException." Due to this, the encryption process is skipped, but that does not mean that you are safe now. Your computer contains a threat that could be soon developed into a destructive threat damaging your photos, music files, programs, Excel sheets, and other frequently used files. If the Heropoint ransomware were to encrypt files, it would damage files such as .mp3, .exe, .jpg, .html, .pptx, to mention just a few. When encoding a file, the infection would add a new extension X next to the already existing extension. The sooner you remove Heropoint from the computer, the smaller the risk of getting an update of the infection. The fact that your computer is vulnerable to ransomware implies that your device needs protection against computer threats, so do not wait any longer but remove the Heropoint ransomware and shield the PC from ransomware.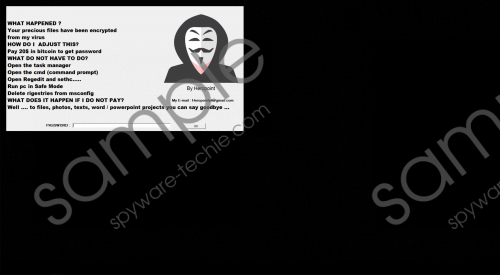 Heropoint Ransomware screenshot
Scroll down for full removal instructions
Additionally, it has been discovered that Heropoint threat would be capable of accessing not only the desktop but also directories such as %APPDATA%, %USERPROFILE%\Music, and %USERPROFILE%\Pictures.
According to the warning of the Heropoint ransomware, you are supposed to pay a ransom fee of $20 in Bitcoin, which is a crypto currency that has been gaining its popularity at an extremely quick rate. Cyber criminals prefer this currency because of the anonymity allowing them to remain unidentified. Law enforcement agencies advise victims against paying up because by making payments people do not get not guaranteed that their data will be fixed. The black hat hackers working on ransomware campaigns should be deprived of ransom payments by not paying the money required. However, not all computer users are aware of this type of threat even though instances involving ransomware attacks are openly discussed both on the Internet and TV.
For more information, the user is probably supposed to contact the attackers whose email heropointy@gmail.com is given in the warning even though there is no instruction regarding this in the warning. Nevertheless, there is no need to contact anyone related to the Heropoint threat because the infection does affect your files.
At the moment of writing, the Heropoint ransomware does not encrypt files, but there are multiple of other threats that do, and you should be ready for new attacks. To prevent ransomware and the consequences that may follow, always back up your data to an off-line device. Moreover, ignore emails containing questionable file attachments because they may contain malicious scripts causing installations of destructive infections. It is also important to ignore various pop-up advertisements because some of them may be aimed at taking you to a harmful website. If your computer is malware-free and you tend to visit only secured and reliable websites, you are likely to find safe commercial issues, but, if you like browsing freeware sharing websites, online gaming websites, or adult-oriented websites, the risk of finding an ill-purposed pop-up advertisement is much higher.
Without a doubt, now you should focus on the removal of Heropoint, and we recommend that you rely on the anti-malware program available below. The security application is capable of identifying malware of different types, including browser hijackers, trojans, adware, and other harmful software that have some effect on your PC or data. However, if you feel the urge to try removing the Heropoint ransomware yourself, use the removal guide given and consider scanning the system afterwards.
How to remove Heropoint Ransomware
Use the keyboard keys shortcut Ctrl+Alt+Del to open Task Manager.
Kill the malicious process of Heropoint.
Delete recently downloaded files from the desktop and the %TEMP% and Downloads directories.
In non-techie terms:
Heropoint is a ransomware infection that locks the screen by displaying a full-screen warning in a black background requesting that the victim pay a ransom. Additionally, the Heropoint ransomware should encrypt files, but, as analyses suggest, the infection fails to do it. In order to get rid of the deceptive infection, remove it from the computer as soon as possible and make sure that no other threats will access your data.