Do you know what HDWallpaper is?
HDWallpaper is a wallpaper manager that some users install willingly. They mainly do that because it is said that users could set a Wallpaper with a click of a button. Also, they could browse through 14 different categories of Wallpapers, so it will no longer be hard to decide which picture to set as the Desktop background. HDWallpaper is quite a useful application. Also, it is compatible with the newest versions of Windows OS, so it is not surprising that it is quite popular. Despite its popularity, we suggest that you remove this program from your computer. The main reason why we do not recommend keeping it installed is because we have found that this program is a typical potentially unwanted program (PUP). In other words, there are several quite disturbing facts about it. You should read this article carefully to find out more about this program. If you decide to delete it after reading it, feel free to use the removal guide we have placed for you below this article. Alternatively, you can delete this PUP automatically. This is the faster and easier method if compared to the manual one.
If HDWallpaper enters your computer, or you download it from its official website hd-wpaper.com, we are sure that you will notice a new shortcut on your Desktop. On top of that, you will notice a new folder HDWallpaper in %APPDATA% and %PROGRAMFILES% (%PROGRAMILES(x86)%). These folders contain the major files of this application, so if you see them, there is no doubt that you have this program. Of course, it will make other modifications too, for example, if you open the Registry Editor and move to [HKCU|HKLM]SOFTWARE\Microsoft\Windows\CurrentVersion\Run, you will definitely notice the HDWallPaper Value there. It has been put there to enable the application to launch with the Windows OS, for example, you close it, but it will launch automatically again after the system restart. It means that it will perform activities on your computer day after day.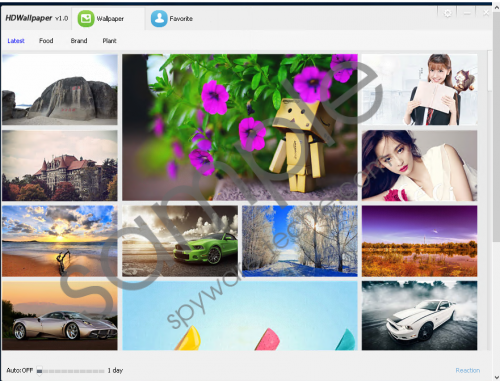 HDWallpaper screenshot
Scroll down for full removal instructions
Even though HDWallpaper is quite a useful application, we cannot call it fully reliable. It is because it collects information about users. Our team of specialists has checked the Privacy Policy document and found out that this piece of software records the so-called device-specific information, including your hard drive serial number, machine name, hardware, hardware model, and version of your operating system. Also, it collects information about you when you use the service or view the content provided by HDWallpaper. It is said in the Privacy Policy that cookies and other technologies might be used to collect information about you. Even though it might seem that this program is interested in completely unimportant information, you should not allow it to act like that if you value your privacy.
HDWallpaper is not a very dangerous computer infection; however, it has been revealed that it might be spread in bad installers as well, which explains why users do not know anything about its entrance. Those users who allow software to enter their computers unknowingly usually surf unreliable third-party websites, tend to download software from torrents and file-sharing sites, and, finally, do not have a security tool installed and enabled on their computers. If you recognize yourself here, you know what you need to do.
You should remove HDWallpaper for the sake of your system's safety no matter this program has entered your computer without permission, or you have downloaded it willingly from the web. Fortunately, this piece of software is a PUP, which means that you will delete it from the system manually very easily. All you need to do is to erase it through Control Panel like any other program. If you have never done that before, use our removal instructions.
How to delete HDWallpaper
Windows XP
Click on the Start button.
Select Control Panel.
Click Add or Remove Programs.
Select the undesirable software and right-click on it.
Click Delete.
Windows 7/Vista
Open the Start menu.
Click Control Panel and then open Uninstall a program.
Find and locate the undesirable software.
Click Uninstall.
Windows 8/8.1/10
Launch RUN (Win+R).
Enter Control Panel in the field and click OK.
Go to Uninstall a program.
Select the undesirable application.
Uninstall it.
In non-techie terms:
We suggest scanning the system with a diagnostic scanner, e.g. SpyHunter as well because HDWallpaper might not be the only undesirable application hiding on your system. You can try to find all those suspicious applications manually too, but it will be extremely hard to do that, so we do not recommend doing this job yourself.