Do you know what HDD Encrypt Ransomware is?
HDD Encrypt Ransomware is a monstrous infection which can encrypt your files and modify the Master Boot Record (MBR). HDD stands for "hard disk drive," and the victims of the infection are made believe that the entire drive is encrypted. That is not the case. The ransomware actually encrypts personal files, which, of course, is still awful. Unfortunately, once the infection slithers in, there is little that can be done. Although you can fix MBR – which is not that easy to do – you might be unable to get your personal files decrypted. The ransom fee requested by cyber criminals could be too big for you, and there is a risk that they could scam you by taking the money and not providing you with a decryptor in return. If your files are backed up, you can remove HDD Encrypt Ransomware without wasting any more time. Of course, we recommend reading this report to learn more about the infection first.
The way HDD Encrypt Ransomware is spread to operating systems is not surprising. Just like most other infamous ransomware infections, it uses spam email attacks to infect vulnerable operating systems. The infection's launcher is concealed as a harmless-looking file attached to misleading spam emails, and all it takes is for the victim to open this file. If reliable security software is not installed to quarantine and delete the malicious file, it is executed, and the encryption of your personal files begins. This threat can easily discover and encrypt your most valuable files, such as documents and pictures. Obviously, it is possible to replace system and software files, but it might be impossible to replace unique personal files. This is exactly why cyber criminals are targeting them. After all, it is more likely that you will be coerced into paying a ransom fee for your personal files. Once the devious HDD Encrypt Ransomware finishes with the encryption of your personal files, it changes the MBR and restarts your computer. Petya Ransomware and SATANA Ransomware both work in the same manner.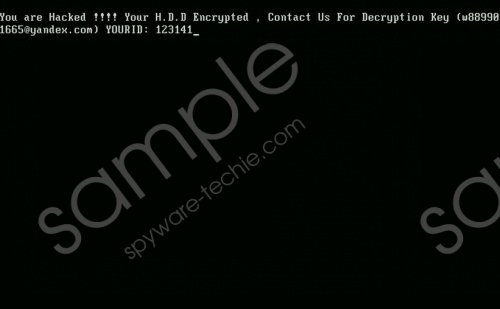 HDD Encrypt Ransomware screenshot
Scroll down for full removal instructions
If the MBR is modified successfully, you will not be able to access your Windows operating system, and, every time you restart your PC, you will be greeted by a scary warning: "You are Hacked!!! Your H.D.D. Encrypted, Contact Us For Decryption Key." The purpose of this notification is to make you contact w889901665@yandex.com. If you are sure you want to communicate with cyber criminals and possibly even pay the ransom – which, of course, is not what we recommend – you will need to email this address. Whether or not you will be provided with a solution after contacting the creator of HDD Encrypt Ransomware is unknown. Nonetheless, you should not jump into anything without thinking things through. If you are thinking of following the demands of cyber criminals, think if you are willing to take the risk of losing your money. If you are thinking about sacrificing your files, look for a third-party decryptor. Though one does not exist at this moment, it could be created by the time you are reading this report.
It is not easy to delete HDD Encrypt Ransomware. First, you need to fix the MBR, which is the most complicated task of all. To do that successfully, you need to have a Windows installation CD. The instructions below show how to fix MBR and erase ransomware components. Once you are over these hurdles, immediately implement a malware scanner to inspect your operating system. If you discover other threats, eliminate them as well. If you cannot find the ransomware components or you are unable to eliminate the additional threats active on your PC, download an anti-malware tool to have all threats erased automatically. After all, your operating system is very vulnerable, and it is important to employ trusted anti-malware software to keep it protected against other dangerous infections.
Fix Master Boot Record
Insert the Windows installation CD and restart your PC.
When the Setup Utility window appears, choose Boot using arrow keys.
Select CD-ROM Drive and tap Enter on the keyboard.
When Windows start, follow the steps below, according to your Windows version.
Windows XP:
In the Welcome to Setup screen tap the R key to access Recovery Console.
Type 1 right after Which Windows installation would you like to log onto and tap Enter.
Next, type the administrator password and tap Enter.
Type fixmbr right after C:\Windows> and tap Enter.
Type Y If you are asked if you want to write a new MBR and tap Enter.
Tap Enter one more time and wait for the fixmbr utility to repair MBR.
Remove the CD, type exit, tap Enter, and, finally, restart your PC.
Windows Vista/Windows 7:
Adjust Language, Time, and Keyboard information and click Next.
Click Repair your computer to access the System Recovery Options menu.
Select your operating system and click Next.
Select Command Prompt.
Type bootrec /fixmbr and tap Enter.
Type bootrec /fixboot and tap Enter.
Type bootrec /rebuildbcd and tap Enter.
After receiving the confirmation message, remove the CD.
Type exit, tap Enter, and restart your computer.
Windows 8/Windows 8.1/Windows 10:
Adjust Language, Time, and Keyboard information and click Next.
Click Repair your computer to access the Troubleshoot menu.
Repeat steps 4-9 steps above (in Windows Vista/Windows 7 guide).
Remove HDD Encrypt Ransomware
Tap Win+E keys on the keyboard to launch Explorer.
Enter %HOMEDRIVE% into the address bar.
Right-click and Delete the folder named C22 (it should contain a malicious file with a random name).
Delete the malicious ransomware launcher (e.g., the file you have downloaded via a spam email).
Install a trusted malware scanner to check your operating system for malware leftovers.
In non-techie terms:
HDD Encrypt Ransomware is an infection whose presence might have detrimental consequences. This threat corrupts files by encrypting them using complex algorithms. Furthermore, this infection can change the MBR to make your operating system inaccessible. To eliminate the ransomware, you will need to fix MBR and erase malicious components. You do not need to erase them manually. Instead, you can use an automated malware remover. Also note that if your personal files are decrypted after paying the ransom – which is not guaranteed – you will need to erase the ransomware anyway.